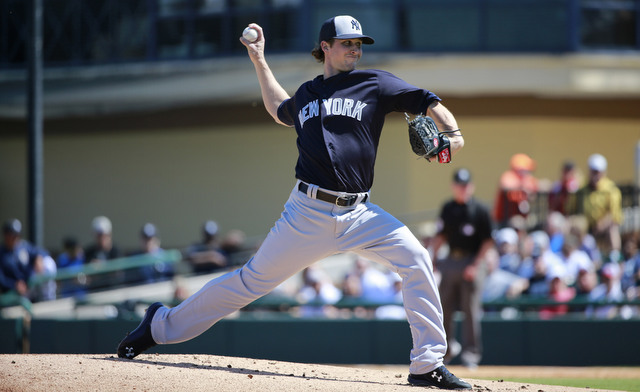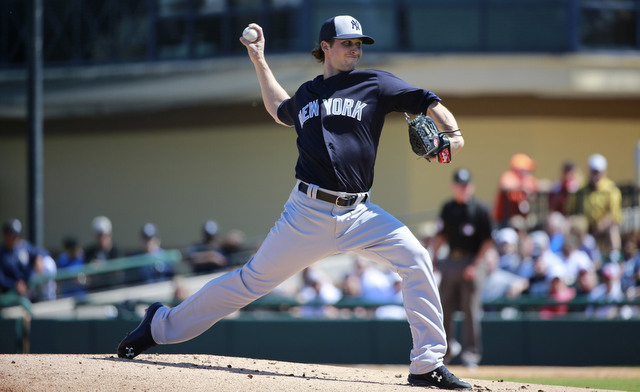 Two weeks from today, the Yankees will open the 2016 regular season at home against the Astros. There are a 14 exhibition games to be played between now and then, and several roster decisions have to be made as well. The Yankees have made two rounds of roster cuts so far, paring the number of players in big league camp from 70 down to 45. Another 20 still must go.
It goes without saying some of those 45 players have a much better chance to make the Opening Day roster than others. You'd be surprised to see how few have close to no chance to make the team though. The Yankees have only a few open roster spots but an awful lot of candidates to fill them. Let's look over the 45 players still in big league camp and figure out where they fit going forward.
Definitely Making The Team (20)
These are the easiest calls, so we might as well start here. These 20 players will definitely be on the Opening Day roster:
Position Players (11): Dustin Ackley, Carlos Beltran, Starlin Castro, Jacoby Ellsbury, Brett Gardner, Didi Gregorius, Chase Headley, Aaron Hicks, Brian McCann, Alex Rodriguez, Mark Teixeira
Pitchers (9): Dellin Betances, Nathan Eovaldi, Andrew Miller, Ivan Nova, Michael Pineda, CC Sabathia, Luis Severino, Chasen Shreve, Masahiro Tanaka
Coming into the spring I would not have considered Shreve a lock for the bullpen, but it's pretty safe to say he's in right now. He's been phenomenal in camp, he was awesome most of last year, and Joe Girardi is talking about him like one of his regular relievers. Shreve's going to break camp with the Yankees.
The Yankees insist they are having a true competition for the fifth starter's spot, though sending Sabathia to the bullpen so Nova can start is one of those "I'll believe it when I see it" things. Maybe the Yankees will figure out a way to stick Sabathia on the DL rather than send him to the bullpen, though that would surprise me. I'm sticking with what I said last week: I don't believe Sabathia is truly competing for a rotation spot. He's in.
Very Likely To Make The Team (2)
In Bryan Mitchell and Rob Refsnyder, the Yankees have two young players who are forcing the issue with their Spring Training performances. Both saw time in the show last year and both came to camp on the roster bubble. Mitchell keeps throwing fire and getting outs while Refsnyder has shown he can actually handle third base, a position he never played prior to this spring.
"(Refsnyder at third base) been better than I expected, to be honest. He's never been over to that side of the infield. His reactions are really good. His arm's good," said Brian Cashman to Meredith Marakovits recently (video link). The Yankees need a backup third baseman now that Castro will stick to second, and Refsnyder has taken to the position quickly. He hit in his limited time last year and he adds some balance as a righty hitter.
As for Mitchell, the Yankees do have three open bullpens, and none of the shuttle relievers have impressed this spring. He's been by far the best of the team's bullpen candidates, and Girardi has mentioned him as a potential Adam Warren replacement, meaning a multi-inning reliever. Mitchell pitched pretty well in relief last year before taking that line drive to the nose. I wouldn't call him or Refsnyder locks for the Opening Day roster, but they sure look like strong candidates right now.
Hurt Or Suspended (3)
Three of the 45 players still in camp will not be on the active 25-man roster when the season begins. Aroldis Chapman has to serve his 30-game suspension, and both Greg Bird and Mason Williams will start the season on the DL following shoulder surgery. Bird's going to be out for the year. We know that already. Williams is doing pretty much everything — throwing, hitting, etc. — but still needs more time to finish up his rehab.
There are some 40-man roster implications here. Chapman will be on the restricted list and will not count towards the 40-man roster while suspended. Bird can also be placed on the 60-day DL whenever a 40-man spot is needed. The 60-day DL is kinda weird though. Teams can only use it when they need it, meaning another player has to placed on the 40-man right away. Bird will likely start the season on the 15-day DL, then be transferred over whenever a 40-man spot is inevitably needed.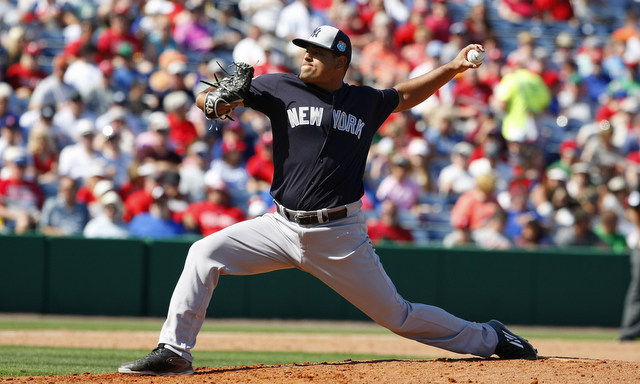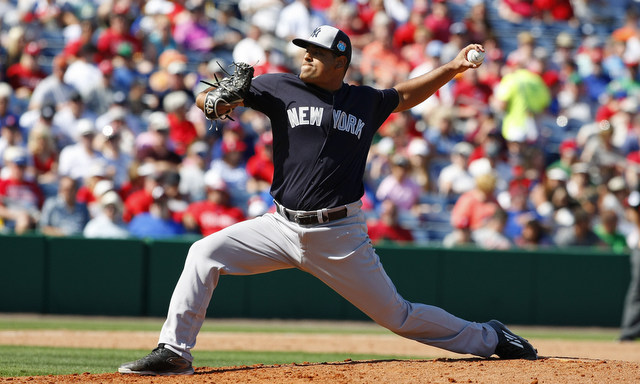 In The Mix For A Roster Spot (7)
This might as well be the shuttle reliever category. Johnny Barbato, Nick Goody, James Pazos, Branden Pinder, and Nick Rumbelow are all still in camp and they're all on the 40-man roster. All but Barbato pitched in the big leagues last year too. Barbato has pitched the best during Grapefruit League play so far, which won't hurt his case for the Opening Day roster. Then again, none of these guys have thrown more than seven innings this spring.
Based on everything I have above, five of the seven bullpen spots are claimed: Miller, Betances, Shreve, Mitchell, and Nova (or Sabathia). I honestly have no idea how those last two spots will shake out. I don't even have an inkling which way the Yankees are leaning. Barbato has pitched well so far, though that doesn't mean much. He's got two weeks to make some mistakes. At the same time, the other guys have a chance to step up their game. The best way to describe the bullpen situation right now is: developing.
Austin Romine and Gary Sanchez are also in the mix for a roster spot. They're competing for the backup catcher's job, and right now I'd say it's advantage Romine. Sanchez has not had a good spring (1-for-17) and over the weekend Girardi said he seems to be pressing. There's also the service time issue (35 days in the minors delays Sanchez's free agency a year) and the fact that Sanchez probably could use some more Triple-A time to work on his defense.
Out of these seven players, all but Romine will go to Triple-A if they don't make the team. Romine's out of options, so if he doesn't make the Opening Day roster, he'll go on waivers. And even if he clears, he can elect free agency. The Yankees can't expect to keep him based on those conditions. That's probably another reason Romine seems to be the favorite to back up McCann right now.
Oh Gosh, They Might Actually Make The Team (5)
Remember Chris Martin? He was that random offseason pickup no one really paid attention to last year, then bam, he was on the Opening Day roster. The five guys in this group are candidates to be this year's Chris Martin. Here's how they can make the team out of camp:
Chris Denorfia: Unlike most of the team's depth outfielders, Denorfia hits right-handed and he has a lot of MLB experience. He strikes me as the top bench candidate should Ellsbury's wrist injury linger.
Pete Kozma: What if the Yankees want to give Refsnyder some more Triple-A time to continue working at third? Kozma, a veteran utility man, is the annoyingly obvious alternative.
Tyler Olson: Having a very good spring and could fill one of the open bullpen spots. Olson is a true lefty specialist and Girardi sure does love his matchups.
Anthony Swarzak: Swarzak has been solid overall, and he's another guy with MLB experience. The fact he can throw multiple innings may land him in the bullpen.
Kirby Yates: Quietly shoving this spring (4 IP, 2 H, 0 R, 1 BB, 6 K) and he has big league time under his belt. With none of the shuttle guys standing put, Yates could grab a bullpen spot.
Yeah, you don't have to try real hard to see one or two (or three) of these guys making the team, do you? It's surprisingly easy, in fact. I swear, these guys just sneak up on you. You overlook them as cast-offs when they're acquired, and before you know, they're standing on the foul line and being introduced on Opening Day. Baseball, man.
Long Shots To Make The Team (8)
Never say never, but I am comfortable saying these last eight players are very unlikely to make the Opening Day roster. Catchers Carlos Corporan and Eddy Rodriguez remain in camp, though Girardi has dismissed them as backup catcher candidates. They're still around so McCann, Romine, and Sanchez don't have to catch every inning of every spring game. That's all.
Chris Parmelee was signed to replace Bird as the Triple-A first baseman, so he's going to Triple-A. The only way he makes the Opening Day roster is if Teixeira gets hurt. (I don't think he'd make it if A-Rod got hurt. They'd use Beltran at DH in that case.) Ronald Torreyes had gotten a look at third base this spring and he's been fine overall. At this point I think he's behind Refsnyder and Kozma on the backup infield depth chart.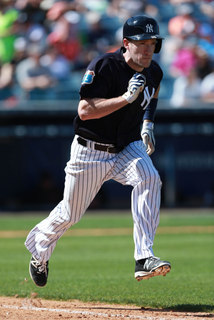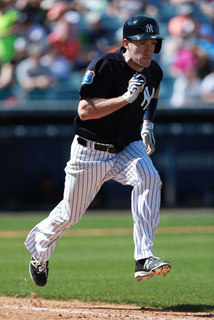 In addition to Denorfia, Slade Heathcott and Cesar Puello are the last remaining spare outfielders in camp. Heathcott has been brutal during Grapefruit League play (1-for-22!), and while that isn't everything, I think it puts him behind Denorfia on the depth chart should Ellsbury stay hurt. Puello's been great in camp, but this is a guy who played one game last season due to a back injury. I can't see him sticking even if Ellsbury's wrist problem lingers.
The last two arms in camp are Diego Moreno and Luis Cessa. The Yankees really like Cessa — Cashman in particular has talked him up — and he's looked pretty good in his limited action. Those are the key words there, limited action. He's appeared in only three Spring Training games, and if the Yankees were seriously considering Cessa for the roster, he'd get more looks. Pitching two innings once a week suggests he's on the outside looking in. That's fine. He could use more Triple-A time anyway.
The Yankees seem to like Moreno more than we realize — he's been mentioned as a call-up candidate for two or three years now — and I wouldn't be surprised to see him again this summer. He is not on the 40-man roster right now, and he hasn't pitched well in camp (six runs in 5.1 innings), so it seems safe to say Diego is way down on the Opening Day bullpen depth chart at the moment. The Yankees have too many other candidates.
* * *
With Opening Day two weeks away, it appears the Yankees have 22 of their 25 roster spots figured out. They need to pick a backup catcher and decide who will hold down the last two bullpen spots on a temporary basis. I assume those will be shuttle spots, with new guys cycling in and out as necessary, especially early in the season. The next round of roster cuts should be coming next weekend, and that may lend some clarity to the bullpen situation.