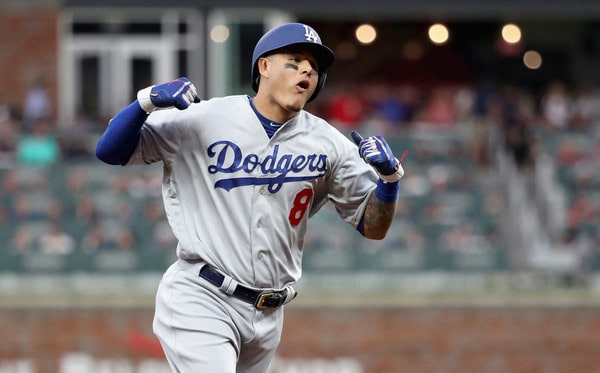 The Winter Meetings are two days old and thus far the Yankees have been mentioned in one potential blockbuster, a three-team trade that would bring Noah Syndergaard to the Bronx, but that seems like a long shot. It always did. The Mets trading three years of Syndergaard to get two years of J.T. Realmuto doesn't add up. The Yankees will (probably) have to come up with a starting pitcher another way.
"We have our comfort levels and if and whenever we do match up on the trade or free agent front, then we'll have something to show for it, but there's no guarantee that will happen anytime soon," said Brian Cashman to Pete Caldera. "(A deal) could happen today. We're very active. But at the same time, we're disciplined about what we're willing to do and what we're not willing to do."
In addition to the Syndergaard thing, we've learned the Yankees are open to trading Miguel Andujar, still have interest in Zach Britton, and will meet with Manny Machado and Bryce Harper at some point. The Harper meeting will take place during the Winter Meetings because he lives in Las Vegas. Machado will come visit the Yankees in New York. No moves so far this week but lots of chatter.
Here are Monday's rumors and Tuesday's rumors. Today is the final full day of the Winter Meetings — everyone will head home after the Rule 5 Draft tomorrow — so, if the Yankees are going to get a deal done in Las Vegas, it'll probably happen today. Anyway, here are today's Yankees-related rumors. This post will be updated throughout the day so check back often. All timestamps are Eastern Time:
7:07pm: Well, forget about a Lance Lynn reunion. The Rangers gave him a three-year deal worth $30M, according to multiple reports. Imagine?
5:31pm: "I've never heard the Yankees say (they're out on Bryce Harper). It might be that they say things to you. I wasn't there," said Scott Boras today. Keep in mind Boras wants everyone to think the Yankees are in on Harper even if they're not. [Ken Davidoff]
3:20pm: The Yankees remain in "active discussions" with the Reds about Sonny Gray. Cincinnati seems to be connected to everyone this winter, including Corey Kluber. [Jon Morosi]
3:18pm: The Yankees have discussed trade possibilities with the Indians regarding their starting pitchers. There is no traction at the moment because the asking price is quite high. [Marc Carig]
2:00pm: The Yankees have been in contact with Freddy Galvis' representatives. He's an excellent defender with double-digit homer power but poor on-base skills (career .290 OBP). Obviously the Yankees are considering him as a potential Didi Gregorius replacement. [Joel Sherman]
11:14am: In addition to J.A. Happ, the Yankees are in the mix for Lance Lynn. I would be perfectly fine with Lynn as a long man/sixth starter type. As the Opening Day fifth starter? Nah. Seems like there's enough interest in Lynn that he'll get a rotation spot elsewhere and not have to settle for a swingman role with the Yankees. [Mark Feinsand]
9:56am: The Yankees have not yet given any thought to signing Troy Tulowitzki. The Blue Jays released Tulowitzki with two years and $38M remaining on his contract yesterday, so any team can sign him for the pro-rated portion of the league minimum. Tulowitzki did not play at all this past season due to heel trouble but he's recovered and is working out this winter. [Brendan Kuty]
9:43am: Brian Cashman met with Adam Ottavino's agent last night. He is believed to be high on their wish list. Ottavino grew up in Brooklyn but I wouldn't put much stock into the hometown thing. Money is usually the determining factor in free agency. [Joel Sherman]
9:30am: The Phillies are believed to be inching closer to a deal with J.A. Happ, who is holding out for a three-year contract. "They are bringing it," said one executive. The Yankees have interest in a reunion with Happ but thus far have been unwilling to offer a third year. [George King]
9:30am: Internally, it was "never even much of a debate" for the Yankees to chase J.T. Realmuto. They value Gary Sanchez highly and he has four years of team control remaining whereas Realmuto only has two. [Joel Sherman]