Again, we thought we were at the end yesterday with Xavier Nady. But Mike mentioned Baldelli to me today. At first I wrote it off, but then I realized the advantage Baldelli has over other candidates. I promise, unless a strong rumor arises, this is the LAST of this series.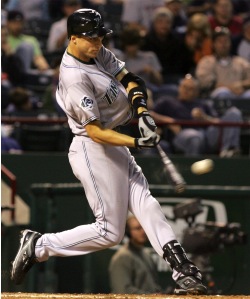 As we've browsed through the available free agent left fielders in search of a suitable candidate to caddy for Brett Gardner, we've mostly touched on complementary, platoon-type players. So why not touch on a high-risk, high-reward one? Chances are the Yanks won't sign him — probably won't go near him. But that won't stop us from discussing the case for Rocco Baldelli.
Baldelli makes a simple case. He's the most talented of the second- and third-tier outfielders. The sixth overall pick in 2000, Baldelli struggled through his first year and a half in the minors before breaking out in 2002 when he moved from A+ ball all the way through AAA. His first major league season went well, as he hit .289/.326/.416 and finished third, behind Angel Berroa and Hideki Matsui, for the AL Rookie of the Year award.
He repeated his performance in 2004, though he and the Rays got the first sign of things to come. He battled thigh problems late in the season, eventually causing him to hit the 15-day DL in mid-August. He came back with some pop, hitting six home runs in September and giving the Devil Rays hope for 2005. Those were soon dashed, however, as Baldelli tore his ACL playing baseball with his brother over the winter. Then, during rehab, he tore his UCL, resulting in Tommy John surgery.
Finally, 19 months after he last played in a major league game, Baldelli returned to the Devil Rays on June 7, 2006. The rest of the season went very well, as Baldelli posted a .302/.339/.533 line, finally developing his power tool. He did miss eight days in August with hamstring issues, but nothing that required a DL stint. Again, the D-Rays had hope that their former No. 1 pick would fulfill his potential.
While Baldelli didn't dash those hopes during the off-season, he didn't last long into the 2007 season. Those hamstring issues returned, but this time it was serious, requiring a 60-day DL stint that ended up keeping him out for the rest of the season. It was during that off-season that doctors discovered "metabolic and/or mitochondrial abnormalities," which explained why Baldelli couldn't stay healthy, though it was not a specific diagnosis. He changed his eating and supplement habits, hoping to adapt to the limitations the disease placed on him.
Unfortunately, Baldelli couldn't make it through Spring Training 2008, and again opened the season on the DL. Finally, in August the Rays activated him, playing him sparsely and selectively. The plan worked. He avoided further injury that season while posting good numbers in limited playing time. In the playoffs for the first time in his career, Baldelli became a hero during the ALCS, hitting a three-run homer off Paul Byrd to give the Rays the lead in the game and, six Red Sox outs later, the series.
During the off-season Baldelli got good news. He underwent further tests which showed that he had a form of channelopathy, a more treatable condition than a mitochondrial disorder. Seeing an opportunity, the Red Sox signed the native New Englander for the 2009 season. They planned to play him part time, but even that couldn't keep him off the DL. In total he missed 33 games due to injury in 2009, including two DL stints. He appeared in just 62 games, amassing 164 plate appearances and a batting line of .253/.311/.433. The power was there, but that's about all.
So, after this breakdown of Baldelli's injury history, it's clear why no teams have approached him about playing in 2010. His lower body has been a wreck for the past five years, and though his medical condition isn't as bad as it could be, it's still an enormous concern. Maybe the off-season of rest will do him good, but a good team can't take that gamble. Baldelli would have to fill a part-time role, and any acquiring team would have to build a solid backup plan. That's the high-risk part.
Again, Baldelli has tremendous upside. That's the high-reward part. He plays good defense, hits for power, and, at least at one point, had incredible speed, especially out of the box. He also hits lefties very well, posting a .831 OPS against them over 610 career plate appearances — including his early, leaner years. So is that upside, weighed against the risk of a couple DL stints, worth the gamble?
The only way I can see the Yankees even consider Baldelli is if he's willing to sign for a very small base salary. He did that last year, actually. The Red Sox guaranteed him only $500K, with $5.25 million in plate appearance bonuses — of which he reached none — and $1.75 million in roster days bonuses — which amounted to between $1.25 and $1.5 million. Still, the low base salary is the key here. Since all we've heard is that the Yankees have just $2 million to spend, Baldelli might be the best value for the dollar.
Hey, maybe we'll get two players from this list. Given the supposed $2 million, maybe the Yanks could bring aboard Baldelli and Jerry Hairston. That would finish off the bench and give the Yanks enough flexibility to make a mid-season move. At a $500K base salary, I don't think they'd hesitate to DFA Baldelli if anything went wrong.
Photo credit: AP Photo/LM Otero