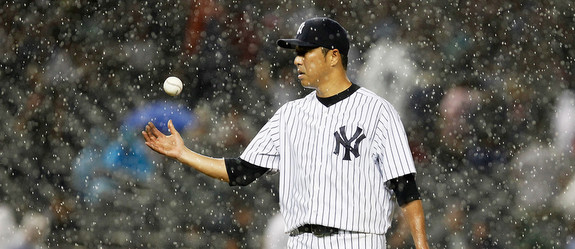 This has been a long and occasionally painful season, but it's still hard to believe there are only ten games and eleven days left on the regular season schedule. The Yankees are three games back of the second wild-card spot in the loss column and their chances of making the playoffs are remote — 3.4% according to Baseball Prospectus — but they do still have a chance. A very small one, but a chance nonetheless.
Soon after the end of the regular season, the BBWAA crew will vote on the various major awards. The playoffs aren't considered even though the official announcements aren't made until sometime in November. The last Yankee to win a major award was Alex Rodriguez back in 2007, when he took no prisoners en route to his third MVP. It usually takes that kind of otherworldly season for a Yankee to win a major award because there is some voter bias. At least lately there has been thanks to the dynasty years and all those division titles.
This season doesn't figure to be any different. The Yankees don't have a 2007 A-Rod or a 2001 Roger Clemens on the roster, but they do have a handful of players who will garner at least some consideration for the major awards. At this point of the season, it's hard to think anything that happens between now and Game 162 will change the voters' minds. Let's look at which Yankees have a shot at the various awards.
Most Valuable Player
The team's only serious MVP candidate is (who else?) Robinson Cano. He's hitting .311/.383/.514 (141 wRC+) and is top ten in the league in both versions of WAR. Obviously his chances would greatly increase if the Yankees sneak into the postseason, but even if they don't, Cano should get a fair amount of love because he was New York's only real offensive threat for most of the season. Fairly or unfairly, the voters do take that stuff into consideration. It's the whole "he had no protection!" idea.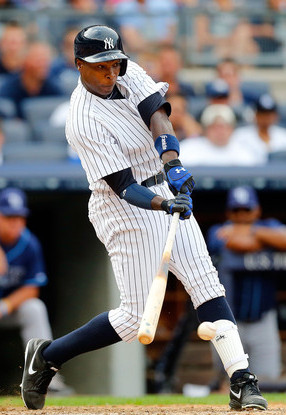 Alfonso Soriano could get some votes because of his huge production following the trade — Jack Curry wrote about this last week — but I have a really hard time seeing that unless he swats like, six more homers from here on out and the Yankees win a wildcard spot. I'm sure it's happened plenty of times before, but the only time I can remember a midseason trade pickup getting serious MVP consideration was Shannon Stewart in 2003. He hit .322/.384/.470 (127 wRC+) in 65 games for the Twins following the deal while Minnesota went from 7.5 games back to winning the division by four games. The narrative was pretty strong.
I suppose Mariano Rivera could draw some honorary down-ballot votes in his final season, which would be kinda neat. He's received MVP votes in nine different seasons and has finished as high as ninth in the voting (2004 and 2005). This hasn't been Mo's best year — he's still been pretty great by normal closer standards — and he doesn't really deserve MVP votes, but who knows what'll happen. Could A-Rod get a tenth place troll vote or two if they made the playoffs? That would be a riot. Ain't happenin' though.
Cy Young
Unless Rivera gets some going away votes — unlikely since this ballot only goes five players deep — the Yankees' only Cy Young candidate this year is Hiroki Kuroda. He led the league with a 2.33 ERA as recently as August 16th, but he crashed into the fatigue wall this week and is no longer in the mix. Kuroda, who now has a 3.13 ERA and 3.49 FIP in 189.2 innings, could steal a fourth or fifth place vote from a New York writer. It would surprise me though. There are a ton of worthy Cy Young candidates in the so-called Junior Circuit this year.
Rookie of the Year
Do you know who leads Yankees rookies in the FanGraphs version of WAR this season? Melky Mesa at 0.3. He came to the plate 14 times before being released. The Baseball-Reference version is a little kinder and has Adam Warren in the lead at 0.9. Either way, I think you get the point. They don't have a horse in this race.
Comeback Player of the Year
Finally, an award a Yankee might actually win. Rivera is coming back from his knee injury and has the whole retirement thing going for him, which is probably enough to get him the popular vote regardless of his performance. Mariano is an icon and we've already seen how beloved he is around the game, by opposing players and writers alike. I hesitate to call him a shoo-in, but I think you have to consider Rivera the overwhelming favorite here.
There's a chance Brett Gardner could get some Comeback Player of the Year love, but I would expect all the Yankees-related votes to go to Mo. Eric Hosmer, Scott Kazmir, John Lackey, and Ervin Santana figure to be Rivera's primary competition. So yeah, his to lose I think.
Manager of the Year
I wrote about Joe Girardi's Manager of the Year chances way back in May, and obviously a lot has changed since then. The Yankees were exceeding every possible expectation at the time and we were still expecting guys like Mark Teixeira and Derek Jeter to come back and be productive. That didn't happen and the team faded in a big way during the summer months. They've been trying to climb out of the hole for a few weeks now.
Even if the Yankees don't make the postseason, I think Girardi's going to get a fair amount of Manager of the Year support because the roster has been decimated by injuries. This wasn't one or two injuries, this was half the lineup. In some cases their replacements got hurt. It's not an accident the Yankees have used a franchise-high 56 different players this year. That wasn't out of the kindness of their heart, they needed all of the warm bodies. Girardi has managed to keep the team in the hunt right down to the final two weeks of the season and that's pretty remarkable.
Furthermore, I think Girardi has done a masterful job of handling the A-Rod situation. That could have easily been a big distraction — and it was for a while as the two traded barbs through the media — but he's kept it contained and a non-issue for a good month now. It would have been very, very easy for that whole situation to blow up and become a major daily issue, but Girardi made sure it didn't. I don't think he will win the award — John Farrell has the worst-to-first thing going for him — but he'll definitely get votes and could finish as high as second on the ballot. There isn't a ton of competition for the award this year.