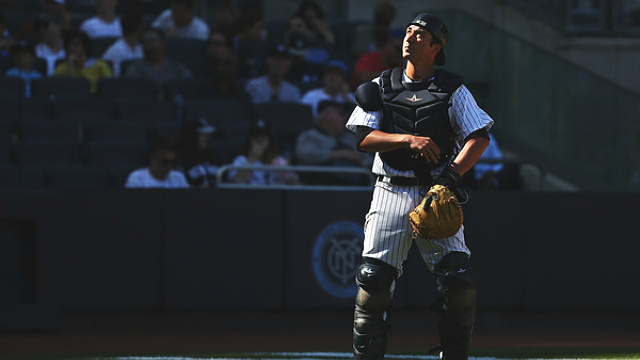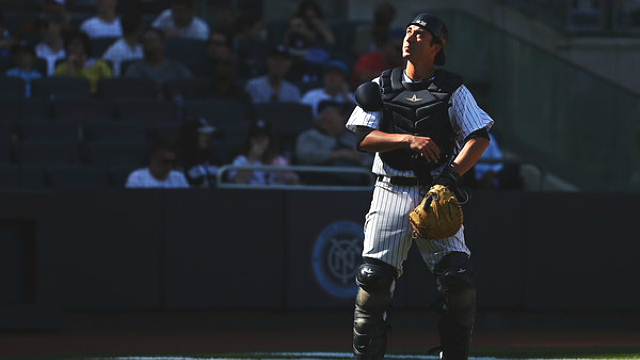 We've gone through just about every player who made an appearance for the Yankees this year. The good ones. The bad ones. Now let's get to some of the players in between, the players who are easy to forget. These are the players that you miss on the 2017 New York Yankees Sporcle quiz.
First, let's go a little more in-depth on a few players I went over in the miscellaneous first basemen review and then touch on the true bottom of the roster.
Rob Refsnyder
While Refsnyder had a five-game stint at first base, the Yankees didn't use him primarily at first this year. He was called up on May 2 to replace an injured Greg Bird on the roster. Six days later, he was sent down for Chad Green.
In all, Refsnyder was up-and-down three times in May, once for the single-admission Derek Jeter/Mother's Day doubleheader and another time to take the spot of Jacoby Ellsbury post-concussion.
I've already gone into his inability to hit this year. It was painful. But his fielding also reared its ugly head. The moment that sticks out was when he replaced Dustin Fowler after the rookie's devastating knee injury. Refsnyder almost immediately misplayed a ball in right field during a game the Yankees lost by one run.
The dream was that Refsnyder could be a Zobrist-type, but he could neither hit nor field particularly well and it's why he's currently on his third organization in the last year (Yankees to Blue Jays to Indians). He played six games against the Yankees with the Blue Jays in the final two months of the year and went 2-for-12.
Tyler Austin
With 40 more at-bats in 2017, Austin is six at-bats shy of no longer being a rookie. And after a sub-par season due to injuries, it's worth wondering where he fits in New York.
Two separate DL stints this season really set him back from a chance to prove himself as at least a bench bat, if not the righty side of a platoon. Now, he'll likely start 2018 in Triple A if he makes it through the offseason on the 40-man roster.
Fun note: He is Pikachu in Didi's postgame tweets. I don't think any of these other players got an emoji.
Kyle Higashioka
Higashioka had an impressive 2016 in the minors, earning himself the opportunity as the No. 3 catcher out of spring. His calling card in 2016 was his power, although we didn't get a chance to see it in the majors.
In his age-27 season, he walked twice and picked up no hits in 20 plate appearances while playing nine games in April. He got the chance after Gary Sanchez went down with a forearm injury, but Higgy couldn't hack it in an extremely short sample size after debuting in the Yankees' home opener.
As he did for much of his minor league career, Higashioka dealt with injuries for much of the season. The team had to have hoped he'd turned the corner health-wise in his breakout 2016, but alas, he was unable to do so.
The team had to seek out a new third catcher for September after he couldn't make make it back from his back injury. Now he'll have to prove himself again to make it through 2018 on the 40-man.
Mason Williams
The former top prospect spent his final games in pinstripes this season. Sad to see his time as a Yankee come to an end, but he became expendable this season with the team's glut of young outfielders.
He made five starts in June and picked up four hits, stealing two bases. No extra-base hits though, which has been part of his issues. He just couldn't hit for much pop, nor could he work many walks.
He was designated for assignment on June 29 to make room for Dustin Fowler. He spent the rest of the year in Scranton where he continued to show very little power but still produced with his legs (19 steals in 24 attempts).
Williams is now with the Cincinnati Reds, having signed with the club as a minor league free agent after the season.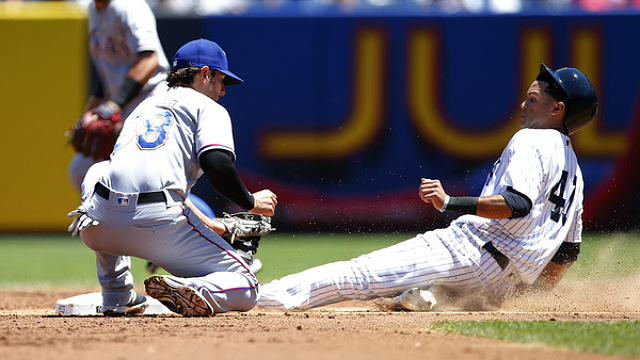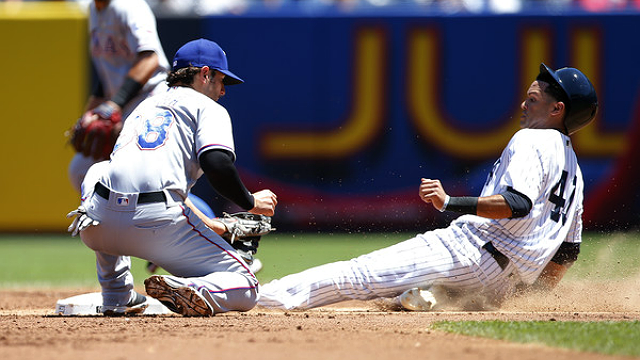 Pete Kozma
Kozma may be the easiest 2017 Yankee to forget. He wouldn't have made the roster at all if it wasn't for Didi's injury during the World Baseball Classic/Spring Training.
He played just 11 games in pinstripes and made just 10 plate appearances. He had just one hit and one walk. Didn't do anything remarkable. He was DFA'd to make room for Didi on April 28 and spent the next 3.5 months with the Rangers. He was cut from their Triple A squad in mid-August.
Erik Kratz
The Yankees needed a third catcher down the stretch, so Kratz was acquired at the waiver deadline. He played in just four games and had just two at-bats. He delivered in both of them with a single and a double, finishing the season with a sterling 2.500 OPS. That's good for a 600 wRC+. Oh snap!
He hung around the team during the postseason and stood up for Aaron Judge in a postgame interview after ALDS Game 5. That's about it for his brief Yankees career.