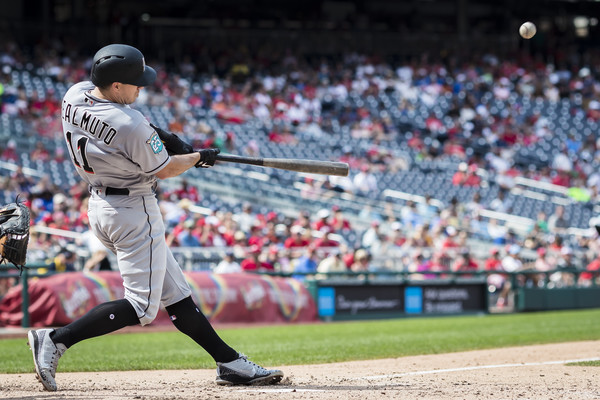 The Yankees are in the midst of a five-series, sixteen-game stretch against well below .500 teams, and it could not have come at a better time. They've been banged-up for quite some time, and Didi Gregorius joined the walking wounded over the weekend. Wins and losses should never be taken for granted, but if there was ever a time for players to get a little bit of extra rest, it'd be these two-plus weeks.
The Last Time They Met
The Yankees played host for a two-game set way back in April, which resulted in a split. Both games were blow-outs, with the Yankees taking the first game 12-1, and the Marlins winning the second 9-1. Some other notes:
Luis Severino was brilliant in the first game, throwing six scoreless innings and allowing just one hit and one walk, while striking out 8. He picked up fourteen whiffs on 86 pitches, as well.
Every Yankees starter reached base at least once in that game, and all but Ronald Torreyes reached at least twice.
The now-injured trifecta of Aaron Judge, Didi Gregorius, and Gary Sanchez went a combined 7-for-12 with 6 runs, 3 home runs, 8 RBI, and 3 BB.
Miguel Andujar was the Yankees offense in the loss. He went 2-for-4 with a double and a home run (he was 2-for-4 with 2 doubles in the first game); the rest of the offense went 2-for-26, with both hits being singles.
Check out Katie's Yankeemetrics post for more information.
Injury Report
Kyle Barraclough, Lewis Brinson, Garrett Cooper, and Martin Prado are all currently on the disabled list. Barraclough is eligible to be activated today, and there's a chance that he might be back for this series. The other three aren't expected to be back for at least another few days. Miguel Rojas is banged-up, too, but he's listed as day-to-day.
Their Story So Far
The Marlins are bad. They're 50-76, which is the fourth-worst mark in baseball, with a -173 run differential, which checks in at third-worst. They're 9-19 since the All-Star break, and just ended a six-game losing skid against the weirdly hapless Washington Nationals. And they're biggest story so far might just be Jose Urena intentionally throwing at 20-year-old wunderkind Ronald Acuna:
I'm still angry about it. There's nothing justifiable about Urena's actions, and Major League Baseball needs to reevaluate how it handles head (or elbow) hunting. But I digress.
The Lineup We Might See
Manager and old friend Don Mattingly has utilized over one-hundred different lineups this season, the result of injuries, trades, and a lack of talent. Their only real constant is the pitcher batting ninth. We'll probably see something like this, though:
Rafael Ortega, RF – .317/.378/.366, 0 HR, 0 SB, 113 OPS+
J.T. Realmuto, C – .293/.351/.507, 16 HR, 1 SB, 140 OPS+
Brian Anderson, 3B – .274/.352/.396, 9 HR, 2 SB, 112 OPS+
Derek Dietrich, 1B – .269/.333/.433, 15 HR, 2 SB, 115 OPS+
Starlin Castro, 2B – .287/.335/.407, 10 HR, 6 SB, 109 OPS+
Austin Dean, LF – .176/.222/.412, 1 HR, 0 SB, 75 OPS+
JT Riddle, SS – .231/.269/.394, 7 HR, 0 SB, 85 OPS+
Magneuris Sierra, CF – .164/.164/.192, 0 HR, 1 SB, 1 OPS+
[Pitcher]
Isaac Galloway (166 OPS+ in 27 PA) might see a start in center, and Miguel Rojas (87 OPS+) will start at short if he's healthy.
The Starting Pitchers We Will See
Tuesday (7:10 PM EST): RHP Masahiro Tanaka vs. RHP Pablo Lopez
Lopez has rocketed through the Marlins organization since being acquired from the Mariners last summer, finishing 2017 at High-A and reaching the majors on June 30, 2018. He made a good first impression, too, holding the Mets to two runs in six innings, striking out five, and keeping the ball on the ground (55.6% grounders). Lopez has had his ups and downs since then, which isn't too shocking considering that he's a 22-year-old that made a total of a dozen starts between Double-A and Triple-A – but the potential's there for a decent mid-rotation starter.
Lopez is a four-pitch guy, working with a low-90s four-seamer, a low-90s sinker, a mid-80s change-up, and a high-70s curve. He has a 52.1% groundball rate on the season, and a strong 6.2% walk rate, to boot.
Last outing (vs. ATL on 8/13) – 5.1 IP, 6 H, 6 R, 2 BB, 5 K
Wednesday (7:10 PM EST): RHP Lance Lynn vs. RHP Trevor Richards
Richards is also a rookie, having made his debut back on April 2. He spent the month of May back in Triple-A, making six starts, but he's been with the team the rest of the way. He has an average-ish 4.28 ERA (3.97 FIP) in 90.1 IP to go along with average strikeout rates (22.4%), but he walks a lot of batters (10.2%) and gives up a lot of flyballs (36.2% groundball rate).
The 25-year-old Richards is a three-pitch guy, working with a low-90s four-seamer, a low-80s change-up, and a low-80s curve. His change-up is his out pitch, boasting a strong 41% whiffs per swing rate.
Last outing (vs. ATL on 8/14) – 4.1 IP, 10 H, 5 R, 2 BB, 3 K
The Bullpen
The Marlins bullpen ranks:
24th in WPA
26th in BB%
28th in fWAR
28th in K%
29th in ERA
30th in meltdowns
Kyle Barraclough had been the closer, and he racks up strikeouts (25.0%) and walks (13.9%), en route to a 3.75 ERA. Their most reliable reliever otherwise is Drew Steckenrider (3.40 ERA, 27.6% strikeouts in 53.0 IP), with Nick Wittgren (3.63 ERA in 22.1 IP) and Drew Rucinski (3.74 ERA in 21.2 IP) being serviceable in limited duty.
Who (Or What) To Watch
Realmuto has emerged as the best catcher in baseball, with superb offense coupled with strong defense behind the dish. He's a legitimate star. The Marlins are otherwise a team of journeyman and rookies, and none of those rookies have been terribly exciting so far. As such, I'll be watching (and hoping) for the Yankees to keep rolling over subpar teams.