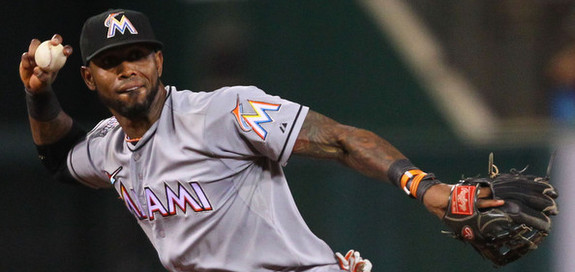 The baseball world still seems to be reeling from the not-yet-completed Marlins-Blue Jays blockbuster. Players still have to take physicals and stuff, so it might be a week or so until this thing is final. Between this and the Dodgers-Red Sox blockbuster, these last four months have featured some insanely massive and historic trades.
1. The Marlins are such an embarrassment to baseball. At least they won the World Series immediately prior to their two other firesales, this time all they had was a publicly funding stadium. Seriously, they received $409M in public funding (on what was apparently false pretense) that will cost the city $2.4 billion (!) to pay off over the next 40 years. The Yankees pulled the same kinda public funding nonsense with their new building, but at least they field a competitive team year after year and generate a ton of revenue for themselves, the league, the city, etc. Could you imagine being a fan of that team right now? The Marlins are frauds and owner Jeff Loria is a crook. I say contract 'em and sell the stadium for scrap.
2. The Blue Jays, meanwhile, are suddenly pretty good. This trade alone isn't enough to take them from 73 wins to 90+ wins and a division title — I feel like not enough people are talking about how bad of an idea it is for Jose Reyes to play 81 games a year on turf — but it sure will help. They need some of the guys they lost to injury this year (Jose Bautista and Brandon Morrow, specifically) to stay healthy and for Ricky Romero to #unsuck to really make a run at the AL East crown. Division titles aren't won in November and December, Yankees fans should know that by now. Toronto always played the Yankees tough though, and this trade is going to make those games even tougher. Sucks.
3. If you were holding out hope that Alex Rodriguez would be traded to the Marlins this winter, you can forget it now. He's not waiving his no-trade clause to go to that mess no matter how close the team is to his home. Moving him and his contract was a very long shot to start with, and now this latest Marlins firesale takes the most likely suitor out of play. A-Rod's here to stay, like it or not.
4. I know it's coming and yes, of course the Yankees should look into acquiring Giancarlo Stanton. He's obviously not happy …
Alright, I'm pissed off!!! Plain & Simple

— Giancarlo Stanton (@Giancarlo818) November 13, 2012
… so bring him to New York and make him happy. What should they give up? Frankly I don't care, give them whatever they want. I mean, could the Yankees really say no to Mason Williams, Slade Heathcott, and Gary Sanchez for Stanton? No way. Stanton is ten months older than Heathcott for cryin' out loud. He's 20 months older than Williams and already has 93 career homers to his credit. He's a franchise player the Yankees should go all out to acquire if he's truly available, which I doubt he is just yet. The Marlins need someone to sell tickets next year and he'll be the guy as long as he's making the league minimum-ish, which he will next year. Come his first arbitration raise next winter — homers pay huge in arbitration, Prince Fielder pulled down $7M his first time through with 114 career homers and no major awards — all bets are off.