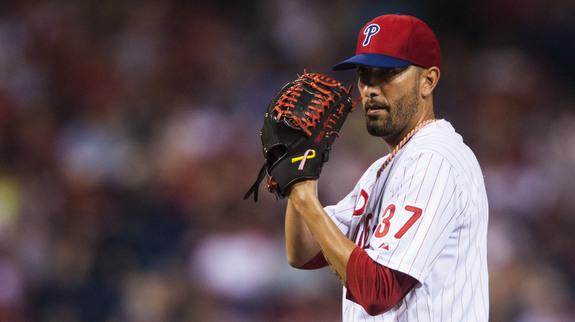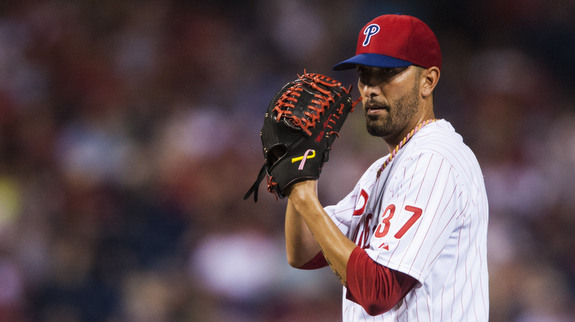 It could just be posturing, but Brian Cashman has said the Yankees are done with their major moves for the winter following the Masahiro Tanaka signing. The club still needs infield and bullpen help, but a trade involving similarly priced players is more likely than a free agent signing. Swinging a trade may be difficult because the Yankees don't have many trade chips aside from Brett Gardner right now.
A few weeks ago we heard about a possible Ichiro Suzuki for J.J. Putz swap, but that seemed to be Ken Rosenthal's speculation more than anything. The Yankees are shopping Ichiro and that trade is on the right track — it involves two players with similar salaries who have been marginalized by their teams this winter. Ichiro is an extra outfielder making $6.25M in 2014, Putz a middle reliever owed $7M. It's a good ol' fashioned baseball trade. Both teams fill a need by trading from a position of depth with no fancy accounting or throw-ins.
Finding a trade match for Ichiro is rather difficult. The Yankees need to find a team not only in need of a speedy, defense first outfielder, but a team with a similarly priced infielder or reliever to spare. Putz likely represents the best, most realistic case scenario. Here are four others who could be matches.
Mike Adams, Phillies
Philadelphia has been looking for bullpen help all offseason at least partially because their two-year investment in Adams has gone south. The 35-year-old was one of the two or three most dominant setup relievers in the game from 2008-12 (1.98 ERA and 2.67 FIP), but back and shoulder problems limited him to only 25 innings last season. Adams had surgery to repair small tears in his labrum and rotator cuff in June and then needed surgery for a sports hernia in December. GM Ruben Amaro told Todd Zolecki that Adams won't be ready for the start of Spring Training and will probably have the start of his season delayed.
The Phillies had interest in Ichiro last winter and they could use a defensively minded extra outfielder right now, plus Amaro loves big names. Ichiro makes sense for them, but, given his age and injuries, Adams isn't a great fit for the Yankees. He is owed $7M this coming season ($6M club option for 2015) so the salaries match up well, but the team couldn't count on him to be ready in time for Opening Day. There's a lot of risk here and Adams has a history of shoulder problems (also had labrum and rotator cuff surgery in 2008). It would be awesome if he could get back to being his 2008-12 self but I don't see how anyone could reasonably expect that.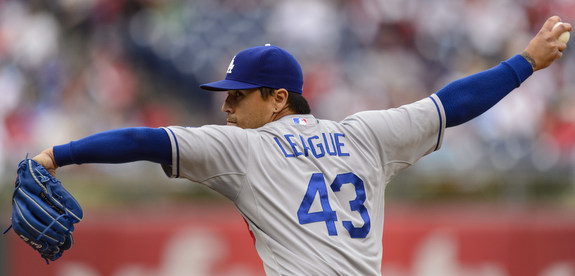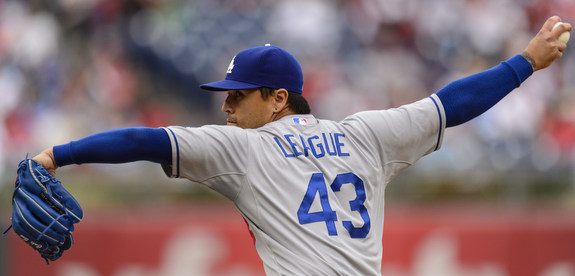 Brandon League, Dodgers
We all knew League's three-year, $22.5M contract would be bad the day he signed it last offseason, but I don't think anyone expected it to go so bad so soon. The soon-to-be 31-year-old had a 5.30 ERA (4.93 FIP) in 54.1 innings last summer and didn't just lose his closer's job, he lost a setup job and a middle relief job as well. League was pulling mop-up duty by mid-June. The Dodgers have a full bullpen and some interesting arms in the minors, so they'd probably jump at the chance to unload the $15M left on League's deal even though they aren't shy about having a sky high payroll.
Los Angeles has a shockingly bad bench despite being an NL team with a massive payroll, plus Matt Kemp recently said he might not be ready in time for Opening Day following offseason ankle and shoulder surgery. Adding someone like Ichiro seems like a wise move on their part. League was awful last year — his strikeout (4.64 K/9 and 11.2 K%) and homerun (1.33 HR/9 and 19.0 HR/FB%) rates both declined big time — but he was very good from 2011-13 (2.97 ERA and 3.00 FIP) and he has AL East experience after spending the first few years of his career with the Blue Jays. I don't think adding someone signed through 2015 is a bad idea, but the Yankees would have to be absolutely convinced they can fix League if they're going to take on that contract.
Sean Marshall, Reds
Marshall, 31, is the only lefty among the three relievers in this post, but he is no specialist. He dominated both righties and lefties from 2010-12 (2.47 ERA and 2.12 FIP overall) before missing most of last season with a shoulder strain. When he's right, Marshall is a high strikeout (10.35 K/9 and 27.9 K% from 2010-12), low walk (2.47 BB/9 and 6.7 BB%), high ground ball (55.3%) reliever who can (and has) pitched in almost every situation. He was very, very good before that shoulder acted up last year.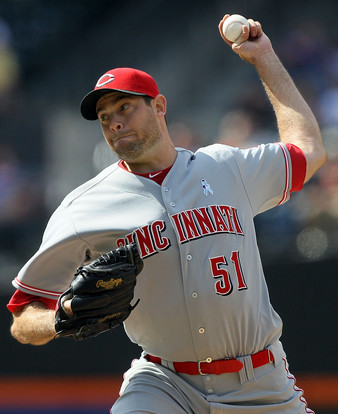 The Reds owe Marshall $12M over the next two years and they tried to trade him earlier this winter, but talks with the Rockies fell apart due to some lingering concern about his health according to Troy Renck. That's obviously a red flag. Cincinnati will attempt to fill their gaping center field/leadoff hitter void with speedy rookie Billy Hamilton, but they have been looking for some outfield depth and insurance in case that doesn't work. Ichiro is certainly capable of filling that role. Again, I'm not against adding a player signed through 2015, but the Yankees would need to look over Marshall's medicals thoroughly before pulling the trigger.
Cliff Pennington, Diamondbacks
There aren't many extra infielders making Ichiro money, so the 30-year-old Pennington is among the closest at $3.25M in 2014. He'll also remain under team control as an arbitration-eligible player in 2015. Pennington is essentially the infield version of Ichiro — he can't hit (76 wRC+ from 2011-13) but he's an outstanding defender who won't kill you as an everyday guy because of his glove. The problem is the Yankees have almost the exact same player in Brendan Ryan and I'm not sure how many no-hit, all-glove infielders one team can roster. Arizona has plenty of young infielders and Pennington could be the odd man out, but he's not what New York needs right now. Trading Ichiro for him would be about saving $3M or so and putting it towards a free agent reliever.
* * *
Unless someone surprises them with an offer, I think the Yankees are best off holding onto Ichiro for another few weeks. Some team is bound to lose an outfielder or two to injury in Spring Training — that team could even be the Yankees! — which could improve his market. The Bombers have an obvious replacement in Zoilo Almonte, who is sound defensively and a switch-hitter who might actually provide some offense off the bench. Putz and the three relievers in this post all have some kind of injury and/or performance concern, but that's what you get when you're talking about trading pricey spare parts.