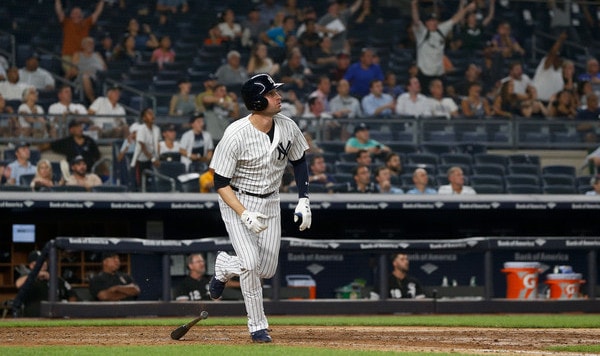 Pitchers and catchers report to Tampa two weeks from tomorrow. Some clubs open camp a day or two earlier, others a day or two later. In about two weeks though, Spring Training begins, and a lot of free agents will still be looking for work. Manny Machado, Bryce Harper, Dallas Keuchel, and Craig Kimbrel will be fine. They're going to get paid. The free agent middle class is feeling the squeeze the most.
Neil Walker felt that squeeze last winter. I thought he was looking at something like two years and $20M going into the offseason. The Jed Lowrie/DJ LeMahieu contract. Instead, Walker signed a one-year deal worth $4M with the Yankees on March 12th, two and a half weeks before Opening Day. That was coming off a season in which he hit .265/.362/.439 (114 wRC+) with 14 homers as a full-time player.
Walker, now 33, had to settle for a part-time role with the Yankees and hit .219/.309/.354 (81 wRC+) with eleven home runs last year. He was effective when pushed into an everyday role. As a true bench guy, he struggled. Walker is once again feeling the free agent squeeze, and now that he's entering his mid-30s and coming off his worse full MLB season, I imagine he's feeling that squeeze even more. Will he even get a Major League contract? I'm not sure.
With Spring Training on the horizon, the Yankees and Walker are in position to help each other out. A reunion could benefit both parties. I'm thinking a contract structure along these lines:
Minor league contract with a $3M salary at the MLB level, plus plate appearance incentives.
Opt-out clause at the end of Spring Training (say March 25th).
Walker can also opt out at any point before Opening Day if another team is willing to put him on their 40-man roster.
The Yankees can prevent Walker from opting out by adding him to their 40-man roster.
Walker made $4M last year and I can't see him getting raise (or even making the same salary) after the year he had. He did well when pressed into action on an everyday basis. Overall though, he was below-average. That's why I'm thinking a $3M salary instead of a $4M salary. It's possible $3M is even a little generous at this point. Maybe $2M is more appropriate? Anyway, let's talk through the other points.
What's in it for the Yankees?
An insurance policy, basically. Should an infielder get hurt in Spring Training, Walker would be around to step right into the vacated roster spot. Heck, the Yankees still have an open bench spot. Even if everyone stays healthy in camp, the Yankees could still carry Walker on their bench. He could be the backup first baseman rather than LeMahieu as well as the emergency outfielder and emergency catcher (Walker caught in the minors), among other things.
Minor league contracts are zero risk and Walker, given his track record, is a nice little insurance policy to have lying around in Spring Training. And hey, if Walker's willing to go to Triple-A for a bit during the regular season, great! If not, no big deal. The Yankees would be right back where they are right now. Nothing gained, but also nothing lost. They'd give Walker a look in camp and see whether he fits.
What's in it for Walker?
A job, for starters. Those are hard to come by for second or third tier free agents these days. A minor league contract with the Yankees allows Walker to have a full and normal Spring Training with a team he knows. Last year he had to participate in the MLBPA's free agent spring camp to get ready for the season. Signing with the Yankees would allow him to have a proper Spring Training and prepare for the season in a way he was unable to last year.
An end-of-spring opt-out clause is fairly standard for veterans on minor league deals. The twist is allowing him to opt out at any point in Spring Training if another team comes along and wants to put him on their MLB roster. Such a clause is uncommon but not unprecedented. In Walker's case, any team that puts him on their 40-man roster is giving him an MLB job. He has enough service time to refuse an assignment to the minors once he's on the 40-man. Any team that wants him will want him for their Opening Day roster.
Reporting to Spring Training allows Walker to prepare for the season and also showcase himself for other teams. He's been in the league long enough now that he's a known commodity. Still, playing in Spring Training beats sitting at home or working out in an MLBPA camp when you're trying to land a job. Walker gets to work out and play, and do whatever he needs to do to prepare for the season, while still having the freedom to go to a team that wants him on their big league roster.
* * *
By all accounts Walker enjoyed his time with the Yankees last year and the Yankees enjoyed having him. I would not have blamed him at all for being upset about his free agency and contract status, and I'm sure that, deep down, he was. How he could he not be? Walker handled it like a pro though. He accepted his role and worked hard at it, though being a part-time player after playing everyday his entire career proved to be a difficult adjustment.
A minor league contract could benefit both sides. Walker would get to have a proper Spring Training with a team (and teammates) he knows while retaining the ability to leave should another team want him for their big league roster. The Yankees get to bring Walker to camp as insurance, and, if they want him to keep him around, they can block any opt-out by adding him to their big league roster. They'd have the right of first refusal, basically.
To me, this does not seem like an arrangement that would work for any player with any team. Could you imagine the Yankees doing this with, say, Derek Dietrich, a player they have no history with whatsoever? Nah. I'm also not sure this is something Walker would want to do right now. An agreement with the Yankees could scare away other teams. Position players are not due to report until February 19th. That gives Walker three weeks to explore other opportunities.
The Yankees and Walker have a history and each side knows what they would be getting into. If no other team comes calling before Spring Training begins, a minor league contract with the Yankees would allow Walker gets to prepare for the regular season and showcase himself for other clubs. The Yankees would get to keep him around as depth. It's the best of a bad situation for Walker. Certainly preferable to sitting unsigned until mid-March again.
Update: Walker signed a one-year deal with the Marlins earlier this evening, the team announced. So much for that idea. Good for Neil though.