Since coming to the Yankees four years ago, Nick Swisher has been a model of consistency. He's played between 148-150 games each year with New York, hit between 24-29 homers, posted a .359-.374 OBP, hit to a 120-129 OPS+, produced a 124-135 wRC+, and has been worth 3.2-4.1 fWAR. It's been the same thing year after year, and outside of the postseason, that's been very good for the Yankees.
The 31-year-old Swisher opened the season by coming to camp in noticeably improved shape — "It's the best-looking I've ever been," he joked — and he mashed in Spring Training (.323/.344/.710). He carried that over into the start of the regular season, going 17-for-60 (.283) with four homers in the team's first 15 games. By the end of the month he owned a .284/.355/.617 batting line with six homers in 21 games. May was rough, but by the All-Star break he had his season line at .262/.336/.477.
By Swisher's standards, that actually wasn't all that good. He was hitting for power and a not horrible average, but the walks just weren't there. Walks are a Swisher trademark, and he got back on the horse and became a free pass machine in the second half…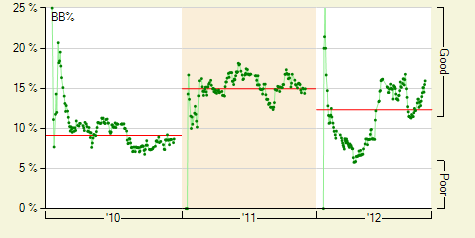 The Yankees were fading in the standings but it wasn't because of their right fielder. Swisher hit .298/.392/.510 in the first month after the All-Star break and carried a .272/.356/.485 batting line into the season's final month. While everyone focused on the Orioles, the rejuvenated Ichiro Suzuki, and the molten hot Robinson Cano, Swisher quietly hit .407/.521/.661 with more walks (14) than strikeouts (12) in the final three weeks of the season to help the Yankees keep the Orioles at bay. He capped the year off with a 7-for-11 series against the Red Sox, singling with the bases loaded in his final at-bat of the season.
Swisher got painted with the unclutch brush a long time ago, but he was (by far) the team's best hitter with runners in scoring position in 2012. He put up a .301/.406/.589 batting line in 181 plate appearances with men on second and/or third, a 164 wRC+ that ranked fourth among all hitters in those situations this year (min. 150 plate appearances). His docket of big hits included this extra innings homer against the Orioles, this huge game against the Red Sox (the 15-9 comeback win), and this go-ahead homer against the Braves.
When Mark Teixeira went down for more than a month with a calf injury, Swisher stepped in at first base and the Yankees didn't miss a beat. He started 27 games at first and played 41 games at the position overall, his most since 2008 with the White Sox and more than the first three years of his Yankees career combined. Swisher avoided the DL for the seventh straight season — he did miss a week with a hamstring issue in May and another week with a hip issue in July — though he did dip below 150 games played for the first time since 2005. He only made it into 148 games in 2012.
Swisher's season ended with another poor postseason showing (5-for-30, .167), something that unfortunately became a trend during his four years in New York. The Yankees will probably never come out and say it, but I think the playoff struggles are at least part of the reason why they're comfortable letting him walk as a free agent this winter. His Yankees career will likely come to an end this winter with a .268/.367/.483 batting line (128 wRC+) batting line in 498 games and 2,501 plate appearances. Swisher's performance this year — .272/.364/.473 (128 wRC+) with 24 homers — was one of the team's three best offensively and a big reason why they held off the Orioles to win the AL East.