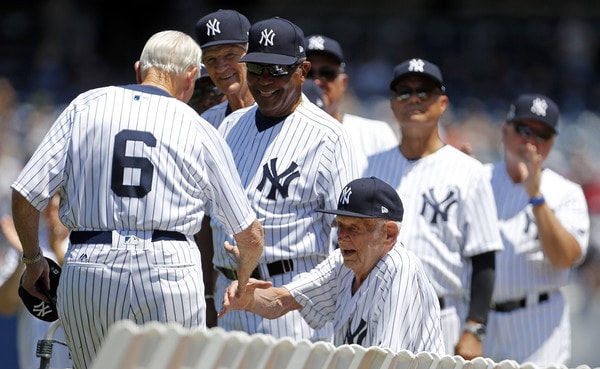 The 2018 Yankees are kicking butt right now, and today, for at least a few hours, we can forget all about the 2018 Yankees. Today is the 72nd annual Old Timers' Day at Yankee Stadium. One of my favorite days of the year. The Yankees are pretty much the only team that pull off something like this. The Dodgers tried it a few years ago and the Red Sox tried it earlier this year, and it was kinda sad.
Speaking from experience, Old Timers' Day is best enjoyed in person at the ballpark rather than through television. It does make for a mighty long day at Yankee Stadium, but it's worth it. Here is this year's roster of Old Timers. Among those making their Old Timers' Day debuts today are Aaron Boone (duh), Andy Pettitte, Jason Giambi, and Nick Swisher. Pettitte's going to get a great reception. Swisher's going to have more fun than anyone, guaranteed.
The Old Timers' Day festivities are scheduled to begin at 11:30am ET. As always, there will be baseline introductions followed by the Old Timers' Game. Here are the Old Timers' lineups, via Jeff Quagliata: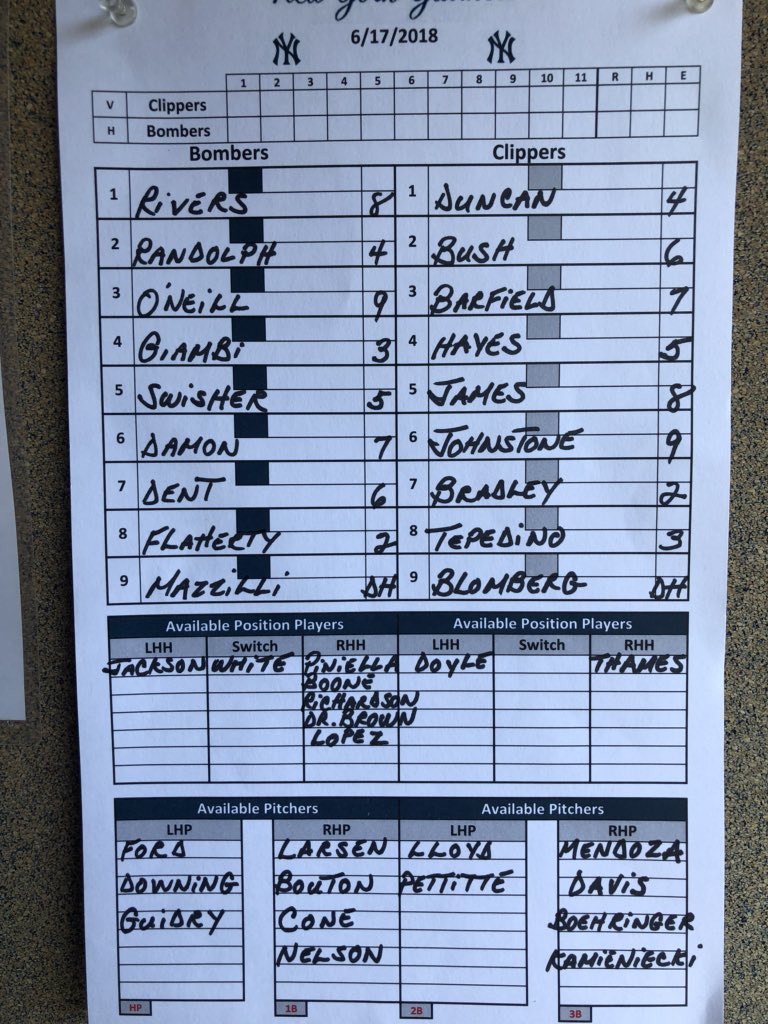 Decided advantage for the Bombers, I'd say. I hope Giambi puts one in the upper deck for old time's sake. That'd be fun. After all the Old Timers' Day fun, the Yankees will look to finish the four-game sweep of the Rays. Here are the starting lineups:
New York Yankees
1. CF Aaron Hicks
2. RF Aaron Judge
3. SS Didi Gregorius
4. LF Giancarlo Stanton
5. DH Greg Bird
6. C Gary Sanchez
7. 3B Miguel Andujar
8. 1B Neil Walker
9. 2B Gleyber Torres
LHP CC Sabathia
Tampa Bay Rays
1. 3B Matt Duffy
2. 1B Jake Bauers
3. C Wilson Ramos
4. DH C.J. Cron
5. 2B Willy Adames
6. SS Adeiny Hechavarria
7. RF Carlos Gomez
8. LF Rob Refsnyder
9. CF Johnny Field
RHP Wilmer Font
Wonderful weather for Old Timers' Day. It's hot out, so that kinda sucks, but there's a bright blue sky and plenty of sun. The weather always seems to be perfect for Old Timers' Day. Like I said, the Old Timers' Day festivities will start at 11:30am ET and of course YES will carry all of it. Today's game against the Rays will begin at 2:05pm ET and you can watch that on YES as well. Enjoy the day.