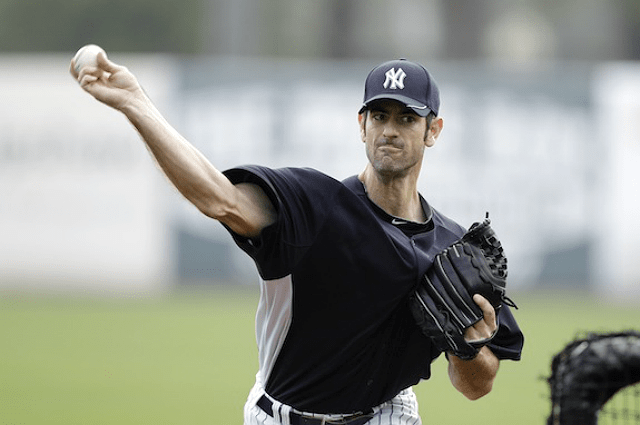 While the 1998 Yankees dominated on the field, they weren't anything impressive in the amateur draft. However, it very well could have been one of the Yankees' best.
Their No. 1 pick, 24th overall, was 6-foot-7 Andy Brown, a high school OF from Indiana who would go on to play just 19 games above Single-A (shoutout to the 2003-04 Trenton Thunder!). The only thing notable about Brown's selection is that the Yankees passed on Mark Teixeira to take him. Their second-round pick, LHP Randy Keisler, produced -0.3 bWAR in pinstripes. In-between, their supplemental first-round pick, Mark Prior, didn't sign, though he's a face you may recognize above. He'll be the crux of this post, so skip down a few paragraphs if you don't want to hear about the Yankees' drafting futility.
Keisler, Brown and Prior were pretty representative of the draft as a whole. The only productive big leaguers in the Yankees' draft didn't sign. Most players, like Brown, didn't reach the majors. The four signees who did make the majors combined to produce -0.7 bWAR for the Yankees, with 34th round selection Brandon Claussen being the only one to have a positive contribution of 0.2 bWAR. The only lasting impact of the '98 draft appears to be the 14th round pick of Brett Weber, who never made the majors with the Yanks but is now their replay guru.
This wasn't too uncommon among Yankees drafts in that era. The '97 draft mostly just gave New York the left-handed stylings of Randy Choate. The '99 draft produced Andy Phillips and the ill-fated efforts of Kevin Thompson and Sean Henn, the latter of whom didn't sign. The 2000 draft led to 12 scoreless innings from Matt Smith, 13 at-bats from Mitch Jones, a re-drafting of Henn and little else.
There are two reasons this 1998 draft stands out: Prior, the aforementioned supplemental first-round pick who would go on to briefly star for the Chicago Cubs, and Drew Henson, the dual-sport star committed to Michigan to play football but otherwise a first-round talent for baseball. Those two names comprise a major what-if, a seminal question of what the Yankees' look like 5-10 years down the road if they sign Prior or if Henson doesn't bust.
***
It's funny how the Yankees even got the supplemental pick to take Prior in the 1998 draft. They had received the Rangers' No. 1 selection as well as a supplemental pick in the 1997 draft after Texas signed John Wetteland in free agency. However, the Yankees were unable to sign Tyrell Goodwin with their No. 24 selection in '97 as the outfielder followed through on a commitment to North Carolina.
The No. 43 overall choice in '98 was the Yankees' compensation. However, the inability to sign Goodwin colored the Yankees' thinking a year later. They considered then-high school star Teixeira at No. 24 in the first round, but his asking price was too much, according to Buster Olney. He'd forgo signing with the Red Sox in the ninth round to attend Georgia Tech.
Prior was also available at No. 24 and, in retrospect, seems like the quintessential Yankees pick. A 6-foot-5 right-hander from southern California. Can't really fit a stereotype any more than that. But the righty was only willing to sign with four teams, one of which was the Yankees, and rookie general manager Brian Cashman understandably shied away from taking him over Brown.
"We think he's going to get the maximum out of his talent, because of his makeup," Cashman told Olney about Brown. "He's got a chance to be a well-above average hitter."
The Yankees' final offer to Prior was for $1.4 million, but the teenager chose to attend Vanderbilt. After transferring to USC, he cemented himself as a top prospect, eventually going to the Cubs with the second pick in the 2001 draft, behind only Joe Mauer and three picks ahead of Teixeira. It took $9.1 million more for the Cubs to lock up the college junior than the Yankees had offered three years earlier.
As you may remember, Prior and fellow power arm Kerry Wood would front a formidable Cubs rotation in 2003, each earning All-Star appearances en route to the NLCS. While things would soon fall apart thanks to arm injuries for each, Prior still produced 15.7 bWAR in his career, including 16.6 in his first four seasons and 7.4 in 2003 alone. He had the makings of a real bonafide ace before his arm failed him. We did get a glimpse of Prior in pinstripes in 2011 when he got a look in spring training and 11 innings in the minors.
Yet arm injuries may not have been Prior's destiny if he wasn't used heavily in the Cubs' system.
"You look at his delivery and you can tell he is going to be at a very low risk for an injury," the late Kevin Towers said of Prior in April 2003. "He's got the type of motion that will keep him around for a long time."
Whether the Yankees could have actually developed him is another story. Between Andy Pettitte in 1995 and Chien-Ming Wang 10 years later, the Yankees failed to develop a solid starting pitcher in-house. That was fine for an era when the team could dominate free agency or trade whatever prospects they had for pitchers, but it hurt come the mid-2000s when the rotation dried up some. Prior had a mid-90s fastball and knee-buckling curve by the time of the 2001 draft, but perhaps that doesn't shine through in the Bronx of the early aughts.
***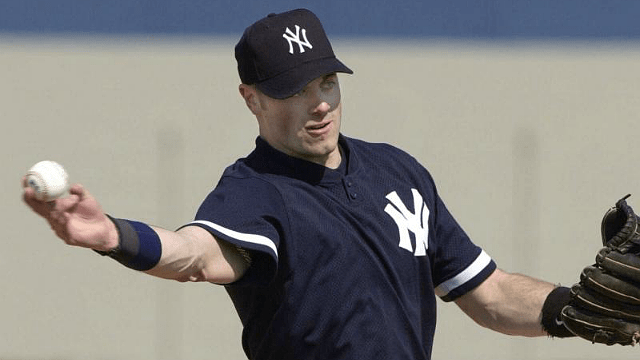 Henson seems like a prospect from a bygone era. The idea of a two-sport star is foreign with Bo Jackson and Deion Sanders well-removed from their playing days. These days, more and more kids decide to specialize in one sport over the other. Others are forced to choose a sport come age-18 when they go to college or sign with a team in the draft.
But Henson was different. Practically the same build as Prior, Henson measured in at 6-foot-5, 220 pounds and was a tri-sport athlete. Putting aside his success in basketball, he was a potential first-round pick in baseball as either a pitcher or hitter and was heavily recruited by both Michigan and Florida State to be either school's quarterback before choosing the Wolverines. That's quite the pedigree.
"Do you know how there are all the stories these days about what's going to happen when Michael Jordan retires?" Mark Carrow, Henson's baseball coach at Brighton High, told Sports Illustrated in 1998. "About how there's going to be a void, an absence of superstars? I think Drew Henson is the one who can fill it, who can stand on that kind of pedestal. I honestly believe that."
Um… wow. Of course, that's from a biased point of view, but let that quote sink in.
Despite his commitment to Michigan, the Yankees still selected him in the third round, 97th overall, and gave him a $2 million bonus with the understanding he wouldn't play a minor league game after July 31st in 1998-2001 in order to attend preseason football practices. It's truly astounding that a player could get such a deal, but Henson had been named Baseball America's high school player of the year. This was a premier talent.
The Yankees chose to take Henson as a hitter after he hit 70 homers over his four years at Brighton High School. However, there was talk of him as a potential starting pitcher as well.
"There weren't many kids that could hit it that high and that far. The first thing that impressed you was the raw power that he hit the neighbor's aluminum siding," Yankees scout Dick Groch told ESPN. "Then he went to the bullpen and pitched that day. I personally said he would be in the big leagues in three years if he stayed with pitching. With the body that he had, threw 91 to 95, spun the curveball. It would have been a three-year program for him.
So for a couple years, Henson would dip his toe in the baseball water while still finding time to get snaps alongside future football demi-god Tom Brady. Despite his lost development time, he still impressed the Yankees in 79 games for the GCL and Tampa Yankees in '98 and '99, respectively. He was especially impressive with 13 homers and 12 doubles while batting .280/.345/.480 in 284 plate appearances for Tampa.
"We are talking about an extraordinary baseball talent here," Yankees front office mainstay Mark Newman said to Jack Cavanaugh. "Drew is not just your everyday good baseball prospect."
1998 GCL manager Ken Dominguez told ESPN of Henson's confidence as a budding star: "I remember he was out in the outfield getting loose and I was hitting with him and I said, 'Well, this is your first impression of the baseball game.' He said, 'I'll play football in front of a 100,000 people. I'm not going to be nervous.' That's the type of person he was."
Still, there were warning signs that Henson may not be the star that was promised. Despite earning top-25 rankings from Baseball America from 2000-02, he struck out in about 30 percent of his PAs. The Yankees traded him to Cincinnati to acquire Denny Neagle in July 2000 after Henson wouldn't give up football before reacquiring him by dealing all-or-nothing slugger Willy Mo Pena in March 2001. By then, George Steinbrenner had given Henson a six-year, $17 million contract to play baseball full-time thanks to some shrewd negotiating from agent Casey Close.
At 21-years-old in 2001, Henson reached Triple-A Columbus and struggled for 270 at-bats. He struck out 85 times and mustered just a .222/.249/.367 batting line. Clippers manager Trey Hillman told the New York Times that Henson received plenty of grief from fans over his fading star and football past.
Despite the strikeouts, Henson topped out as the No. 9 prospect in all of baseball according to BA before the 2002 season. That was a spot ahead of Teixeira, two spots behind Mauer and seven spots behind Prior.
His full-time stay in Columbus didn't look much better than 2001. He improved to a .736 OPS, but still struck out 151 times to just 37 walks. That translated to a 28.9 percent strikeout rate to just a 7.1 walk rate. He earned a token call-up to the Yankees, striking out in his lone at-bat.
Despite being just 22-years-old, the shine had worn off Henson after he couldn't break through to earn third base. He'd play another full year in Triple-A with fewer strikeouts but even fewer times reaching base. The Yankees were forced to trade for a third baseman at the 2003 trade deadline and picked up Aaron Boone, merely giving Henson eight at-bats (in which he pick up just one hit) in his second call-up to the bigs.
A mutual parting of ways took place soon after with Henson pursuing football, playing seven games for the 2004 Dallas Cowboys and two for the 2008 Detroit Lions that went 0-16.
In the end, Henson may be one of the largest what-ifs in sports history, simply because he potentially could have starred in either sport. While the Yankees got negative value out of their 1998 draft haul, Prior or Henson could have easily been the type of standout piece that makes a draft worth it all by oneself.