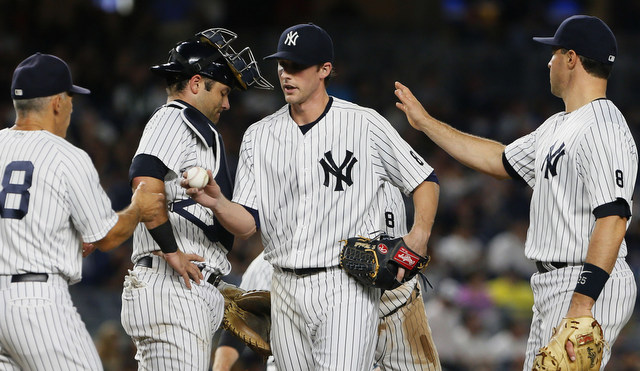 For the third time in the last five games, the Yankees' starting pitcher failed to complete five innings last night. The Dodgers contact-bombed Bryan Mitchell — he got only three swings and misses out of 47 pitches — for eight hits and six runs (two earned) in only 2.1 innings. That came three days after Michael Pineda couldn't finish five innings with a five-run lead and four days after CC Sabathia struggled to complete four innings.
The rotation outside Masahiro Tanaka has been a problem most of the season. The staff doesn't have a 4.58 ERA (4.37 FIP) by accident. Not 143 games into the season. Remove Tanaka from the mix and all the other starters have a 5.04 ERA (4.58 FIP) in 626.1 innings. That's 626.1 innings of meh. Sabathia and some others had their moments earlier this season, but, by and large, the rotation has been a liability, not a strength.
Rosters have expanded and the Yankees are carrying 13 relievers, so they have enough arms to soak up whatever innings need to be soaked up. Of course, no manager actually wants to use his September call-up relievers, at least not this often, including Joe Girardi. Every manager wants their starter to hand the ball off to their usual late-inning relievers. The Yankees haven't been able to do that much lately, and there's no help coming for two reasons.
1. There's no one left to call up in Triple-A. The Yankees have more or less exhausted their rotation depth at this point. Nathan Eovaldi and Chad Green getting hurt after Ivan Nova was traded really thinned out the team's depth. Joe Girardi admitted yesterday they originally planned to give Bryan Mitchell more time in Triple-A in the wake of his toe injury, but there was a need in the rotation due to Green's injury, so they called him up.
The next best rotation option at this point is probably Richard Bleier, or maybe Phil Coke, who has done a nice job in the Triple-A Scranton rotation of late. Dietrich Enns is bumping up against his innings limit and has already been moved to the bullpen. Adding Jordan Montgomery to the 40-man roster a year earlier than necessary so he can make something like three starts late in the season is crappy roster management. Bleier or Coke it is, and that's not reassuring at all.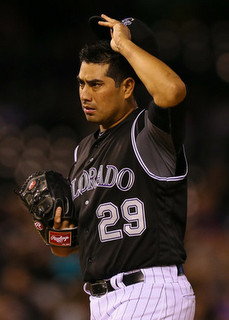 2. There's not much of a trade market either. The Yankees and every other team can still make trades through the trade waivers process, though whoever they acquire won't be eligible for the postseason roster. That's fine. They goal right now is to get to the postseason, that's it. Right now cobbling together a postseason rotation is a problem the Yankees would be happy to deal with.
What does the starting pitcher trade market look like in September? Bleak. I'm guessing the only pitchers available are impending free agents on bad teams. That means players like Jorge De La Rosa, Andrew Cashner, and Jhoulys Chacin. Normally I'd say just stick with Luis Cessa and Mitchell, but you know what? If all it costs is a fringe prospect or cash, give me one of those guys as an extra starter for the postseason push. I'd rather have him and not need him than need him and not have him, you know?
* * *
Point is, there are no impact pitchers to be found on the trade market. Not on the trade market and likely not in the farm system either. The Yankees' very best arms are in the big leagues right now. That's good from a "this is the best possible team they have" perspective and bad from a "this is the best possible team they have?" perspective. You know what I mean.
With less than three weeks left in the regular season, what you see if what you're going to get with the Yankees. If they're going to do the improbable a qualify for the playoffs, Cessa and Mitchell and late-career Sabathia and the mystery that is Pineda are going to be the guys who get them there. Like it or not, those four plus Tanaka are the five best starting pitchers in the organization at the moment.