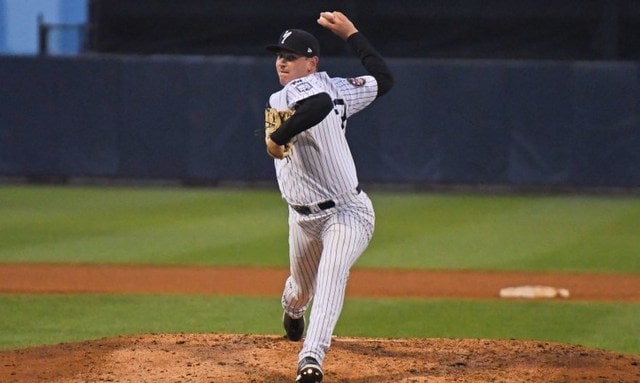 Rodney Hutchison | RHP
Background
Hutchison, 22, grew up outside Cincinnati in Mason, Ohio, and he played pretty much everything at Mason High School. Four years of baseball, four years of basketball, two years of football, and one year of hockey. He was All-State in baseball. Despite that, Baseball America (subs. req'd) did not rank Hutchison among the top 500 prospects for the 2015 draft and he went unselected out of high school.
Hutchison followed through on his commitment to North Carolina and didn't see much action as a freshman on the perpetually stacked Tar Heels pitching staff. He allowed 15 runs in 17 mostly mop-up innings his first year with UNC, then he headed to the Coastal Plains League for additional innings during the summer. Hutchison made ten starts and threw 49.2 innings with a 3.44 ERA and more walks (31) than strikeouts (26) for the Holly Springs Salamanders.
As a sophomore Hutchison emerged as an important multi-inning reliever with the Tar Heels, pitching to a 4.14 ERA with 43 strikeouts and 17 walks in 58.2 innings. Thirteen times in 30 relief appearances he went at least two innings. Hutchison spent that summer in the Cape Cod League, where he allowed two runs in 25.1 innings for the Chatham Anglers. Baseball America (subs. req'd) did not rank him among the top 30 prospects in the league, however.
This past spring Hutchison worked as a jack of all trades pitcher for UNC. He made ten starts and 13 relief appearances, threw 59 innings, and pitched to a 4.55 ERA with 56 strikeouts and 16 walks. Baseball America (subs. req'd) ranked Hutchison as the 462nd best prospect in the 2018 draft class and the Yankees selected him with their sixth round pick, the 187th overall selection. He signed quickly for a below-slot $197,500 (slot was $247,600).
Pro Debut
The Yankees sent Hutchison directly to Short Season Staten Island after signing and he posted a 1.97 ERA (3.02 FIP) with very good strikeout (24.4%), walk (4.7%), and ground ball (64.4%) rates in 32 innings. He made six starts and three relief appearances. Hutchison participated in Instructional League after the season despite throwing a career high 91 innings between college and pro ball this season.
Scouting Report
First things first: Hutchison is Yankees-sized at 6-foot-5 and 225 pounds. The Yankees love big pitchers and Hutchison is a big dude. He spent the 2016-17 seasons throwing 90-92 mph at UNC before living in the 93-95 mph range this spring, even touching 96-98 mph at times. Hutchison slings the ball from a low arm slot, almost sidearm, and that gives his fastball quite a bit of movement back in on righties.
At UNC, Hutchison's best secondary pitch was a diving mid-80s changeup that helps him to neutralize lefties. His mid-80s slider improved this spring and again in pro ball this summer, so, at his very best, he goes to the mound with a fastball that runs all over the place and two putaway secondaries in his changeup and slider. Also, Hutchison likes to change up his tempo and delivery to mess with hitters. Here's a good clip. He can't be a comfortable at-bat for right-handed hitters.
The downside with Hutchison is that his command is not great and his control can come and go even though his walk rate with Staten Island this summer didn't show it. Hutchison's strike-throwing inconsistencies are at least partly to blame on his arm slot and various deliveries. It's hard to throw strikes from that arm slot and his mechanics are unrefined because he's always changing them. The Yankees didn't let Hutchison vary his delivery (much) this summer and I don't know whether that's temporary or permanent.
Anyway, Hutchison is a big guy and he's athletic, plus he's drawn praise for being coachable and low maintenance. He works quickly on the mound and just plows ahead, going about his business. A coach's and broadcaster's dream. Hutchison's raw stuff is quite good. Developing some consistent strike-throwing ability is the top priority going forward.
2019 Outlook
After three years at a major college program, Hutchison is more than ready for full season ball next year. The Yankees are loaded with lower level pitching prospects and there are only so many rotation spots to go around, so my guess is Hutchison will open next year as a swingman/multi-inning reliever with either Low-A Charleston or High-A Tampa. I expect him to pitch in Tampa at some point next year, even if he opens the season in Charleston. Working on a set schedule in that multi-inning relief role should stretch him out to 120-130 innings next season.
My Take
I'm a big Rodney Hutchison fan. I am pro-fun and he seems like a fun pitcher with the arm slot and the funky deliveries and all that. The fact he throws a moving fastball and has a chance for two very good secondary pitches is icing on the cake. I'm not sure Hutchison can start long-term with that arm slot — how many righty starters do you see releasing the ball from that far down? — but turning a below slot signing bonus in the sixth round into a big league righty reliever would be a very nice outcome. I'm a fan. Hutchison's a neat little prospect.