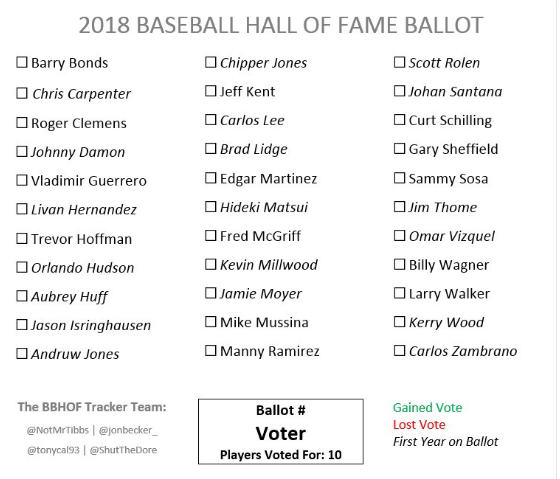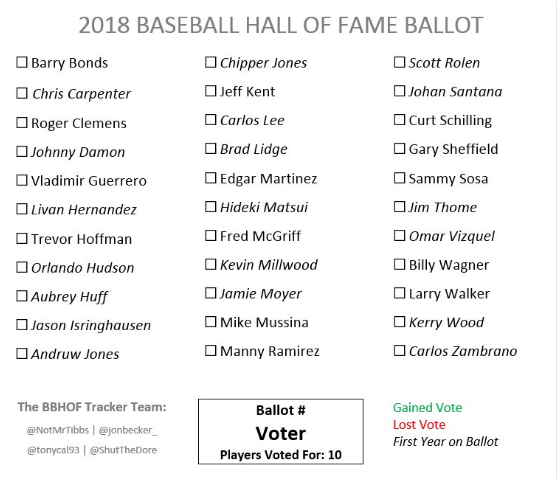 I love the smell of rehashed arguments in the morning. Welcome, folks, to another season of Hall of Fame voting. It's that most wonderfully awful time of year again that I swear I'm going to quite every year. But, like Michael Corleone, every time I'm out, they pull me back in (that's pretty much the only thing I know about The Godfather Part III). I think this happens because when I was first truly active about baseball on the internet, my first "cause" was the candidacy of Bert Blyleven. From there, it moved on to Mike Mussina and I can't help but be drawn into this stuff year in and year out.
Some general thoughts, given the Joe Morgan letter and what not…First, the idea of purity in any generation or at any tie of baseball is complete and total garbage. Segregation, gambling, juiced balls, amphetamines, steroids, you name it–there has never been any sort of "pure" competition in baseball. To say that steroids are any worse than these things is specious at best. The Steroid Era, or whatever you want to call it, happened and we can't ignore that, and neither can a museum about baseball. Not including players from that era is irresponsible at best and damaging to the history of the game at worst.
I'll never have a real Hall of Fame ballot, but if I didn't do this next part, this post wouldn't be worth much, would it? First, I'm just gonna list the ten players on the above ballot I feel are most deserving of enshrinement in the Hall of Fame, regardless of circumstance.
Three locks: Barry Bonds, Roger Clemens, Chipper Jones. Bonds and Clemens are two of the best player's in the game's history, hands down. Their numbers and accomplishments speak for themselves and don't need input from me. Chipper was incredible, probably a bit underrated, even. There aren't a lot of guys, let alone third basemen, who went .300/.400/.500 for their career and he's one of them.
Two pitchers: Mike Mussina and Curt Schilling. Though I dislike the latter player off the field, it's hard to deny he was one of the best pitchers in baseball during his career. Mussina, as I'm sure you all know, was a fantastic pitcher as well, and criminally underrated. These two deserve to be in.
Two first timers: Jim Thome and Scott Rolen. Scott Rolen was Adrian Beltre before Adrian Beltre became what we all know him as today. An incredible fielder and a great hitter. Rare would be a situation in which two third basemen were inducted at once, but if anyone deserves to be alongside Chipper Jones, it's Rolen. They were the two best at their position in the game. Thome as a tater-mashing (612 career) OBP (.402 career) machine whom everyone liked. He's in.
A lefty and two righties: It took a bit of convincing for me over the years–and I don't know why–but I'm on board with the Larry Walker thing. He was an absolutely great hitter and it wasn't just Coors. Even with spending a ton of time there, his career OPS+ is still 141 and his career wRC+ is 140. He was not just a product of his environment. Remember the .300/.400/.500 thing? It applies to Walker, as well as Edgar Martinez, one  of the best right handed hitters of his time and the best ever at his position. Another one of those? Manny Ramirez. Love him, hate him, whatever, he's another .300/.400/.500 guy and he's on the shortlist for best righty hitters ever.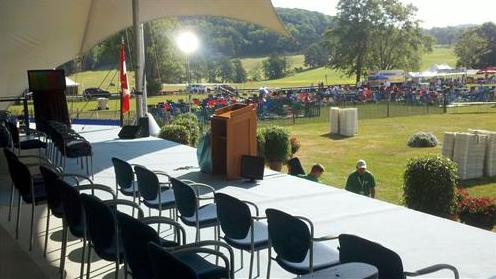 If I could add players to this ballot and supersede the arbitrary ten person limit, I'd also add Vladimir Guerrero, Andruw Jones, and Gary Sheffield. And, despite my hands off stance regarding steroids, I can see the argument in not voting for Manny since he was caught and suspended twice. The one guy I really want to see in but I'm not sure if he should be in is Johan Santana. There were few–if any–pitchers better than him from 2004-2010, but I just can't fully convince myself that it was a long enough time for him to play, regardless of his absolute dominance. One thing in his favor is that he actually compares very favorably to Sandy Koufax, another pitcher who was all peak and little longevity. In fact, Johan even beats him in ERA+, 136-131. Something I'll have to hypothetically wrestle with for my hypothetical ballot.
Regardless of what people may think, given their various positions and interests, the Hall of Fame is a great museum to the history of baseball. To tell the history of baseball, all the best players need to be included or else the Hall is lying to its patrons and customers. We can't ignore an era or the accomplishments of certain players because we don't like them or don't like what they did. Doing so is intellectually dishonest and ignores the complexity of both baseball and life.