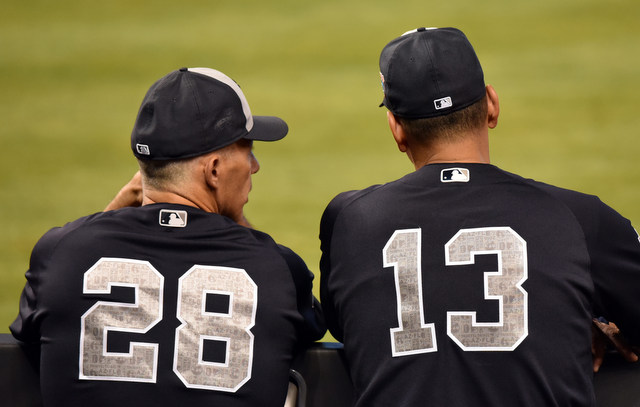 Tomorrow afternoon — weather permitting — the Yankees will open the 2016 regular season against the same team and in the same place their 2015 season ended: at Yankee Stadium against the Astros. Opening Day is just another game in the grand scheme of things, but it absolutely has symbolic value, and besides, everyone wants to start the new year with a win.
Earlier today the Yankees officially announced their Opening Day roster. The deadline to file the roster with MLB was 12pm ET this afternoon. The Opening Day roster offers no surprises. There were no last minute trades or waiver claims. Nothing like that. The roster is exactly as expected following all the roster moves over the last week or two. Here is the club's Opening Day roster:
CATCHERS (2)
C Brian McCann
C Austin Romine (No. 27)
INFIELDERS (6)
UTIL Dustin Ackley
2B Starlin Castro
SS Didi Gregorius
3B Chase Headley
1B Mark Teixeira
IF Ronald Torreyes (No. 17)
OUTFIELDERS (4)
RF Carlos Beltran
LF Brett Gardner
CF Jacoby Ellsbury
OF Aaron Hicks (No. 31)
DESIGNATED HITTERS (1)
DH Alex Rodriguez
STARTERS (5)
RHP Nathan Eovaldi
RHP Michael Pineda
LHP CC Sabathia
RHP Luis Severino
RHP Masahiro Tanaka
RELIEVERS (7)
RHP Johnny Barbato (No. 26)
RHP Dellin Betances
RHP Luis Cessa (No. 85)
LHP Andrew Miller
RHP Ivan Nova
LHP Chasen Shreve
RHP Kirby Yates (No. 39)
MISCELLANY (4)
1B Greg Bird (15-day DL retroactive to March 25th, shoulder surgery)
LHP Aroldis Chapman (restricted list, 30-game suspension)
RHP Bryan Mitchell (15-day DL retroactive to March 31st, broken toe)
OF Mason Williams (15-day DL retroactive to March 25th, shoulder surgery)
Romine beat out Gary Sanchez and I guess Carlos Corporan for the backup catcher's job. Torreyes beat out Pete Kozma and Rob Refsnyder for the backup infielder's job, and Sabathia beat out Nova for the fifth starter's spot. Barbato, Cessa, and Yates beat out a small army of relievers for spots on the Opening Day roster. They're on the shuttle though; they could be send down for a fresh arm in short order.
Tanaka will start his second straight Opening Day tomorrow — Sabathia started six straight Opening Days prior to last year — and be followed in the rotation by Pineda, Eovaldi, Severino, and Sabathia in that order. Miller is going to pitch through the chip fracture in his right wrist, which is both admirable and awesome. After spending all winter talking about the team's super-bullpen, the Yankees were dangerously close to starting the season with only one of their three elite relievers.
Chapman will return on May 9th, in the 31st game of the season. Bird is done for the season, Mitchell will miss a minimum of three months, and I'm not quite sure how long Williams will be sidelined. He's been hitting and throwing at Tampa, so I assume his return is weeks away, not months. Chapman's suspension means the Yankees have an open 40-man roster spot. Bird and Mitchell are 60-day DL candidates whenever more spots are needed.
Okay, that was entirely too many words about an Opening Day roster with zero surprises. Hooray for baseball being back. Go team.