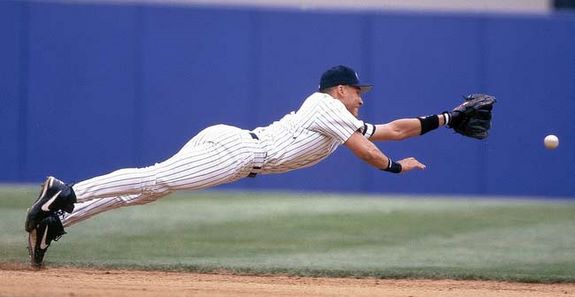 The fine folks at Baseball Prospect put their entire 1996 Annual online over the weekend, and it's free for all to see. You don't need a subscription to see the 28 team sections (no Devil Rays or Diamondbacks yet!), complete with overviews, player comments, and projections for the 1996 season. I think it goes without saying that it's amazing to look back and see what was being written about some of these guys, even moreso when you consider everything we know now. Hindsight can be an amazing thing.
Given his recent historical accomplishments, I think it's only fair that we start with Mariano Rivera, who was just a 26-year-old kid with a 5.51 ERA in 67 career innings at the time …
Skinny swingman who has good control of the corners of the strike zone. His K rate seemed to jump up a little as of late, and if that's development rather than a fluke, this kid could really be something special. Looks way too skinny to be durable, but you never know.
Unfortunately the annual did not provide a projection for Rivera, but I highly doubt it would have come close to what he actually did that year, a 2.09 ERA with 130 strikeouts and just 34 walks in 107.2 relief innings. He's still way too skinny, but the durability thing proved to be a complete non-issue.