Six questions but only four answers this week, the first official mailbag of the 2012-2013 offseason. Remember to please use the Submit A Tip box in the sidebar for all 'bag related correspondence.

Anonymous asks: Should they decide to trade him, realistically what could the Yankees get for Curtis Granderson?
The Yankees officially exercised Granderson's no-brainer $15M option earlier this week, and he's due to become a free agent after next season. He's hit .247/.337/.506 over the last three seasons and that seems like a decent approximation of his expected 2013 production. Maybe less if you really don't like him and think strikeouts are the root of all evil. Granderson is a center fielder but not a good one, though he is definitely an above average player signed for one year.
Guys like that don't get traded all that often, but we do have a decent sample over the last few years, most notably Matt Holliday, Adrian Gonzalez, Josh Willingham, and Dan Uggla. Granderson is somewhere between Willingham (traded for two prospects, one being an MLB-ready reliever) and Gonzalez (three prospects, two being top 100 guys), which at least gives us a reference point rather than just guessing. He won't fetch a Carlos Gonzalez type (like Holliday), but I think the Yankees could realistically demand two good prospects for Granderson in a trade. Two guys in a club's top ten prospects list, for example. Preferably at least one of them would be an MLB-ready outfielder, of course.
Matt asks: What would you think about adding Placido Polanco as a back up utility guy to play the role that Chavez had?
Travis asks: Lets say the Tigers non-tender Ryan Raburn. Is he enough of a utility player for the Yankees? If he is, would he be an upgrade over Jayson Nix?
Might as well lump these two together. Polanco, 37, makes some sense as a backup corner infielder/emergency second baseman depending on his back. He's missed a bunch of time these last few years with everything from inflammation to soreness to bulging discs. The Yankees would have to look him over really well during the physical. Polanco isn't anything special on defense, has no power (.075 ISO last three years), no speed (only eight steals), and doesn't walk (6.3 BB%), but he's a contact machine who rarely strikes out (.281 AVG last three years with an 8.0 K%). The Yankees can use some of that, it just depends on whether they're comfortable with his medicals and having a right-handed hitting corner infielder.
As for the 31-year-old Raburn, it would have to be a minor league contract only. I really liked him a few years ago, but he just hasn't hit at all lately. He broke out with a .285/.348/.498 showing from 2009-2010 (.286/.373/.580 vs. LHP), but these last two years he's hit just .226/.272/.370 overall (.232/.283/.397 vs. LHP) and been demoted to the minors. Raburn is far more versatile than Polanco, with lots of experience at second and in the outfield corners plus some time at third base as well, but he can't hit. That 2009-2010 stuff is tantalizing, but I don't think he's better than Nix and I wouldn't give him anything more than a minor league deal with a Spring Training invite.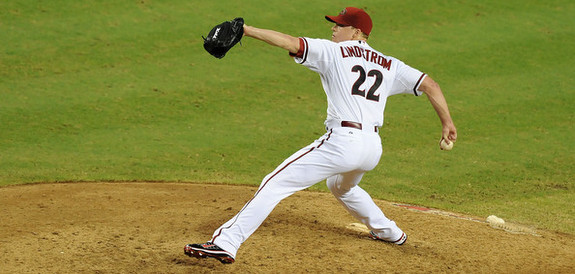 GB asks: I see that the options for Joakim Soria and Matt Lindstrom were declined. They seem like good targets to me. Your thoughts?
Lonnie asks: Do you see the Yanks making a play for Soria or Ryan Madson at low-cost deals to possibly close in 2014?
Gonna lump these two together as well, and yes, all three make perfect sense on short-term contracts. Obviously Soria and Madson are elite relievers coming off Tommy John surgery while Lindstrom is healthy and more of a middle reliever/setup man, but the Yankees need some bullpen help and all three offer it.
There isn't a team in baseball that wouldn't take Soria or Madson on a one-year, low-base salary, incentive-laden "prove yourself then go out and get that big contract next offseason" contract, but the Royals are talking about re-signing the former while the latter still wants a closing job. The 32-year-old Lindstrom is probably a bit underrated, pitching to a 2.84 ERA (3.24 FIP) in 101 innings over the last two years. He throws very hard but is more of a ground ball guy than a strikeout guy, plus he spent most of this season with the Orioles and has at least some AL East experience. I'd take any and all of these guys on a one-year pact.
Jeb asks: If Brian Cashman offers Russell Martin another 3/20 and he turns it down, would you give him a qualifying offer? Assuming $/fWAR holds and fWAR might not capture his defense, perhaps this is worth the risk?
I wouldn't worry so much about the $/WAR stuff since the Yankees are on their own little planet there. They're well beyond the point of diminishing returns, meaning every additional dollar they spend adds less and less in terms of wins. You can only win so many baseball games a year regardless of how much you spend. More money means more probability, not more wins.
Anyway, the catching market is atrocious and that goes double for this offseason. There are two legitimate starting catchers on the free agent market this offseason: Martin and A.J. Pierzynski. Mike Napoli has caught more than 80 games once in a his career (2009) and no more than 70 games in the last three years. Kelly Shoppach hasn't caught more than 75 games since 2008. Pierzynski turns 36 in December and is coming off a career year, plus he was never anything great on defense and is a world-class asshole. Martin doesn't hit for average but he draws walks, hits for power, and is a pretty good (if not great) defender. He's also won't turn 30 until February.
For most of the season it appeared as though Martin (and his agent) made a huge mistake by not taking that three-year, $20M-something extension last winter, but I bet he gets a similar deal this offseason. There are enough big market teams who need a catchers (Rangers, Red Sox, Yankees) and Russ hasn't yet gotten into his mid-30s, when catchers usually turned into pumpkins. Hell, Chris Iannetta just signed a three-year, $15.55M extension with the Angels despite hitting .240/.332/.398 while missing a bunch of time due to injury this year, and he didn't even go on the open market. Martin should be able to find the extra $8-10M out there. I don't think the Yankees will make him a qualifying offer, but I think it would make some sense. Worst case is he accepts and you've got him on expensive one-year contract. Considering the general lack of quality catchers, overpaying Martin for a year is a luxury the Yankees can afford.