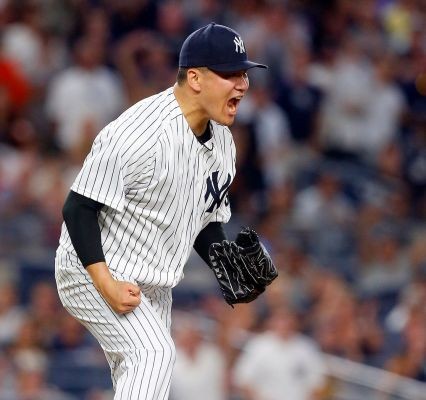 Giant victory
Facing yet another first-place team on this make-or-break homestand, the Yankees pulled off a stunning victory over the Giants on Friday night. The Yankees entered this series with a 3-7 record in Interleague play this season, the worst in the American League and second-worst in the majors ahead of only the Reds (4-11).
Masahiro Tanaka outdueled Madison Bumgarner in a battle of aces, firing six shutout innings against the Giants. Tanaka has dominated NL competition during his major-league career, compiling a 1.88 ERA with 59 strikeouts and just six walks in nine Interleague starts. That's the third-best Interleague ERA among active pitchers with at least seven starts, and the best for any Yankee pitcher that has ever made more than one start during Interleague play.
Tanaka has put together an ace-like resume this year, but one narrative clouding his season performance has been his sub-par numbers on normal rest.
He entered this game with a 5.33 ERA in eight starts on four days rest, a bloated figure compared to his 3.15 season ERA. The 2.18 difference in ERA between his 5.33 normal rest ERA and 3.15 overall ERA ranked fourth-highest among the 143 pitchers with at least five starts on four days rest this season.
Aroldis Chapman's flame-throwing feats are becoming more and more ridiculous every day. On Friday night, 15 of his 17 pitches were fastballs, and each of the heaters was clocked at 100 mph or faster, with a whopping seven pitches topping out at 104 mph.
That's now 11 pitches of at least 104 mph in his last two appearances combined (he had four on July 18), an unprecedented total considering that only three pitches of 104 or more mph had ever been recorded in the nine seasons of Statcast data (since 2008) before this week.
Chapman averaged a ridiculous 103.2 mph on his fastball against the Giants, the highest average fastball velocity in a game by any pitcher since 2008, per Statcast.
Bronx bummer
Less than 24 hours after celebrating one of their most uplifting wins of the season, the Yankees crashed back down to Earth with one of their most frustrating and crushing losses, falling 2-1 in 12 innings to the Giants on Saturday.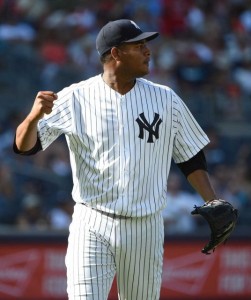 Not only did they lose after playing a dozen innings in the brutal heat, but they also failed numerous times in the clutch (went 0-for-10 with runners in scoring position) and wasted a gem from their fifth starter (seven innings and one run allowed by Ivan Nova).
And to pile on the depressing facts, they whiffed on a chance to reach three games over .500 for the first time this season, and — because the Blue Jays lost earlier in the day — could have pulled to within three games in the loss column of the second wild card spot if they had somehow won the game.
Instead, the Yankees' momentum was halted and they suffered yet another disheartening defeat in a season filled with far too many of them already.
It was just the third time the Yankees have lost an Interleague game at home that lasted at least 12 innings. The others were a 6-2 loss on April 18, 2013 to the Diamondbacks and a 2-1 loss on June 12, 2001 against the Expos (both games went 12 innings, too).
This isn't the first time Nova has been stellar against the Giants; he threw a six-hit shutout in San Francisco on Sept. 12, 2013 in his only other appearance against them. He now owns a shiny 0.56 career ERA against the Giants, the lowest mark among active pitchers that have made more than one start versus the franchise (LOL, small sample sizes).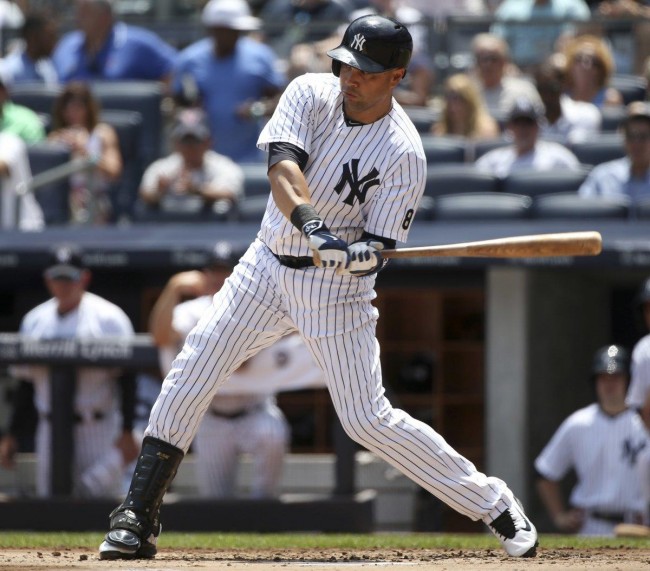 Yankees Last (home)Stand
The Yankees seemingly staved off an imminent fire sale for yet another day by capping off this make-or-break homestand with a solid series win against the first-place Giants.
They climbed back up to two games above .500, tying their high-water mark of the season. It marked the 33rd time the Yankees finished a game with a record within two games of the magical .500 mark, the second-longest streak of that kind in franchise history, per the Elias Sports Bureau. The only longer one was a 42-game streak in 2008.
Carlos Beltran opened the scoring in the first inning with his 413th career home run, passing Alfonso Soriano for sole possession of 52nd place on the all-time list. Up next is Darrell Evans with 414.
Mark Teixeira added a solo shot of his own in the next frame, his 200th homer in pinstripes. He is just the fourth Yankee switch-hitter to reach that milestone, and also the fourth first baseman in franchise history with at least 200 homers. His fellow Yankee switch-hitters in the 200-homer club are Jorge Posada, Bernie Williams and Mickey Mantle; the other first baseman are Jason Giambi, Don Mattingly and Lou Gehrig.
Nathan Eovaldi's erratic season has mirrored the Yankees' inconsistency, so it was little surprise that he delivered a standout performance (two runs allowed in 6 2/3 innings) on the same day the Yankees actually looked like a contender. What is surprising is that one of his best outings came against the Giants, a team that he's historically struggled against.
Eovaldi entered the game with a 13.30 ERA in five starts versus San Francisco, the second-highest ERA by any active MLB pitcher against a single opponent (min. five starts). The highest mark is by Dana Eveland, who boasts a 16.11 ERA in 10 games (five starts) against the Red Sox.