I've only got two questions for you this week, but they're good ones and the answers are kinda long. Please use the Submit A Tip box in the sidebar to send us anything through the week, mailbag questions or otherwise.
Many asked: What about Mark Trumbo?
As soon as the Angels agreed to sign Josh Hamilton, everyone kinda assumed they would then turn around and trade one of their spare outfielders for a starting pitcher (like R.A. Dickey). Mike Trout obviously isn't going anywhere and Vernon Wells is useless, so that leaves Peter Bourjos (a no-hit, all-glove center fielder) and Trumbo. Buster Olney reported yesterday that the Halos will hang on to the young slugger, but that's something they would say even if they intend to trade him.
Trumbo, 27 next month, hit .268/.317/.491 (122 wRC+) with 32 homers this season. He was absolutely terrible after May, hitting just .237/.285/.434 in his final 417 plate appearances and .202/.246/.293 in his final 211 plate appearances. Things got so bad that he was regularly benched in favor of Wells down the stretch. Trumbo is a .259/.302/.478 (113 wRC+) career hitter who doesn't walk (5.3 K%) and will strike out a bunch (23.9 K%). He's also a disaster in the outfield since his regular position is first base. Pretty much all he does is hit homers, that's it. If you're only going to have one tool, that's a good one to have.
Power, especially from the right side, is hard enough to come by that Trumbo has a lot of value. He'll get pretty expensive through arbitration soon (eligible in 2014) because homers pay, though he could be a non-tender candidate within two seasons. Any team who wanted Trumbo could have just signed Mark Reynolds, who is only two years older and offers the same big power but will also take a walk. If the Angels do trade any of their young outfielders, they figure to seek a high-end starting pitcher in return and the Yankees just don't have that to offer. They match up better with the Nationals, who could dangle a similar player to Trumbo (Mike Morse) if they re-sign Adam LaRoche.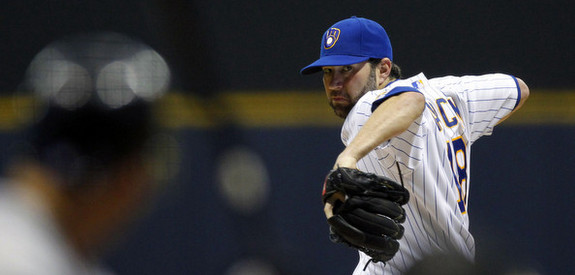 Jed asks: I realize that the Yankees' rotation is pretty much set, but don't you think that Shaun Marcum could be had for a pretty reasonable price? With such big question marks for Ivan Nova and Phil Hughes … seems like it might be a good idea. Marcum has been pretty solid for a while – I don't understand the apparent non-interest across the league.
I've been an irrationally big Marcum fan for years, and a few weeks ago I wrote that the Yankees should not stop looking for rotation help just because they re-signed Andy Pettitte and Hiroki Kuroda. Signing a pitcher like Marcum to a one-year, prove yourself contract to round out the rotation — bumping Nova and David Phelps into the sixth and seventh starter roles — seems like a great idea if the team is willing to spend the money.
Marcum, who turns 31 today, pitched to a 3.70 ERA (4.10 FIP) in 124 innings for the Brewers last season while missing more than two months with an elbow strain. He managed 190+ innings in both 2010 and 2011 after missing 2009 with Tommy John surgery. Marcum has posted solid strikeout (7.48 K/9 and 20.1 K%) and walk (2.44 BB/9 and 6.6 BB%) rates since returning from elbow surgery, but he's a big time fly ball pitcher (37.3% grounders) who will surrender the long ball (1.07 HR/9 and 9.5 HR/FB%). He has AL East experience after spending the first six seasons of his career with the Blue Jays.
I like Marcum mostly because he's a total bulldog and extremely aggressive on the mound. His fastball lives in the mid-to-high-80s and he'll shove it down a lineup's throat all night long. As Keith Law wrote in his Top 50 Free Agents write-up (subs. req'd), Marcum "goes after hitters like they kicked his dog." A knockout upper-70s/low-80s changeup is his bread-and-butter pitch, and he'll throw sliders and curveballs while also sinking and cutting the fastball. His margin for error is quite small given the fringy fastball, obviously.
Brandon McCarthy, who has had at least one arm-related DL stint in each of the last six years and has only twice eclipsed 100 innings in a season, managed to get two guaranteed years as a free agent this winter. I have a hard time thinking Marcum will take a one-year deal to serve as New York's fifth starter when other clubs will probably offer more opportunity. He grew up in Kansas City and I suppose the Royals could try to make him the final piece of their rebuild rotation, for example. I'd love to see the Yankees sign him for the back of the rotation, which would theoretically free them up to use Nova or Phelps in a trade. I just don't see it happening.