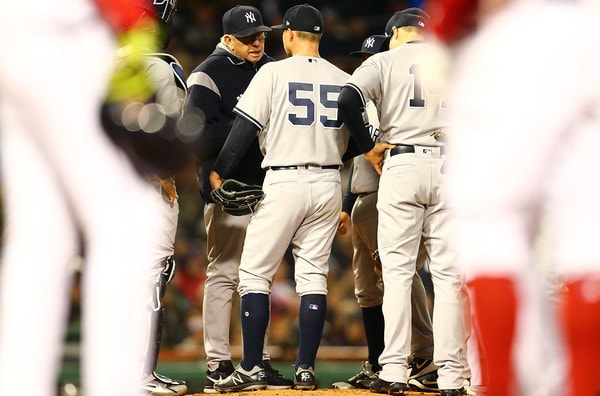 Against all odds, Sonny Gray remains with the Yankees as New Years approaches. Brian Cashman all but shouted from the rooftops (multiple times, at that) that Gray would be traded this offseason, yet he's still a Yankee, even after the team addressed their rotation needs with J.A. Happ, James Paxton, and CC Sabathia. I can't say I expected Gray to still be with the team on December 26th.
There have been no shortage of Sonny Gray trade rumors this offseason. Here's a quick recap of we've seen and heard about the veteran righty these last few weeks:
"As far as Sonny Gray, (we) continue to assess all options with him," assistant GM Mike Fishman said the George King on the final day of the Winter Meetings. "There are various opportunities to consider, different types of deals that are being offered. We are weighing all our needs, both now and future needs and prospects and Major League pieces and what holes we can fill on the Major League roster."
You needn't try hard to see Gray as a strong bounceback candidate. His stuff is more than fine — his velocity and spin rates and everything else are as good as ever — and, since joining the Yankees, he has a 6.55 ERA (6.06 FIP) in 88 innings at Yankee Stadium and a 2.84 ERA (3.05 FIP) in 107.2 innings on the road. Gray's been an ace on the road and a disaster at home. Add in his age (29) and pre-Yankees track record and you've got a great buy-low candidate.
Despite all of that, meaning Cashman's trade declarations and the eleven interested teams and Gray's status as a buy-low player, Sonny remains with the Yankees. I honestly thought trading him would be one of the first moves the Yankees made this offseason. Instead, it's shaping up to be one of the last. There are three possible reasons why Gray is still a Yankee.
1. They haven't found the right deal. This seems most likely to me. The Yankees want to trade Gray — maybe not want to, but resigned to it at this point — but they're not going to give him away either. They have a trade chip with legitimate value and they want to make sure they cash it in appropriately. So they're taking their time. Spring Training is not for another seven weeks or so. What's the rush?
2. They're having second thoughts. Maybe keeping Gray as a swingman/sixth starter isn't such a bad idea? There are reasons to keep him around. James Paxton and Masahiro Tanaka are known to visit the disabled list from time to time, CC Sabathia just had an angioplasty, and Jordan Montgomery is not due back until midseason. Yeah, he's had issues at Yankee Stadium, but Gray is a viable MLB starter, and the Yankees may've decided he's a better depth option than Domingo German or Luis Cessa or Chance Adams or whoever. And hey, the GM dumping on you all offseason could be a great motivator. Sonny will have a chip on his shoulder next year no matter what uniform he's wearing.
3. They totally botched it. Cashman's public declarations backfired and now teams are lowballing the Yankees. "You don't want Gray and need to clear his projected $9.1M salary to do other stuff, so we'll take him off your hands, but we're not giving you much in return." That sorta thing. Definitely possible! I don't think this is the case though. Too many teams are involved and there seems to be something of a bidding war. That's why Cashman made those comments about Gray. Because he knew plenty of teams would want him anyway. He wouldn't have said those things otherwise.
* * *
I didn't expect Gray to still be a Yankee on December 26th but I do still believe he's going to traded at some point. It seems like they've reached the point of no return. The frustration was almost palpable every time Cashman, Aaron Boone, and Larry Rothschild were asked about Gray this past season. They've tried to get him straightened out and it hasn't happened, and they seem ready to move on.
Coming into the offseason, I thought the Brewers were the best trade match for Gray. Now it seems things have shifted to the Reds. They recently picked up two rental starters in Tanner Roark and Alex Wood, and their new pitching coach Derek Johnson was Gray's pitching coach at Vanderbilt, which can't hurt. Cincinnati is going for it — I commend them that for that, even if they are only going from 67 wins to 82 wins or whatever — and Sonny could be their next target.
No matter where he winds up, it still seems inevitable the Yankees will trade Sonny Gray at some point before Spring Training. The relationship appears to be beyond repair. I'm just not sure anyone thought it would take that long. It could be the Yankees screwed it up with their public comments, or it could be they've decided to keep him. Most likely, they're just taking their time and making sure they get the best deal since there's no reason to rush at this point of the offseason.