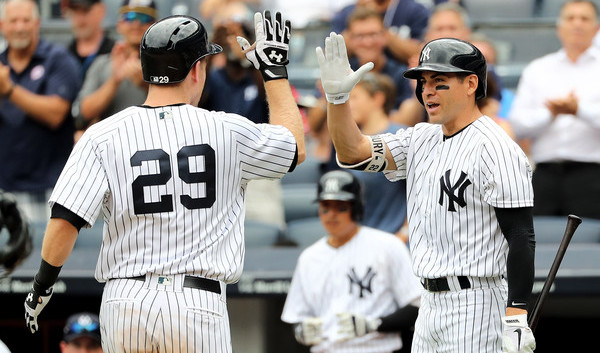 It looks like the Yankees are finally starting to right ship. They played terrible baseball for a good month there, but they've now won six of their last eight games and are a healthy 8-5 in the second half. The bullpen is much improved and the offense is providing enough runs. My guess is the Yankees will be an even better team after Monday's non-waiver trade deadline.
Anyway, the Rays are in town for a really important four-game series this weekend. They're a game and a half back of the Yankees in the standings, so they're a direct competitor for the AL East title and a wildcard spot. This weekend is a good chance to create some distance with Tampa. Burying them would be preferable, but one game at a time. Here is the Rays' lineup and here is the Yankees' lineup:
LF Brett Gardner
DH Clint Frazier
RF Aaron Judge
C Gary Sanchez
SS Didi Gregorius
1B Chase Headley
CF Jacoby Ellsbury
3B Todd Frazier
2B Tyler Wade
LHP CC Sabathia
Now, the bad news: there's rain in the forecast tonight. It's supposed to start right around first pitch and continue until the wee hours of the morning. A delay or an outright postponement is a very real possibility. Hope for the best. Tonight's game is scheduled to begin a little after 7pm ET and you'll be able to watch on YES locally and MLB Network nationally. Enjoy the game.
Injury Updates: Aaron Hicks (oblique) and Tyler Austin (hamstring) are tentatively scheduled to begin minor league rehab assignments once this homestand ends next week … Starlin Castro (hamstring) is in wait-and-see mode. They're going to reevaluate him in a few days and determine whether he can resume baseball activities.