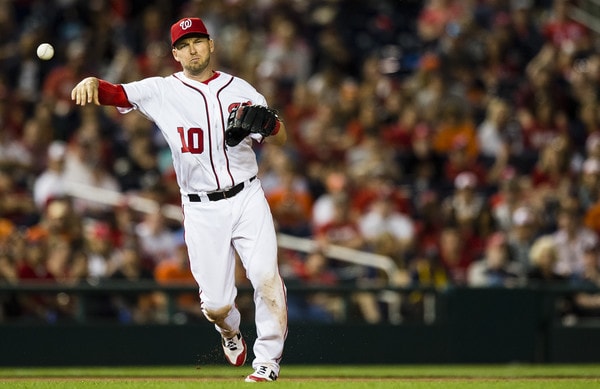 With Spring Training less than four weeks away, the Yankees do not have established second or third basemen, and that's not necessarily a bad thing. You could do worse than going into the season with Gleyber Torres and Miguel Andujar at those positions. A lot worse. A lack of established players doesn't mean a lack of options.
At the same time, going with rookies at two infield positions is risky, especially when one has not played in nine months due to an injury. The Yankees have already signed Jace Peterson to a minor league deal for depth, and in all likelihood, another infielder is on the way. Maybe it'll be Josh Harrison. The Yankees have been connected to him for weeks and the Pirates are clearly selling.
If the Yankees don't swing a trade for Harrison or sign a bigger name free agent like Neil Walker or Todd Frazier, they could seek out a lower cost option, which would fit nicely under the $197M luxury tax threshold. They've done this stuff before. Remember Brian Roberts? Kelly Johnson? Stephen Drew? All bargain pickups to plug roster holes. Here are some low-cost free agent infielders who could interest the Yankees.
Stephen Drew
2017 Stats: .253/.302/.358 (70 wRC+) and +0.1 WAR
2018 ZiPS Steamer: .234/.301/.407 (86 wRC+) and +0.1 WAR
What does he offer? Drew has spent the last two seasons as a utility man with the Nationals, playing the three non-first base infield positions and occasionally running into a fastball off the bench. He's still a fine defender — Drew's always had that going for him — and as a left-handed hitter in Yankee Stadium, there's always a chance his offense will tick up. With Drew, you're getting a good glove and at least a chance at some offense.
Why should the Yankees avoid him? We've been here before, right? Drew was terrible in his only full season with the Yankees, hitting .201/.271/.381 (76 wRC+) and falling out of favor. Even with a new manager — Aaron Boone would represent a fresh start after Drew played under Joe Girardi — the Yankees may not want to go down this road again. Been there, done that.
Yunel Escobar
2017 Stats: .274/.333/.397 (100 wRC+) and +0.8 WAR
2018 ZiPS: .263/.319/.353 (87 OPS+) and +0.0 WAR
What does he offer? Escobar is one year removed from hitting .304/.355/.391 (107 wRC+) and he's a high contact bat who would help balance out a lineup that probably has more strikeouts than the Yankees would like. He's been a full-time third baseman for three years now, but he could play shortstop in a pinch. His second base experience is limited. Contact and some infield versatility. That's what you're getting here.
Why should the Yankees avoid him? At this point, Escobar's value is tied up almost entirely in his batting average. He doesn't walk much, he doesn't hit for power, and the defensive stats hate him at the hot corner. Also, Escobar has long had a reputation for being a headache in the clubhouse. He wore out his welcome in Atlanta, in Toronto, in Tampa, in Washington, and in Anaheim. Even when he produced, those clubs weren't sad to see him go.
Danny Espinosa
2017 Stats: .173/.245/.278 (41 wRC+) and -1.0 WAR
2018 ZiPS Steamer: .202/.280/.344 (66 wRC+) and +0 WAR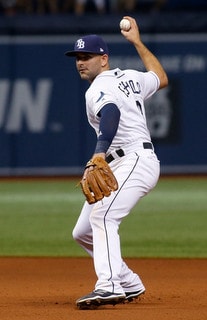 What does he offer? Espinosa is a more extreme version of Drew. He's a worse hitter and better defender, plus he's also played a little first base and left field. And he's a switch-hitter, which is potentially useful. Keep in mind the Yankees have had interest in Espinosa before. So much so that I once wrote a Scouting The Market post on him. That was back when Espinosa was coming off a few good seasons with the Nationals and seemed salvageable. That interest could linger.
Why should the Yankees avoid him? Good gravy Espinosa was sooo bad last year. So bad he was released by two teams. This is a guy who has hit .207/.282/.353 (70 wRC+) in his last 1,839 plate appearances dating back to Opening Day 2013. Espinosa is Brendan Ryan with a lesser glove, basically. At the same time, it would be the most Yankee thing ever for them to sign Espinosa and have him inexplicably hit .280/.395/.500 for two months until Gleyber is ready.
J.J. Hardy
2017 Stats: .217/.255/.323 (50 wRC+) and -0.6 WAR
2018 ZiPS: .232/.274/.330 (63 OPS+) and +0.1 WAR
What does he offer? Remember when there was some thought the Yankees would sign Hardy to replace Derek Jeter? Good thing that didn't happen. Hardy signed an extension with the Orioles before becoming a free agent and the Yankees wound up with Didi Gregorius. Phew. Anyway, Hardy lost his shortstop job to a wrist injury and the Tim Beckham trade last season, but he still offers a good glove and a contact-oriented approach.
Why should the Yankees avoid him? The wrist problems and the fact he hasn't been even a league average hitter in five years. Also, Hardy has never played a position other than shortstop in his big league career. Not even DH!. So, to sum it all up, the Yankees would be asking a guy who hasn't hit much the last few years to learn a new infield position on the fly. What could go wrong?
Brandon Phillips
2017 Stats: .285/.319/.416 (93 wRC+) and +1.6 WAR
2018 ZiPS: .267/.297/.375 (86 OPS+) and +0.3 WAR
What does he offer? Phillips for Brett Gardner, who says no? Remember those days? That was a long time ago now. Anyway, Phillips had arguably the best offensive season of any player in this post last year, and he also played third base for the first time in deference to some younger players with the Braves. The ability to play second (well) and third while being more than a zero at the plate seems like exactly the kind of low-cost veteran the Yankees would target.
Why should the Yankees avoid him? As with any 36-year-old player, there's a chance Phillips will suddenly fall off a cliff, though the fact he'd be on a small one-year contract would mitigate the risk. If he stinks, you cut him. Also, Phillips has a rep for being a bit of a jerk, though I wonder how true that really is. Is he cool with his teammates and a jerk to the media? Being a jerk to the media is the fastest way to get a bad clubhouse rep. I mean, Phillips spent eleven years with the Reds. Would they have kept him around that long if he was really a bad clubhouse dude?
Jose Reyes
2017 Stats: .246/.315/.413 (94 wRC+) and +2.0 WAR
2018 ZiPS: .255/.311/.405 (93 OPS+) and +0.9 WAR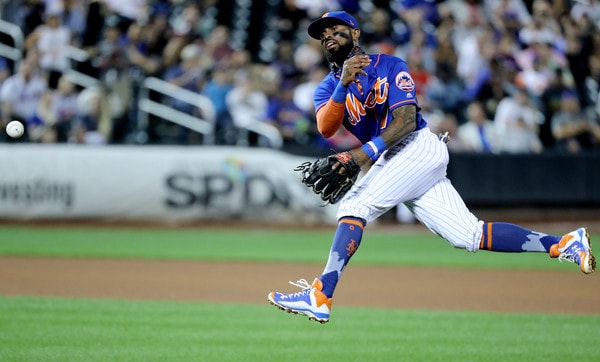 What does he offer? I'm surprised Reyes' numbers are as good as they were given how much Mets fans complained about him last summer. (He bottomed out at .184/.261/.286 on June 15th, then hit .292/.356/.511 the rest of the way.) Reyes is a switch-hitter who makes contact and can still run a little — he went 24-for-30 in steal attempts last season — and last year he embraced a true utility role, playing second, third, short, left, and center. The defensive numbers weren't good anywhere, however. They weren't even average. The stats say Reyes is a bad defender all around the field.
Why should the Yankees avoid him? Even with that big finish last year, Reyes has hit .261/.315/.406 (92 wRC+) in his last 1,359 plate appearances, and he's at the age when middle infielders tend to fall off a cliff. The versatility is nice and we can't ignore his big finish last season, but the bad defense means that if he doesn't hit, Reyes has no redeeming qualities at all.
* * *
There are other potential low-cost infielders out there like Darwin Barney, Alcides Escobar, Ryan Goins, and Cliff Pennington, all of whom are no bat/good glove players. If the Yankees were going to go that route, the defense-first route, I think they'd target someone who offers a little offensive upside, like Drew or Espinosa. Those guys are at least capable of making a pitcher pay for a mistake. Barney, Escobar, Goins, or Pennington? Nah.
Here's what we know. One, the Yankees have about $22M to spend under the luxury tax threshold, minus what they set aside for midseason additions. And two, they want Torres to take over at second base sooner rather than later, and chances are they feel the same about Andujar at third. In a perfect world they would spend as little of that $22M as possible on a stopgap infielder who won't block Torres or Andujar long-term. That could lead them to one of these flawed low-cost infielders who don't appear to have much of a market right now.