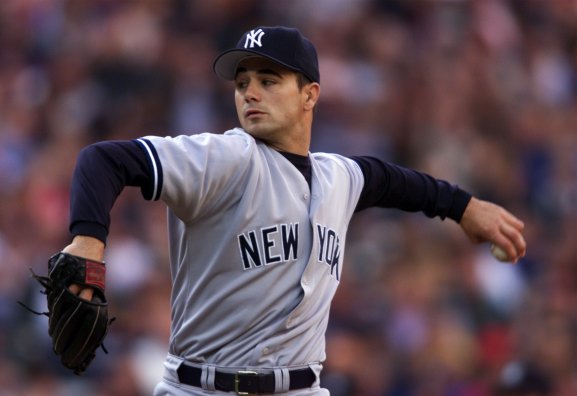 Yesterday it seemed as though the idea of acquiring Ted Lilly came and went. We learned that the Yankees won the waiver claim on Lilly, but also that the Dodgers pulled him back. That seemed like the end of it. The Yankees clearly had interest in re-acquiring Lilly for the stretch run, but the Dodgers apparently didn't want to deal with just one team — if they wanted to deal with any teams at all. It's a shame, since Lilly could have helped, but with the August 31 waiver trade deadline in the past, that notion is dead.
Or is it? According to a Daily News report, the Yankees think they can not only acquire Lilly, but also can add him to their postseason roster. This does strike me as a bit odd, because yesterday's report indicated that the Dodgers pulled back Lilly from waivers. That means, as I understand it, that they can't trade him without again exposing Lilly to waivers, at which point any team could claim him and the Dodgers could not again pull him back. But the Yankees, "believe there is a loophole that because they were awarded the claim before the first of the month, they could use Lilly on their postseason roster."
This claim appears out of line with what we know about postseason eligibility rules. The general rule is that any player on the 25-man roster, disabled list, bereavement list, or suspended list can be added to a team's roster in any round of the playoffs. For the Yankees that includes the 25 active guys plus Damaso Marte, Andy Pettitte, Alfredo Aceves, Lance Berkman, Nick Johnson, and Alex Rodriguez. If any of those players is still hurt come playoff time, the Yankees can substitute him for another player who was in their organization on August 31. Since Lilly can't have been in the organization by that date, it seems that he would be ineligible for the postseason.
I did ask ESPN's Keith Law about this. He's not certain about the rule, but he doesn't think such a loophole exists. He then asked a front office guy and got a similar response. Again, neither Law nor the front office guy is certain, but they both believe that the Yankees would not be able to pull off such a move. To be certain we'd probably have to leaf through the MLB rulebook, which is not available online (though if you're a super geek you can find a copy on eBay). But from most indications the Yankees will not get their way here.
We've seen some strange things happen, and maybe the Yankees have done their homework and have found the loophole they need. Lilly would be a welcome addition to a staff that has hit something of a rough patch. But he's not necessary, so it's not the end of the world if theYankees can't pull of this maneuver. It's an interesting thought, but it looks like the Yanks will go to war with the guys they've got.
Glove slap to Mike Scioscia's Tragic Illness.