Thanks to all the injuries, the Yankees used a franchise record 56 players this season. Fifteen of those 56 players appeared in no more than ten games, which isn't much of a surprise. The last spots on the bench and in the bullpen were revolving doors all summer. A handful of those miscellaneous players were actually useful, but not nearly enough to push the Yankees into the postseason. Here are the best players to walk through those revolving doors.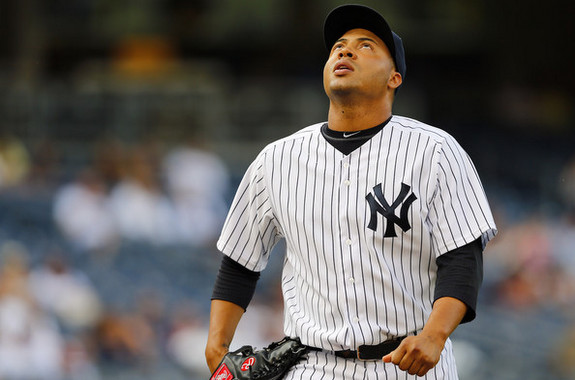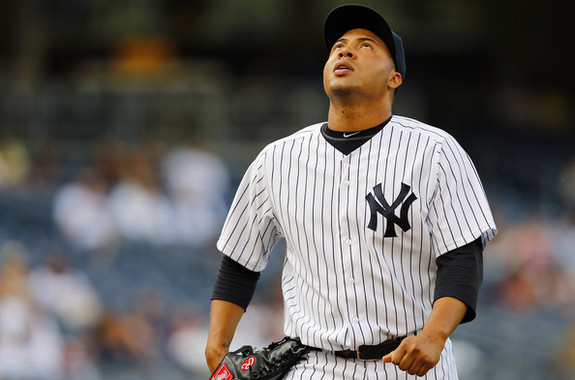 Cesar Cabral
The 24-year-old Cabral nearly made the team out of Spring Training last season, but he broke his elbow towards the end of camp and did not get fully healthy until midseason this year. The Yankees added him to the 40-man roster in September — he would have been Rule 5 Draft eligible after the season anyway, they just sped up the process — and carried him as a second lefty reliever. When Boone Logan went down with a bone spur in his elbow, Cabral became the primary lefty. He appeared in eight games and faced nine left-handed batters total. Six of the nine struck out, one flew out to center (Kelly Johnson), and two reached base (David Ortiz singled and was hit by a pitch). Logan is almost certainly leaving as a free agent this winter, and, if nothing else, Cabral put himself in the mix for a bullpen job next season with his September showing.
Matt Daley
I'm pretty sure the Yankees like Daley more than we realize. They signed the 31-year-old from Queens to a minor league contract two years ago and rehabbed him from shoulder surgery, then re-signed him to a new deal last winter. He threw 53.1 very effective innings across three levels in the minors (2.02 ERA and 1.88 FIP) before getting the call as an extra arm in September. Daley made seven appearances and threw six scoreless innings for New York, allowing just two hits and one hit batsman while striking out eight. Given how the bullpen imploded in September, he might have been the team's most effective non-Mariano Rivera reliever down the stretch. I would not at all be surprised if Daley was on the Opening Day roster in 2014.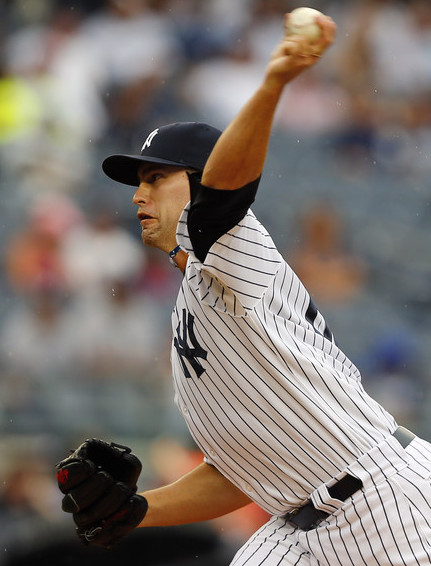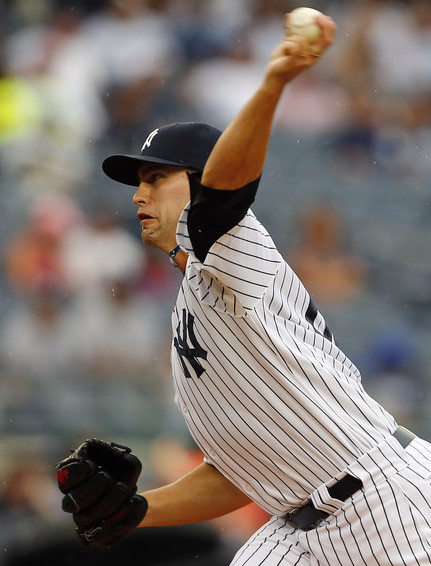 David Huff
Yes, a player with a 4.67 ERA and 4.95 FIP in 34.2 innings for the Yankees is in the What Went Right post. Huff, 29, gets some slack because outside of a disastrous spot start against the Red Sox (nine runs in 3.1 innings), he was pretty damn solid in a swingman role (2.37 ERA and 4.15 FIP in 30.1 innings). His eight long relief outings included four of at least three full innings (including two of at least five full innings) with no more than one run allowed. In his Game 162 spot start, he struck out seven Astros in five scoreless innings. If nothing else, Huff landed himself in the conversation for some kind of Spring Training competition, either long man or lefty reliever. He does scare me though. I get a very Shawn Chacon-esque vibe. Maybe Huff has truly turned the corner — he credits pitching coach Larry Rothschild for fixing his mechanics — but a fly ball-prone soft-tosser in a small ballpark with no track record of big league success has serious disaster potential. This past season though, he was a rather important arm down the stretch.
Melky Mesa
Cherry-picking at its finest: Mesa led all Yankees' rookies (hitters and pitchers) with 0.3 fWAR in 2013. He did that in exactly 14 late-July plate appearances, during which he had three singles, two doubles, one walk, and two strikeouts. Plus he played a strong outfield defense in his limited time. The 26-year-old Mesa did not get a September call-up because he suffered a severe hamstring injury in Triple-A and was unavailable. The Yankees released him to clear a 40-man roster spot for J.R. Murphy. Definitely not the way Melky2.0 wanted to end his season, but he was productive during the short time he wore pinstripes this summer, something you can't say about so many of these spare part players.
Vidal Nuno
Since signing with the Yankees out of an independent league in 2011, Nuno has done nothing but prove people wrong. He has a 2.48 ERA and 4.93 K/BB ratio in 269.2 minor league innings since signing, and that performance (along with a standout Spring Training) earned him his first taste of the big leagues in late-April. Nuno, 26, held the Indians scoreless for five innings during a spot start in the second game of a doubleheader and followed with back-to-back starts of six innings and two runs against the Rays and Mets. Between three starts and three long relief appearances, the southpaw had 2.25 ERA and 4.50 FIP in 20 innings. He suffered a season-ending groin injury in early-June and was a non-factor in the second half, which was unfortunate because a) the Yankees needed the pitching help, and b) it would have been a great opportunity to Nuno. Regardless, he helped the team when he was on the mound and put himself in a position to win some kind of big league job in Spring Training.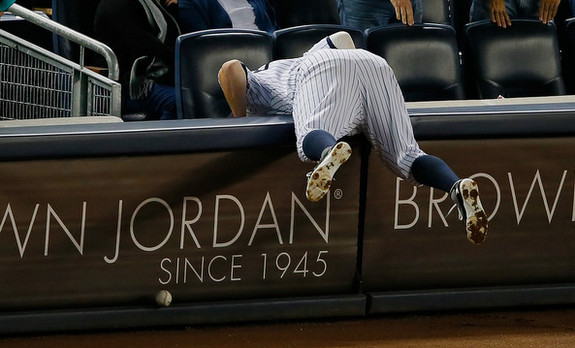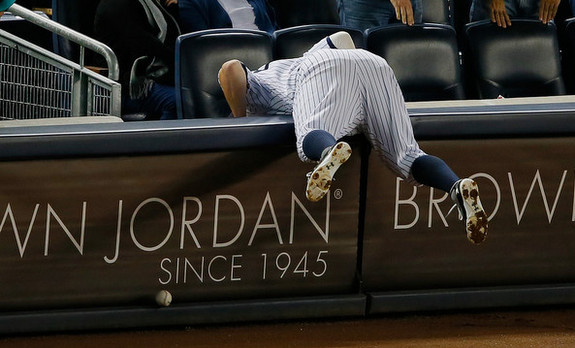 Mark Reynolds
The Yankees showed interest in Reynolds last winter, after Alex Rodriguez's hip injury came to light, but they opted to sign the bigger name in Kevin Youkilis instead. Youkilis (predictably) went down with a back injury and New York scrambled for help at the hot corner for months. Eventually they were able to grab Reynolds off the scrap heap, after he'd been released by the Indians due to a dreadful June and July.
Initially expected to serve as a platoon partner for Lyle Overbay, the 30-year-old Reynolds soon took over the position on an everyday basis while mixing in a decent number of starts at third base. He even started a game at second when Robinson Cano needed a day to rest his hand following a hit-by-pitch. Reynolds hit a two-run homer in his first at-bat in pinstripes and a solo homer in his last, finishing his 36-game stint in pinstripes with six dingers and a .236/.300/.455 (105 wRC+) batting line in 120 plate appearances. It was exactly the kind of lift the bottom-third of the order needed. New York could re-sign Reynolds as a role player this winter — he's open to returning — but so far they haven't shown interest. As far as we know, anyway.
Brendan Ryan
It wasn't until Derek Jeter's fourth DL stint that the Yankees found an adequate replacement. Ryan, 31, was acquired from the Mariners on September 10th, after it was clear the Cap'n would not be able to return from his latest leg injury. He started every game at shortstop the rest of the season, hitting an awful .220/.258/.305 (41 wRC+) in 62 plate appearances while playing elite defense. A few of the hits he did have were meaningful — leadoff single started a game-winning ninth inning rally in his second game with New York, and a day later he hit a solo homer against the Red Sox. Ryan was, without question, the team's best shortstop this past season despite only playing 17 games in pinstripes thanks to his glove. That's kinda sad. The Yankees have already agreed to re-sign him to a one-year deal worth $1-2M, protecting them in case Jeter has another injury-plagued season.