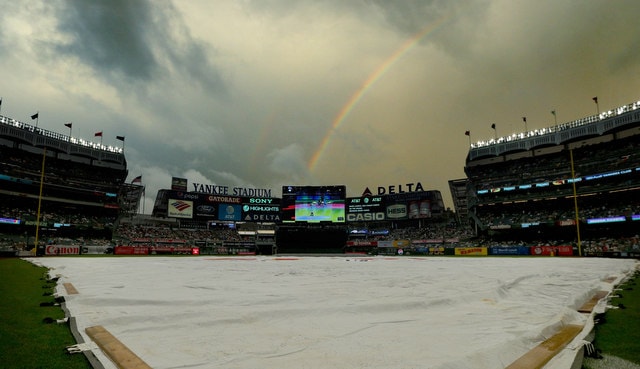 We've made it, Yankee fans. Well, almost. The next time I write something, it will be about real games that really count. This long offseason is finally coming to a close, though as it seems to be the case with everything as I get older, it actually went pretty fast. Maybe it's just me, but it felt like Spring Training sped by after the long crawl to it from October. Regardless of the passage of time our your perception thereof, we're on the edge of a new season, ready to take the plunge.
The Yankees aren't even close to escaping Spring Training unscathed. They'll be missing ace Luis Severino for at least a month. Elsewhere in the rotation, fifth starter CC Sabathia will be suspended for five games, then placed on the injured list, pressing one of Domingo German or Luis Cessa into the rotation. Piling onto that, center fielder Aaron Hicks is going to be out with a bad back and his initial return date of April 4 is probably unrealistic. As is almost always the case, things could be worse, but this is hardly a 'best case' scenario.
The best case scenario for the Yankees–which we could argue is jeopardized by the injuries to start the season–is to mirror what the Red Sox did last year and improve on their already solid base of 100 wins in 2018. If the three key injured players all miss just a short time and do what they "should" do in 2019, there's still a chance the Yankees could move from 'team that wins a lot of games' to 'team that wins a LOT of games.'  Worst case scenario for these three? Severino needs shoulder surgery; CC's age catches up to him; Hicks's back prevents him from being productive or even seeing the field. Luckily, odds are that worst case won't happen to all three of those guys. What about the rest of the team? Let's take a look at each position group's best and worst case scenario.
Infield 
The best case scenario here is really about the long game: Didi Gregorius returning to the field healthy while Gleyber Torres and Miguel Andujar repeat or improve from their excellent rookie years. Greg Bird and/or Luke Voit are both excellent, which would be a wonderful problem to have. DJ LeMahieu transitions well to a utility role and Tulo plays respectably before being replaced by the returning Didi. Gary Sanchez reverts to 2017 levels and makes everyone forget about 2018. The flip side of this coin is pretty easy to see: Didi has a setback; Tulo is a disaster; Torres and Andujar take big steps back; both Bird and Voit crash and burn; Sanchez doesn't recover; LeMahieu can't adjust, etc.
Outfield
Hicks being hurt, forcing Brett Gardner into center field, is already tipping towards the worst case scenario, isn't it? The Yankees, as presently constructed, are setting themselves up for a worst case in the outfield, considering the lack of depth they have with Hicks out and Tyler Wade as the extra outfielder for the time being. If one of Giancarlo Stanton or Aaron Judge gets hurt–let alone Gardner, the only one we know is capable of playing Major League quality center field–things could get ugly in the outfield pretty quickly, even with Clint Frazier waiting in the wings. The best case scenario, though, is that Hicks recovers and, as planned, the Yankees have a dominant outfield. At absolute peak performance, this is a group capable of hitting 130 home runs all by itself and basically carrying the team, even if the worst happens in the infield.
Pitchers
One word tells us the worst that could happen to the pitchers, be they starters or relievers: injuries. Injuries mean lack of performance. Injuries mean depth gets depleted. Luckily, the Yankees have built a bullpen with such depth that it could withstand a major injury, if not two. In the rotation, that's less the case, but that applies to most every team. In Sabathia and J.A. Happ, the Yankees are relying on some older players at the back end of the rotation, and that could be risky. The other three starters also carry injury risk–one is already hurt and the other two–James Paxton and Masahiro Tanaka–are sure bets to miss some time during the season. Aroldis Chapman's knee could act up. Dellin Betances is already hurt and is potentially in shoulder injury purgatory.
But the Yankee pitching staff has incredible, ridiculous upside. The top three starters are all ace caliber and you could do a lot worse than a borderline HOF fifth starter and a solid as anything fourth starter. The bullpen is almost an absurdity, given its talent and performance record. The best case scenario for the Yankee pitching staff is being the best in the league and it's not like you have to squint for that to come into view.
Despite the high profile moves they didn't make this offseason, the Yankees remain one of the most talented teams in all of baseball. Their best case scenario is easy to see and would be dominant if achieved. More importantly, perhaps, is that they've assembled so much talent that even if one of these groups of players does run into a worst case scenario, the others can easily pick up that slack. Happy baseball season, everyone; this is gonna be fun.