Four straight wins and eight wins in the last eleven games for the New York Baseball Yankees. They beat the Twins 8-3 on Tuesday night and improved their run differential to +31, fourth best in baseball. That was quick. In my version of The Good Place, the Yankees play the Twins 162 times.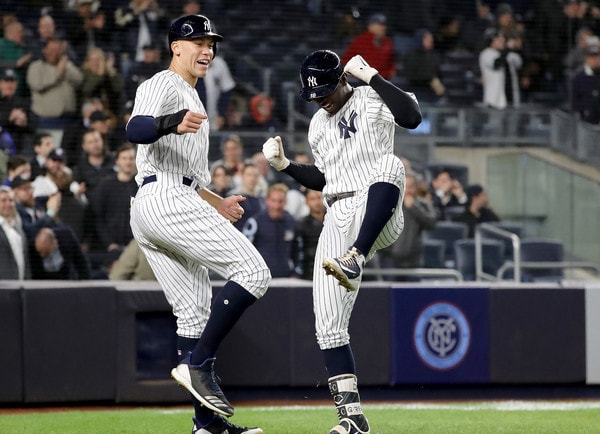 Burying Berrios
Over the last five games opposing starters are averaging 4.87 innings and 97.2 pitches against the Yankees. It's 4.81 innings and 94.4 pitches over the last nine games. Aaron Sanchez is the only starter to complete six innings against the Yankees in those last nine games and he went exactly six. This lineup just wears pitchers down, man. Jose Berrios as been as good as anyone in baseball this season, and he went four innings on 93 pitches Tuesday. Geez.
Gary Sanchez got the Yankees on the board with a second inning solo homer — Berrios caught way too much of the plate with an 0-1 fastball and Sanchez parked it in the right field seats — then the Yankees really went to work in the third inning. Brett Gardner worked a one-out walk, Aaron Judge doubled on a 3-1 fastball — Berrios struck Judge out on the same fastball in his previous at-bat, but he didn't get it by him again — and Didi Gregorius poked a single the other way to score Gardner for a 2-1 lead.
The fourth inning rally started with a strikeout. Neil Walker swung over top of an admittedly nasty breaking ball, it went to the backstop, and he reached first base. Miguel Andujar hit a weak tapper in front of the plate that catcher Mitch Garver bobbled, allowing Andujar to reach. Two should've been outs turned into baserunners. Gleyber Torres cashed one of those runners in with a single up the middle. Gleyber swung out of his shoes at the 3-1 pitch, missed, then cut down his swing and knocked a single up the middle. Hooray.
Even though he'd thrown 87 pitches in the first four innings, Twins manager Paul Molitor sent Berrios back out for the fifth, and it did not go well. Judge ripped an infield-ish single that pretty much only he can hit. It left his bat at 110.9 mph. Brian Dozier couldn't handle it and Judge reached. A mere mortal wouldn't have hit the ball that hard and Dozier probably makes the play. Gregorius sent the next pitch into the right field seats for a 5-1 lead.
Eight homers in 22 games for Sir Didi this season. Last year he hit his eighth homer in his 47th game. Incredible. Gregorius went 3-for-4 with the homer and is hitting .347/.442/.787 (215 wRC+) with 27 runs driven in through 22 games this season. Amazing.
Maybe now they'll spell his name correctly the bat day advertisement
. Berrios, meanwhile, was charged with five runs in four innings plus two batters. He went into Tuesday's game with a 1.63 ERA (1.77 FIP) and left with a 2.56 ERA (2.51 FIP).
Carsten Charles In Charge
Things are going so well right now the Yankees even got six full innings from CC Sabathia. That doesn't happen nearly as often as it used to. Sabathia allowed one run in his six innings and it came in the first inning, and it wasn't entirely his fault. He did walk Miguel Sano with two outs, and he did allow a hard-hit ball to Eduardo Escobar, but Judge misplayed the carom off the wall, allowing Sano to score. A clean play by Judge and Sano holds at third, and who knows what happens after that.
After the Escobar double Sabathia retired 15 of the final 17 batters he faced, and one of those two baserunners reached on an error. (Walker bobbled a grounder.) Only three of those 17 batters hit the ball out of the infield. Sabathia's final line: 6 IP, 2 H, 1 R, 0 ER, 1 BB, 4 K on 82 pitches. He allowed an average exit velocity of 78.0 mph and not a single batted ball over 89 mph. That is pretty, pretty good. Sabathia is an excellent contact manager at this point of his career. Quite a transformation for CC.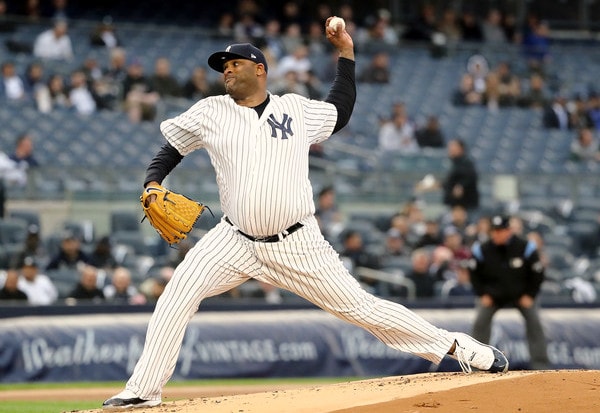 A Late Scare, Then Late Runs
With the lineup set to turn over a third time, Aaron Boone replaced Sabathia after six innings, and I was totally cool with it. Sabathia's numbers the third time through the order are horrible and I'd rather get him out of there too soon rather than too late. How many times did Joe Girardi get burned by trying to squeeze a few extra outs from Sabathia the last two years? More than I care to count. I was fine with the six and fly approach.
The problem is Bad Dellin showed up. Dellin Betances took over in the seventh inning, walked the leadoff man, threw away a pickoff attempt, then allowed a run-scoring single to Garver. That cut the lead to 5-2. Garver took too big a turn around first and Sanchez made a good throw to get him, but Torres just missed it. Took his eye off the ball. Bad pitching, bad defense. David Robertson had to bail Betances out. Dellin's either being really good or really bad this year. No middle ground.
Thankfully the Yankees did not stop scoring. Judge hit a solo homer to right field in the bottom of the seventh and Sanchez clobbered a two-run home run off the windows in center field. It was a missile. If exit velocity wasn't a thing, I'd guess it was Gary's hardest hit ball of the season. (It is tied for his second hardest at 114.2 mph.) The Yankees led 5-1, the Twins put a little scare into them in the seventh, so the Yankees added three more runs. Perfect.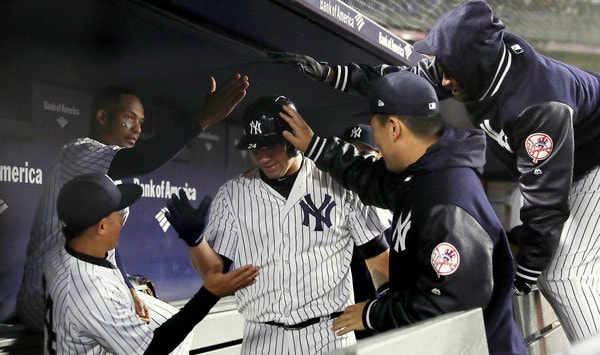 Leftovers
The Yankees did not commit an error in any of their previous four games, but geez, they made up for it in this one. Four errors in the game. Judge bobbled Escobar's double, Walker bobbled the grounder, Betances threw away a pickoff throw, and Torres missed the throw at first. Also, Gardner and Aaron Hicks had a little miscommunication in left-center field and let a catchable ball drop in for a double. Ugly. Ugly ugly ugly.
Three hits for Judge, three hits for Didi, two hits for Sanchez, two hits for Torres, no hits for anyone else. Hicks drew two walks and Gardner drew one though, so that's good. Andujar's extra-base hit streak came to an end at seven games. He struck out twice. Giancarlo Stanton went 0-for-4 with three strikeouts and was, of course, booed even though the Yankees are pretty rad right now. The booing has officially jumped the shark.
Sanchez's two homers give the Yankees seven — seven! — multi-homer games on the season already. Ten teams still don't have one player with a multi-homer game this season. The Yankees have more players with a multi-homer game this season than the Pirates (five) and Giants (two) did all last year. Geez. The Yankees have hit four homers in back-to-back games. They've never done it in three straight games. There's the goal for Wednesday.
Chasen Shreve and Jonathan Holder closed things out after Robertson's escape job and the late tack on runs. Shreve allowed a run after Gardner and Hicks let that catchable fly ball drop between them. Holder struck out two in a perfect ninth to get his ERA into single-digits. It's at 9.53.
And finally, it appears the Didi-Gleyber dance is officially a thing. Here they are after the final out: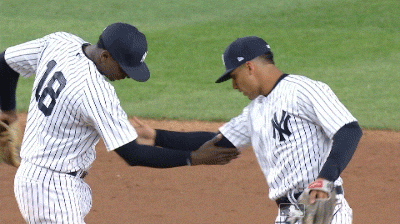 Do we love this team yet? I sure do.
Box Score, WPA Graph & Standing
Head over to ESPN for the box score, MLB for the video highlights, and ESPN for the updated standings. Here's our Bullpen Workload page and here's the win probability graph:

Source: FanGraphs
Up Next
The Yankees and Twins are halfway through this four-game series. They'll play the third game Wednesday night, weather permitting. It's going to rain pretty much all day, but it's supposed to clear up in time for the game. We'll see. Lance Lynn and Sonny Gray are the scheduled starting pitchers. I get the sense runs will be scored.