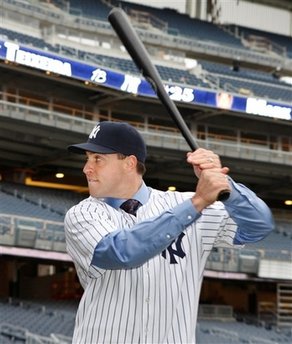 Now, that guy looks pretty good in pinstripes, eh? As the Yanks welcomed their newest addition today, let's catch up on some rumors.
Bobby Abreu is still looking for a three-year, $48-million offer, and I'm looking for a rainbow with a leprechaun and a pot of gold at the end of it. Neither of us are going to find what we're looking for, and Jerry Crasnick says that no one is really interested in Abreu.
Ken Rosenthal reports that Xavier Nady and Nick Swisher are "drawing significant interest." Joe will have more on this for the overnight tonight, but to sum up my thinking, the Yanks don't really need to trade anyone right now. Unless they are blown away by an offer, they are far better off holding Swisher and Nady than they are trading them right now.
In the same piece, Rosenthal drops in a tidbit about Brian Fuentes. Apparently, Fuentes' agent tried to pitch the closer to the Yanks as a possible set-up man and future heir to Mariano Rivera's throne. The Yanks weren't interested in paying Fuentes closer money and never made an offer. While some folks in the Mark Teixeira press conference liveblog believed that this news shows that the Yanks are nervous about the 8th inning, I completely disagree. They weren't keen on bringing in Fuentes, and it seems as though the closer's agent just wanted the Yankees in on the negotiations. Nothing to see there really.
Anyway, use this as your open thread for the night. Anything goes. Just play nice.
Update by Mike (7:04pm): The Yanks signed outfielder John Rodriguez to a minor league deal. The Bombers originally signed J-Rod as an international free agent back undrafted free agent out of an NY area high school back in '96 for $1,000. He has a 110 OPS+ in 332 big league at-bats, which came for the Cardinals back in '05 & '06.