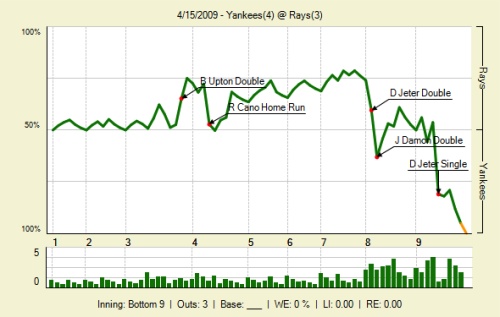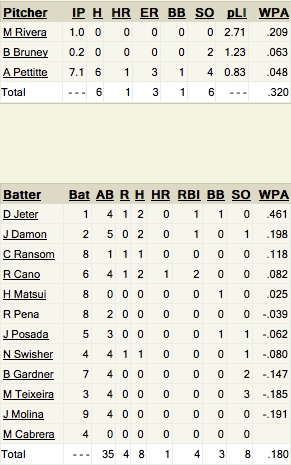 Yankees 4, Rays 3
What is this nerdy graph?
This is what a deep rotation looks like. Despite the failings of Chien-Ming Wang, the Yanks' staff still looks strong. A day after A.J. Burnett flirted with a no-hitter, Andy Pettitte gave the Yankees another strong and deep start, going 7.1 innings in a 4-3 victory. That gives the Yanks another series victory, and their first against an AL East rival.
Like Burnett last night, Pettitte to be in control the whole game except for one inning. Mark Teixeira and Derek Jeter bailed him with a 5-3-6 double play (so nice to have a first baseman who can throw a ball), but a single to Akinori Iwamura followed by back to back doubles from B.J. Upton and Carl Crawford put the Rays up 2-0. The inning only ended when Robinson Cano made what John Sterling termed a "circus catch" behind first base.
He cruised the rest of the way — save for a fourth-inning Carlos Pena home run — retiring 22 Rays on 96 pitches. This was another case of the win stat skewing the actual results. The Yankees won the game; Andy Pettitte was the starting pitcher and pitched well. Yet his efforts go unappreciated in the win column. That honor goes to Brian Bruney, who struck out B.J. Upton and Carl Crawford for the second night in a row. He has now struck out the last five batters he's faced, and none of them has stood a chance. It's early, but it's hard not to like Bruney right now.
Like last night, this game was a throwback for the Yankees. Robinson Cano supplied some power with a two-run shot to tie it in the top of the fourth, but the Yanks fell behind heading into the later innings. Then in the eighth and ninth innings, Derek Jeter came through. He doubled to lead off the eighth and scored when Johnny Damon followed suit. Then in the ninth he drove in Cody Ransom with an RBI single, putting the Yanks on top for good. It goes to show how early-season performance is nothing to sweat, especially with proven vets. Jeter was 1 for his last 20 heading into last night, but is now 5 of his last 10 with a double, a homer, and four RBI.
Capping off the throwback was Mariano Rivera, who made quick work of the Rays, retiring their final three hitters on eight pitches. I've seen Mo pitch so well so consistently over the past fourteen years that even without seeing the game (I caught the end on the radio) I could picture what it looked like. Mike added the only color commentary I needed: "I love watching Mo pitch. Catcher doesn't even have to move his glove." Perfect.
The Yanks recovered from an embarrassing situation and took an early series from one of their two tough rivals. They'll head to their new home with a winning record. Here's to hoping they don't see the other side of .500 the rest of the season. The game is supposed to start at 1:08, but from the looks of it that doesn't appear likely. For starters, they expect to introduce 46 former Yankees in nine minutes. They do this for Old Timers' game every year, they did it for the All Star game, and then again at the final Old Stadium game. It's never come close to nine minutes in length. In any case, it's CC Sabathia against Cliff Lee, and it's the start of the New Stadium.