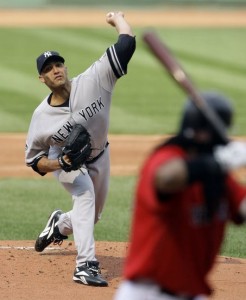 The first two games of this series hardly went according to plan for the Yanks. Joba Chamberlain battled his control, Mariano Rivera blew the save in the ninth and the team went on to lose in extras during game one. AJ Burnett came out of the gate yesterday like his hair was on fire, but he couldn't hold a six run lead the and Yanks suffered another loss in one the ugliest games I've ever seen. Today, the Yanks turn to their grizzled vet to stop the bleeding.
Andy Pettitte has surprisingly been the team's best starter in the early going, going at least seven innings while allowing no more than three runs in all three of his starts this year. However since returning to the Yanks in 2007, Pettitte's been far from good against the Red Sox. In nine starts (and one relief appearance) , Pettitte is 3-3 with a 5.80 ERA and a 1.81 WHIP. Vintage Pettitte would be a welcome sight tonight.
A loss is a loss is a loss, but losses to the Red Sox always get portrayed as if the world is about to end. It's just April people, and the Yanks were right there with them in the late innings of both games, and that's without their best player, one of their top three pitches, best non-Mo reliever, and an everyday corner outfielder. They'll be just fine.
The lineup:
Gardner, CF – seriously, I've had enough … Mike Cameron please
Jeter, SS
Teixeira, 1B
Swisher, LF
Cano, 2B – twelve game hit streak
Posada, C
Matsui, DH
Melky, RF
Berroa, 3B
And on the mound, Andy Pettitte.
Notes: Johnny Damon is out with a sore everything after running into the Monstah yesterday … Boston called up Mike Bowden (their best pitching prospect) and will have him piggyback with Justin Masterson tonight because their pen is taxed … despite all the work, the Yanks' pen is in good shape, with Mark Melancon, David Robertson, Steven Jackson, Jose Veras, Edwar Ramirez and Mariano Rivera all available tonight … the game is on ESPN tonight, so Joe Morgan, Jon Miller and Steve Phillips will be in the booth while Peter Gammons works the sidelines … oh joy.
Photo Credit: Charles Krupa, AP