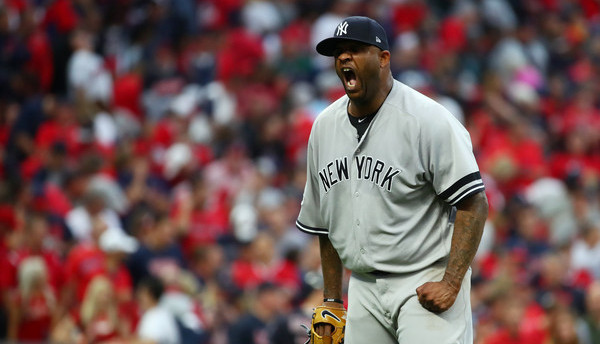 CC Sabathia is staying with the Yankees. According to Mark Feinsand, the Yankees and Sabathia have agreed to a new one-year contract worth $10M with incentives based on innings pitched. The deal is pending a physical which, despite Sabathia's knee, shouldn't be an issue since the Yankees know all about his medicals. The Yankees have not yet confirmed the agreement.
Sabathia, 37, reportedly spoke with the Angels and Blue Jays this offseason, though he made it clear his first choice was remaining with the Yankees. "This is my home. I want to see this thing through. I want to come back here and finish things off. This is where I want to be," said Sabathia following the ALCS Game Seven loss a few weeks ago.
"There were very competitive offers out there that really made CC take his time," said Sabathia's agent to Joel Sherman. "In the end, he feels there's unfinished business to attend to. Loves his teammates, clubhouse and the moves the Yankees are making this offseason. (Sabathia) wanted to come back for his 10th season with the New York Yankees."
Given his age and performance and leadership, there's a pretty good chance Sabathia and the Yankees are operating on the Andy Pettitte plan now, meaning they keep working out new one-year contracts as long as Sabathia wants to continue pitching. That would be cool. There's no such thing as too much pitching and this signing doesn't break the bank.
This past season Sabathia threw 148.2 innings with a 3.69 ERA (4.49 FIP), and he did it with the same cutter heavy approach that revived his career in 2016. He's a soft contact machine now. Sabathia had the lowest average exit velocity (83.9 mph), fifth lowest hard contact rate (24.1%), and sixth highest soft contact rate (27.2%) in baseball in 2017.
Sabathia will join Luis Severino, Masahiro Tanaka, Sonny Gray, and Jordan Montgomery in the rotation. The Yankees have been connected to a bunch of young controllable starters in recent days, including guys like Gerrit Cole and Michael Fulmer, and I don't believe re-signing Sabathia will stop that. I think the Yankees still want another starter.
With Sabathia back on a $10M deal, the Yankees are approximately $23M under the $197M luxury tax threshold, though keep in mind they have to set some money aside for midseason additions and call-ups. In addition to another starter, the Yankees could use another infielder after trading away Starlin Castro and Chase Headley.