With the Yanks 2-7 in their last nine games, any kind of win last night would have felt good. The Yankees did us one better, winning in a convincing manner and getting production from all around the lineup. Best of all, they beat up on a pitcher they have never seen before, who was actually pitching well. Thoroughly enjoyable game all around.
Things started off a bit shaky in the first. After Mark Teixeira ripped his first single since May 6, A-Rod walked to put him in scoring position. Yet Robinson Cano, hitting .186 with runners in scoring position coming into the game, flied out. And so continued the team's futility with runners in scoring position.
The bottom of the first can be summed up thusly: If I told you that Andy Pettitte would walk three Blue Jays in the inning and allow only one run, would you believe me? I don't think I'd believe me. But it happened. The run scored in maddeningly frustrating fashion, which made it all the worse. In the end, considering the circumstances, one run wasn't all that bad.
Then, in the second, something amazing happened. Something glorious. The Yanks put together a rally, and it started with the bottom of the order. It actually started with the sixth hitter, but under normal circumstances Melky will hit much lower, so we'll just call it bottom of the order, mmmmkay? After he doubled, Brett Gardner put every ounce of grit and heart and hard work behind a swing and deposited a ball just over the 328 ft. sign in right. Gardner's first career homer gave the Yanks a 2-1 lead.
As if things could get stranger, Ramiro Pena followed that with a triple. Then, after a Frankie Cervelli ground out, Johnny Damon hit yet another triple. Mark Teixeira poured it on with another hit, this one a double, giving him a 2-2 start to the night. Finally, after an A-rod walk, Robinson Cano came up in the exact situation as the previous inning: first and second, two out. Only this time his team was up 4-1. Once he put a ball in right field, it was 5-1.
While big innings are quite fun — and good for the nerves — we've seen the Yanks post a few of them this season, yet we haven't seen the kind of consistent offensive output one would expect from a serious contender. So it came as a relief when Tex hit a sac fly in the fourth to plate the Yanks' sixth run of the game. Things got even brighter in the fifth, when a Robinson Cano leadoff double led to two more runs, including a triple by Gardner. Looks like the kid wants to play. Too bad Melky is going so well right now.
The game wasn't exactly smooth sailing for Pettitte, but he got the job done for six innings. After the three walks in the first he allowed only one the rest of the game. The only real trouble he ran into after the first was in the fourth, when the Jays mounted something of a two-out rally which was kickstarted by a Scott Rolen "oops" infield single. Six innings, two runs. The Yanks will take it almost every time from Pettitte.
Get this: a Blue Jay doubled to lead off in three innings last night. None of them came around to score. That's Scutaro in the third, Rolen in the sixth, and Wells in the eighth. Each time the Yanks pitchers — Pettitte and Al Aceves — were able to retire the subsequent Jays in order. Pettitte benefitted from a caught stealing in the third. While you'd like not to see the leadoff double in the first place, that's a good job of the Yanks tonight of bearing down and not letting it hurt them.
The only downer of the night was Nick Swisher, who did not join the Yanks onslaught. His 0 for 5 night extended his slump to 3 for his last 30. Despite this, he still has an OPS of .956. That's how awesome Nick Swisher is. Want to see another reason Nick Swisher is awesome: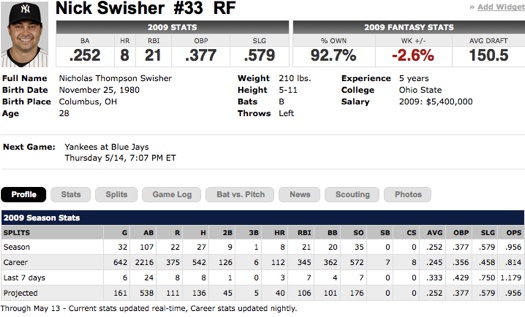 click for full size
While Nick Swisher has actually hit .143/.208/.333 over the last seven days, ESPN.com has him at .333/.429/.750. Apparently, they took his awesomeness factor into consideration.
CC gets a chance to follow up his brilliant performance from last Friday. He'll oppose reliever-turned-starter Brian Tallet. After last night's win, this one I'm looking forward to.