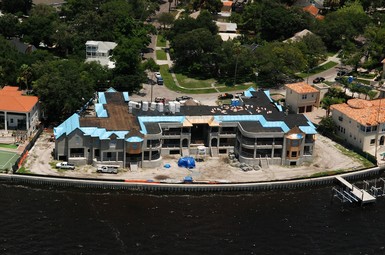 Derek's house is bigger than beating you-know-who big. (Photo courtesy of Peter Masa/News Channel 8 in Tampa)
During the waning days of Spring Training, we touched briefly upon Derek Jeter's new 30,000-square-feet house. While Jeter already owns a five-bedroom, five-bathroom house in Tampa, that was apparently not big enough, and he is currently constructing an eight-bedroom, nine-bathroom house on Davis Islands that's nearly the size of a Best Buy.
Yesterday, as baseball waited out the All Star Break, Richard Mullins of The Tampa Tribune went inside the numbers on Derek's new digs. It's quite a behemoth on the Hillsborough Bay with views of downtown Tampa. Mullins explains more:
Kered Connors LLC, which lists Jeter as the "sole member," purchased adjacent waterfront lots on Davis Islands' Bahama Circle in 2005 and 2006. ("Kered" spells "Derek" backward.) Kered Connors paid $7.7 million for the properties at Bahama Circle and Baffin Avenue.

Because it's one of a kind and unlikely to attract many buyers besides the ultrawealthy, the market value of the home is hard to determine. Using the rough selling price of waterfront Davis Islands properties, the home itself could be worth $6.2 million to $7.7 million, depending on features…

[Architect Gary] Hancock declined to offer many details about the property but said the design will be English Manor style, with lots of gables and stonework. A small service shed that's nearly complete suggests the final property could have a slate-style roof, red-brick walls and light gray stone around the windows.

Built with two sprawling wings connected by a center section, the home will wrap around a pool on the waterfront side. Two separate three-car garages on each wing flank the front yard, with a drive-through portico along the middle axis to keep the Florida summer rains off guests. Two large boat lifts now stand out in the water of Tampa Bay.
It is a house fit for the king of New York baseball. For his part, though, Derek doesn't want anyone else poking around his property. According to Mullins, Jeter will ask Hillsborough County for permission to construct a six-foot tall fence around his new home — the better to keep the gawkers out, indeed.