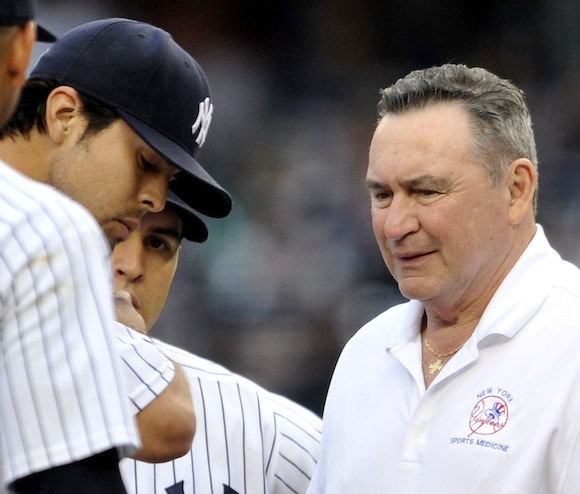 The Yankees may miss team trainer Gene Monahan, right, more than they realize. (AP Photo/Paul J. Bereswill)
Gene Monahan hasn't missed a Spring Training since the mid-1960s, and he has served as the Yankee head trainer since 1973. But last week, in news that slipped a bit under the radar, the Yankees announced that Monahan was battling a significant illness and would be missing Spring Training and some of the regular season this year.
"I miss not being around my professional family already, but I'm battling," Monahan said in a statement. "The New York Yankees have gone above and beyond in this most difficult time. I couldn't do this alone, but with the support and love of my immediate family, my family within our organization and the dedication and expertise of many fine doctors, I look forward to resuming my role with the team this season."
Many Yankee fans didn't know what to make of this news. We all know who Gene Monahan is, but we generally don't see him unless something is wrong or someone is hurt. We don't see the work he puts in behind the scenes making sure his players are healthy enough to face the rigors of a 162-game schedule. We don't see the pre- and post-game stretching or the countless massages, ice packs and heat baths Monahan oversees. We simply see him jog out and fetch someone we don't want to see getting fetched.
A recent series of posts at Beyond the Box Score, though, can help us understand Monahan's — and the rest of the team's medical staff's — impact on the Yankees. Last week, Jeff Zimmerman explored the percentage of team payroll lost to the DL and found the Yanks to be among the league's best in this category. Looking at totals from 2002-2009, Zimmerman found that the Yanks lost $175 million of the $1.46 billion they spent over those eight seasons. The 12 percent loss is good for 25th lowest in all of baseball.
In terms of total DL trips, the Yankees fare a bit worse. They've sent 57 players to the disabled list and find themselves with 11 teams ahead of them who have seen fewer trips to the DL. The Yanks' 6,107 DL days are 11th highest in the league. The Yankees, then, appear to be losing their cheaper players to longer disabled list stints and also, Carl Pavano.
To put a win value on these DL numbers, colintj at BTB ran some WAR calculations and determined that DL time can lead to a difference, on average, of seven wins lost to injury between the healthiest team, which loses around 2 WAR per season, and the least healthy team which loses around 9 WAR per season. Over the span of the study, the Yanks have lost 6.49 WAR per 162 games — or 0.45 above the average WAR lost per 162 games — to injury. In other words, the team's medical staff is great at keeping the high-priced guys on the field but seemingly average at keeping the Yankees healthy overall.
In a sense, health is one area that has seen little study in the age of sabermetrics. Because health can be there one day and gone the next, it's nearly impossible to predict who will lose time to an injury and for how long this player will be gone. Last year, A-Rod missed far less time than expected due to his own ability to heal while Chien-Ming Wang missed nearly the entire season with various ailments. Now with Monahan out, we'll be able to see how healthy the Yanks can be without their long-term head trainer. In a division in which every win will be important come the pennant stretch, an X-factor such as this one could very well tip the balance of AL East power.