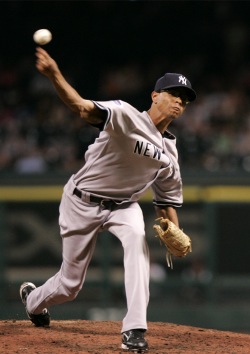 Once the Yankees officially announce that they've signed Chan Ho Park, they'll have to remove a player from the 40-man roster. Looking at the list, two names stand out: Christian Garcia and Edwar Ramirez. Once designated for assignment, the team has 10 days to trade the player or place him on waivers. If claimed, the player has a new team, complete with 40-man roster spot. If not, the Yankees can outright either one to AAA. Since Garcia, despite his spate of injuries, still retains significant upside, chances are the Yankees will take their chances with Edwar. With the various relievers, including Kiko Calero, still looking for jobs, I think Edwar will pass through without issue. So he'd remain a Yankee, but will not take up a 40-man spot.
(We might get a better idea once we find out what happens to Casey Fein, who was DFA'd to make room for Johnny Damon. Fein posted numbers similar to Edwar at AAA last year.)
Anyone who followed the minor leagues in 2007 has to love Edwar. He absolutely dominated, striking out nearly two Eastern League hitters per inning before a quick promotion to AAA. His strikeout rate fell at the higher level, but not by much. Of the 153 AAA batters he faced that season, he fanned 69 of them, or 45 percent. The International League hitters were so helpless against him, in fact, that they mustered just 20 hits in Edwar's 40 IP. His performance through the end of June was so convincing that he earned a big league cal-up, but fell out of Torre's circle of trust pretty quickly.
After starting the season in the minors in 2008, Edwar earned a quick call-up by striking out 13 of 31 batters faced, walking just one. He didn't allow a run in his first 13 appearances, and by the All-Star break he was one of the best relievers in baseball, allowing just 10 runs over 33 innings and striking out 36 of 132 batters faced. His second half didn't go as well, though that's due almost exclusively to the Angels, who scored 11 runs over 1.2 innings, spanning three appearances. At the end of the season Edwar's ERA, 3.90, nearly matched his FIP, 3.96. The Yankees thought they found their guy, though concerns about his flat fastball, a necessary compliment to his devastating changeup, still seemed a bit flat.
Something went terribly wrong at the beginning of 2009, forcing the Yankees to option Edwar in mid-May. He'd thrown just 17.1 innings and did strike out 16, but he also surrendered six home runs and walked 15 hitters. That made for a monstrous 8.45 FIP, and the Yankees really had no other choice at that point. Thankfully, Al Aceves had come up to help quell the bullpen situation. At AAA, Edwar brought his walk rate back down, though his strikeout rate didn't reach the levels it had in 2007, or even during his short stay in 2008. Another good sign: his home run rate dropped, though it was still higher than in 2007 and 2008 — a given, really, since he allowed no AAA home runs in those seasons.
Once the Yankees DFA Edwar, chances are he won't return to the Bronx. They'd have to make another roster move to bring him up, and considering his disaster of a 2009 I'm not sure they'd be inclined to do so. He'll probably continue pitching well at AAA, and at some point people will call for his promotion if one of the bullpen cogs isn't working out. But unless he really impresses not only with numbers, but with an improved fastball at AAA this season, I think we might have seen the last of the lanky kid. I'm going to miss him.
Photo credit: Pat Sullivan/AP