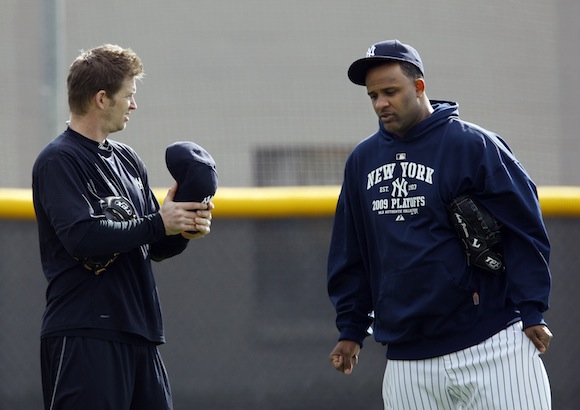 CC Sabathia and A.J. Burnett both reached career highs in innings pitched in 2009. (AP Photo/Kathy Willens)
By the time Robinson Cano fielded a Shane Victorino ground ball and tossed it to Mark Teixeira to end the 2009 World Series, the Yankees' starting pitchers had thrown a lot of innings. For nearly a month, Andy Pettitte, CC Sabathia and A.J. Burnett had been making high-stress October starts, and the innings kept mounting. Keeping these key arms fresh, then, has now become a primary concern for the Yanks this spring.
The horses were ridden hard in October and November. After throwing 230 regular season innings, Sabathia tacked on another 36.1 in October, far surpassing his career high. A.J. Burnett tossed 207 regular season innings and added another 27.1 in the postseason. His previous career high was 221.1, a mark he reached in 2008. Andy Pettitte, the October veteran of the group, threw 194.2 regular season innings and another 30.2 in October. He hadn't surpassed the 225-inning mark since 2005. These guys threw long and hard in high pressure situations.
As Spring Training begins, Joe Girardi knows that his pitchers worked a lot last season. Today, while addressing the media, Girardi spoke about physically preparing his pitchers for another long season. "We figured we could ease all these guys into it," the Yanks' skipper said. "We wanted to make sure that they're absolutely physically prepared to go out and have that same type of workload."
The Yankees are going to proceed slowly with their hurlers. They won't ask the pitchers to overtax themselves in Spring Training. CC Sabathia, the ace, will throw his first full bullpen session on Saturday, and the others will follow suit as though lining up the rotation for the regular season. A.J. will toss on Sunday, Pettitte Monday and Javier Vazquez, the new guy, will take his turn on Tuesday. It's a smart move for the Yankees.
Why the care and kid gloves? Well, a 2007 Washington Post article about the Chicago White Sox helps to put it all into perspective. As Dave Sheinin noted then and as the 2009 Tampa Bay Rays can tell you, teams that go deep into the postseason one year often see their pitchers regress the next. Wrote Sheinin, "Of the 30 pitchers who threw 240 or more innings in a season between 2001 and '05, the vast majority (21 pitchers, or 70 percent) saw their ERAs rise the following season — and 11 of them experienced a jump of at least one full run. Still others experienced arm injuries the year after their high-workload season."
And so the Yankees will be careful. They have a lot riding on their pitching staff. Besides the $72.75 million invested into their four top starters, the Yankees are going to need to have these guys be on top of their games to fend off the Red Sox and the Rays. The team knows this, and as Spring Training begins, so too do the innings concerns.