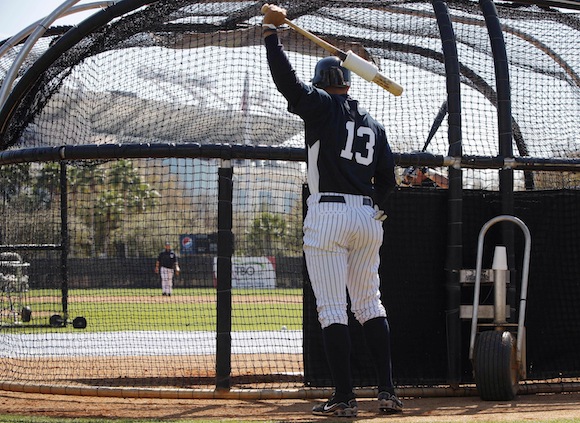 So much for that quiet Spring Training. After his name surfaced in newspaper reports this morning, Alex Rodriguez confirmed today that he will meet with federal authorities to discuss his involvement in an ongoing investigation into a Canadian doctor arrested on drug charges in October. Anthony Galea, a Toronto-based sports specialist, is suspected of supplying HGH and other performance-enhancing drugs from Canada into the United States, but so far, the nature of his ties to A-Rod remain unknown.
According to various reports, Mark Lindsay, the chiropractor who oversaw A-Rod's rehab from hip surgery last year, has close ties to both BALCO and Galea, and authorities are probably curious to find out if A-Rod wants more. Lindsay has also treated Chien-Ming Wang.
At camp today, A-Rod could not comment on his association with Galea due to the ongoing investigation. "I can't really get into that," he said to reporters. "You'll know within time all at the same time."
The Yankees, in a statement, attempted to distance themselves from the latest PED controversy to descend upon A-Rod at Spring Training. "The New York Yankees have not been contacted with regard to an investigation of Dr. Tony Galea," the team said. "The Yankees never authorized Dr. Tony Galea to treat Alex Rodriguez, nor do we have any knowledge of any such treatment. The Yankees authorized Dr. Marc Philippon to operate on Alex and oversee his rehabilitation. At the request of Dr. Philippon, we also authorized Dr. Mark Lindsay to supervise the daily rehabilitation program established by Dr. Philippon. We will continue to monitor the situation." Ben Shpigel of The Times reported, however, that team executives are annoyed that A-Rod's name would surface in yet another PED investigation just one year after the latest controversy.
For what it's worth, Jose Reyes was questioned in this investigation as well. Reyes spent time this winter with Galea and has closer ties to him than A-Rod appears to. Yet, nothing came of that questioning, and I expect the same result here. Call me naïve, but I can't imagine A-Rod would have been foolish enough to get himself involved in another PED scandal since the last one broke a year ago.
Photo Credit: AP Photo/Kathy Willens