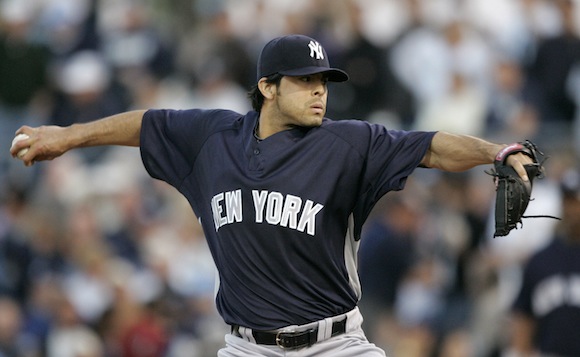 New York Yankees' Sergio Mitre delivers a warm up pitch in the second inning of a spring training baseball game against the Tampa Bay Rays, in Port Charlotte, Fla., Friday, March 19, 2010. (AP Photo/Steven Senne)
On a spring-like Friday, Joel Sherman dropped the not-so-breaking news that the Yankees will probably trade either Sergio Mitre or Chad Gaudin before Spring Training is out. Both of these vets have bounced around the league, and neither figures to be too high up on the Yanks' depth charts. The team can't send either to AAA, and instead of wasting roster spots, the Yankees will try to turn their surplus into something at all.
But who will go? In writing about it here yesterday, Mike voiced the prevalent opinion that Gaudin will stay. The soon-to-be 27-year-old has a better career track record than Mitre and has posted league-average numbers in the American League over 463 innings. Mitre, meanwhile, is 29 and with no real record of success. He wasn't a highly-touted prospect while with the Cubs, and he hasn't been very effective at getting outs as a Major Leaguer.
Yet the allure of Spring Training stats is strong with this one. Last night, in the Yanks' 6-2 loss to the Rays, Mitre started and was stellar. Facing Major Leaguers who will make up most of Tampa's Opening Day lineup, he threw 5 innings and gave up two runs on a pair of hits and a walk. He struck out seven. Gaudin relieved him and wasn't effective. In 2.1 innings, Chad allowed three earned runs on seven hits and three walks. He struck out just one and walked away with his third loss on the spring. The appearance effectively ended Gaudin's hopes of landing the fifth starting spot.
On the spring, these two pitchers spot opposite numbers. Mitre has been the Yanks' best starter. In 14 innings, he has allowed five runs on nine hits. He has walked three while striking out 14. Gaudin, meanwhile, has thrown 9.1 innings and has given up nine earned runs on 16 hits and five walks. He has struck out just five. Despite Mitre's tradeability due to his lower salary, one might be tempted to say it is a no-brainer.
But the real question concerns Mitre. With a career K/9 IP of 5.5, he's never been a strike out pitcher, and he's having a Spring Training that makes one think of a flash in the pan. It's true he's another winter of strengthening away from Tommy John surgery, but nothing in his pre-surgical record suggests he will keep up this pitching success. Gaudin, at least, can rest on his AL laurels.
In the end, the Yanks don't need to make a decision yet. They don't need a fifth starter until late April and could juggle the rotation to keep both around until the right offer comes. When it's time to trade one of them, though, I'd be far less sad to see Mitre vanish into the ether of the NL. He may be the Yanks' Grapefruit League Cy Young, but history is littered with those pitchers who are Spring Training All Stars and revert to form come the regular season.