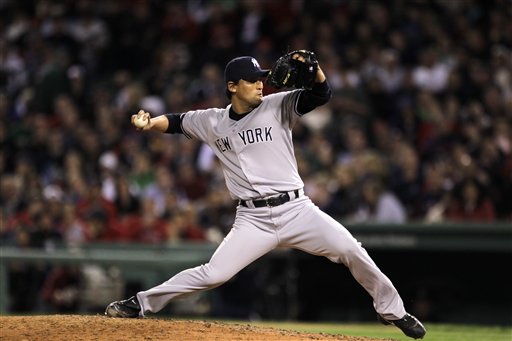 A lot of folks have pondered Girardi's decision to continue to use Chan Ho Park in multiple inning situations, if use him at all. They point to his pitch count numbers as evidence of his struggles.In pitches 1-25 Park is kinda-almost-somewhat tolerable as a pitcher, hoisting up a .308/.341/.500 line. That's basically Ryan Howard's triple slash for the season (plus or minus a few points on average and OBP). On pitches 26-50, it becomes hide-the-children bad. Park has been tagged for a line of .368/.429/.842(!). If the first line is Ryan Howard, the second is Barry Bonds hitting batting practice in 2004. There's been absolutely no question that the Korean native has struggled tremendously in his first (and likely last) season in pinstripes. But has he really epically collapsed in the second frame of every game he jumps in?
Yes and no. I've already looked at this at my own site, so take let's look appearance-by-appearance.
*On April 7th, game 2, Park went three innings against the Red Sox. Although I recall there being quite a few deep flies, he gave up but one hit, in his 3rd inning. No runs were scored in total.
*April 13th versus Angels: Breezed through the first inning of work but gave up a monstrous shot to Kendry Morales in the 8th. No runs in his first inning. One run in his second inning.
*On May 20th, the Yanks took on the Rays. Struggling 1B Carlos Pena took Park deep in his first inning pitched. This is after he was almost burned by a deep line drive to RF by Ben Zobrist, which Swisher caught. Not a good first inning. His second inning against 7-8-9 batters went much more smoothly – he gave up a single to "Did You Know He Was An All-Star?" Dioner Navarro, but that was all. To recap, one run in his first inning. Zero runs in subsequent inning.
*On May 22nd, Park replaced Phil Hughes with after Alex Cora knocked him out of the game (?!). Park immediately gave up a single and then got a groundout to end the inning. Not terrible, but not a shutdown either. His next inning saw him give up a single and a double to score a run. No runs in first inning, one run in his second.
*Park faced the Indians on May 31st. His first inning started with a strikeout and ended with two weak groundouts. Nice, not bad! The second inning though featured 2 hits and a walk, which led to run. No runs in first inning, one run in second.
Ok, we may be on to something here. In three of his five early season multiple-inning games, Park has given up a run in the second inning. Of course, when looking more critically through the first innings of these outings, it's not like Park was brilliant, either. He had some good fortune (and was hit around a bit in Tampa) and then it appears the hitters took note of Park and knocked him around his second frame. Let's see if it becomes a pattern.
*In an extra-innings game at Skydome The Rogers Centre on June 5th, Park came in and issued one walk but also struck one out and received two weak groundball outs in his first IP. The second inning featured two strikeouts, a single and one walk. No runs issued.
*Of course, in last week's game in Arizona CHoP got lit up. He came into the game in the 7th and did fairly well. It was surprisingly tranquil. Then, in the 9th, he gave up two singles and then a monster home run to Justin Upton. No runs in his first inning. 3 runs in his second inning.
*Last night looked to be the same old story. Park came in and pitched a quick 6th inning (one walk, one groundout, one fly out). Girardi sent him out for the 7th. His performance sealed the game for the Dodgers. Two singles and a double by Matt Kemp finally put the Yankees in the outhouse. Zero runs score in his first inning, two trot around in his second.
So if we add up our tally here, in his first inning of multiple-inning games, Park has given up one run in his first inning pitched and 8 in his second frame. That's a drastic difference.
So now you're thinking, "Damn, CHoP's done pretty well in just the first inning, all things considered. Maybe we can salvage him if Girardi stops throwing him back out there for multiple innings," right?
Not so fast.
Why? Well, more sobering statistics: in games he's only pitched one total inning or less, he's given up 10 runs in 6 2/3rds innings. Park may be significantly worse in the second inning of his appearances, but he's not an effective pitcher to begin with. Remember, the average hitter facing Park in the first inning is still Ryan Howard.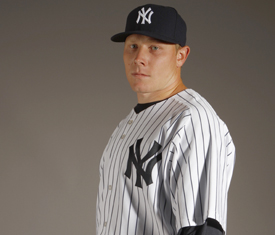 I've backed Chan Ho this whole year. Constantly I've said, "Don't worry, he'll turn it around. He has good stuff, this is just a rough patch." No longer. We're on the cusp of July and Park has been worth -2.5 runs below replacement. All the while, some pitchers in AAA are turning in good results and could certainly better Park's performance on the year. At this point, I see no reason to not spell Chan Ho Park "DFA" and bring up a Romulo, Albaladejo, Nova or Melancon. The experiment didn't work. It's time to scrap it and call it a sunk cost.
Personally, I'd prefer to keep Nova in AAA to stay stretched out in the event we need a starting pitcher to come up. It would be nice to have a guy that can go multiple innings if need be, considering that right now, with injuries, it's just Chad Gaudin. This probably means no Albie. So we're left with Melancon or Romulo Sanchez. I like Romulo's stuff and the fact that he can spot start or at the very least go multiple innings one way or another. But I worry that his control will be erratic considering that he's thrown 5 or more walks in three of his last eight starts.
This means —at least in my world— Mark Melancon is my de-facto choice to replace Chan Ho should he be DFA'd. Melancon likely has the biggest upside of the pitchers in AAA, has been in The Show before, can go multiple innings and has been just curtains for opponents lately. He hasn't given up a run since June 6th, though I'd prefer a better K/BB ratio in that time (2:1).
One way or another, something has to change. Simply put, if the team is not going to DFA Park, Girardi needs to put him in situations where his impact on a game is minimal. This means mop-up work in one frame or less.