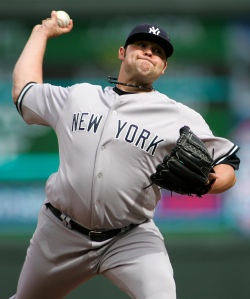 The Yankees apparently had this all planned from the beginning. Though they feigned a competition for the fifth starter spot in spring training, by most accounts they had already chosen Phil Hughes for the role. That meant Joba Chamberlain, who occupied that spot in 2009, would head back to the bullpen. His home, according to some. The Yankees then claimed that Joba would not be handed the eighth inning role, that he'd have to earn it. Yet that seemed to be just another line to calm the public. Of course Chamberlain would occupy the eighth inning. It's what he was born to do.
In the first game of the season, with the Yankees down by one, Joba took the ball in the eighth. Things did not go according to the Joba plan, at least the one he authored in 2007. A single, a walk, and then a two-out single gave the Red Sox a two-run lead that Jonathan Papelbon would protect in the ninth. Yet in the next game, with the Yankees leading by a run in the bottom of the eighth, Girardi did not hand the ball to Joba. Instead he went to David Robertson. The plan, apparently, was to use Robertson against Youkilis, Damaso Marte against David Ortiz, and then bring in Joba to finish the inning.
That's exactly how it happened, though Youkilis put a snag in the plan, singling off Robertson and taking second when Marte threw away a pickoff attempt. He did retire Ortiz, so Girardi handed the ball to Chamberlain with one out and a man in scoring position. Joba basked in the situation and then unleashed his best stuff on Adrian Beltre and J.D. Drew, striking them both out. Ball safely in Mo's hands, Joba sat down a happy man after that game.
He continued strong from there. He allowed a run in his next appearance against the Rays, but the Yanks already had a lead. He gave up a big home run against Anaheim, but those will happen. Those were the only two instances, from April 6 through May 15th, during which he surrendered a run. For the most part Joba was busy striking out opposing hitters and keeping them off base. But then came hard times. He loaded the bases against the Twins and handed Mariano a tough situation. Then he blew a 5-1 lead against Boston. Against Cleveland last weekend he was the largest culprit in the bullpen meltdown.
This asks the question of whether the Yankees can trust Joba.
His recent performances and 5.26 season ERA might say no, but despite the recent blips Joba has put together a quality season. His strikeout rate is at 10.52 per nine and his walk rate is the lowest it has been since 2007. The home run against the Angels is the only one he's surrendered this season. He's even getting more ground balls, which is an excellent weapon with men on base. These factors just haven't come together yet for Chamberlain. He's the victim of some bad luck, and hasn't done himself any favors with men on base.
The first number that stands out is Joba's BABIP, .380. His mark has always trended high, .332 in 2008 and .320 in 2009. Yet even those numbers are far below his current .380 mark. It's not like hitters are making considerably better contact, as his line drive rate is 19.4 percent, about two percentage points lower than last year, while his groundball rate is 48.6 percent, almost six points better than last season. Maybe hitters are making better contact on the ground and finding the hole more easily. Other than that, the only better explanation for his BABIP is bad luck.
His strand rate also sticks out. At 56.6 percent, he's among the league trailers. As expected, this comes from poor numbers with men on base. With the bases empty Joba has struck out 14 of the 48 batters he's faced, 29 percent, while striking out just 16 of the 62 batters he has faced with men on, 26 percent. He has also walked a few more with men on base. What also stands out is his groundball rate with men on . That's just 39 percent, against 61.3 percent with no one on. Unsurprisingly this has led to more extra base hits with men on base, five, than with the bases empty, one.
It also seems like May was an aberration of sorts for Chamberlain. His strand rate that month was 38.9 percent, against 77.6 percent from April and 75 percent during his brief stint in June. His BABIP in May was also .465, owing much to a 12.5 percent infield hit rate. In other words, it seems like, maybe, Joba's poor overall numbers draw from one poor month. He still has plenty to prove, but for right now it's just one bad month. Every pitcher has those.
I don't want to do a paragraph on each of the next three points, but I think they're important enough to at least bulletize.
Part of the fan reaction to Joba might come from a home bias. Chamberlain has produced his worst results at Yankee Stadium, an 8.18 ERA. Might the fans be a bit more peeved at Chamberlain for blowing games while they are in attendance?
Last year a common complaint was that the Yankees messed with Chamberlain's rhythm. They pushed his starts back, and then had him throw short stints. But isn't that exactly what he does in the bullpen? There is no bullpen rhythm. You might warm up for three straight games and never pitch. You might sit for a week. Then you might pitch in three straight games. It's the way things work. Yet people criticized the Yankees for essentially emulating that last year.
Joba's highest strikeout rate comes in high leverage situations, 12.15 per nine. His walk rate is also low, 2.70 per nine. Yet his BABIP is .449. That should come down a bit. The high strikeouts and low walks is rather encouraging.
After observing Joba's performances and then reflecting on them, I come to the same conclusion I did on May 19th. Joba's struggles are in no way extraordinary. He's struggled at times, which is normal for a young pitcher. He's had highs and lows, which is normal for a relief pitcher. Yes, the Yankees are looking for more from him. He's the most talented pitcher in their bullpen behind Mo, and they need him to get from where the starter left off to where Mo begins. Given the course of a full season and not just one third of a season, I think he can prove more than capable of doing just that.
Unfortunately, that requires patience. We haven't seen much of that from anyone, not the front office, not the fans, when it comes to Joba Chamberlain.