With the trade deadline looming we're going to read plenty of reports about teams being interested in players who could help them down the stretch. These are, for the most part, non-starters. A few big names get dealt at almost every trade deadline, and we've already seen a few players on the move in the past week or so. I wager a few more will change teams between now and 4 p.m. tomorrow.
The Yankees, thankfully, have only wants and not needs. They lead the AL in runs per game despite rotating the DH and therefore playing Colin Curtis, Ramiro Pena, or Francisco Cervelli almost every day. They're third in runs allowed. They have a solid rotation, the best closer in the biz, and a pretty set offense. In other words, they can tone down the big moves and add pieces here or there. Still, I'm sure they'll consider moves for bigger names if the price is right.
On offense the Yanks need nothing beyond a DH, and even then they don't really need anyone there, either. Marcus Thames can hold down the role vs. lefties — that's why they signed him — and then against righties the team can rotate its regulars. Jorge Posada needs some time at DH, and Joe Girardi has used him there to get his bat in the lineup even when he's a little banged up. A slugging DH, though, could add another dimension to this offense for the final two months and into the playoffs.
Of the available names Adam Dunn appears the most attractive, but the late word is that the Yanks have found the Nationals' asking price too steep. Yesterday Mike presented an alternative in Luke Scott. Today I want to examine another DH alternative. Given his team's moves yesterday he might have become available. The Yankees could certainly give Lance Berkman a look at DH.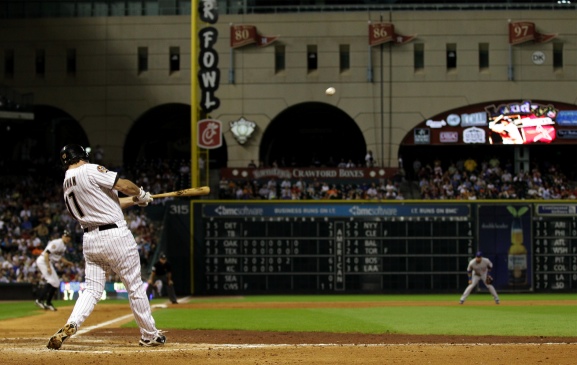 We're all aware of Berkman by reputation, and most of us are familiar with his struggles this year. He started the year on the DL after undergoing knee surgery in the spring, and he got off to a slow start. That's not uncommon. What's important is that he has gotten better from May through July. He posted a meager .332 wOBA in May, but that rose to .357 in June and .392 in July. In fact, he's shown much improvement in July, hitting for much more power (.288 ISO) and walking a ton more (22.3 percent of his PA). His average is a bit down, but that's because of a .229 BABIP. Everything else looks good, even great, for Berkman right now.
Another encouraging factor lies in his splits. Even with his poor performance early in the season he has crushed righties this season, to the tune of a .382 wOBA. Presumably this has gotten better lately, too. He's spraying the ball to all fields as a lefty, hitting 56 to left field, 55 to center, and 65 to right. His opposite field power has not faded, as he has a .482 ISO when hitting the ball the other way. He does seem to have some trouble pulling the ball, as he has a 67.7 ground ball rate when going to right field, with only 13.8 percent fly balls (and 22.2 percent of those are infield flies, though another 22.2 percent left the park). I'm not sure if this is something he's also improving on, but if it is he'd be the complete package in New York: a lefty who can spray the ball the other way but still take it over the short porch.
There are some concerns with Berkman, of course, not least of which is his knees. Time at DH will help mitigate that risk, but it will probably preclude the Yankees from playing him in the outfield, where he has played 7383.2 major league innings. He hasn't roamed the outfield since 2007, and even then it was only 230 innings. It seems like he's done out there, which would reduce his role with the Yankees. They could install him as full-time DH and relegate Thames to PH duty, but that would require Berkman to pick up the pace as a RHB, something that's not guaranteed.
He also has poor numbers away from Minute Maid Park in Houston. It is a pitcher's park that ranks above average in homer-friendliness and below average in other categories. Yet when Berkman is there he has a .390 wOBA, compared to a .317 mark on the road. I'm not sure how meaningful that is when considering a player, but it does seem suspect. His BABIP is much higher at home, if that helps quell the concern a bit.
Then, of course, there's the matter of his contract. He is owed roughly $5 million for the rest of this season, plus has a $2 million buyout on a $15 million club option for 2011. There is almost no way the Yanks would pick up this option, so it would cost them roughly $7 million to bring aboard Berkman. This is also why Houston might like to deal him. Whether they'd kick in money remains to be seen, but it does seem that they're in full strip-down mode. They traded Roy Oswalt yesterday for a relatively light package that included 1B Brett Wallace. That's what makes Berkman available. Chances are Houston wouldn't pick up his option at the end of the year, anyway.
At Pale Hose Pariah, Erik Manning used Sky Kalkman's trade value calculator to assess the value of a Berkman addition. Given the optimistic rest-of-season projection of 1.2 WAR, Berkman would be worth slightly less than his contract (though Erik uses $5.5 million, while the actual number, I think, comes in just under $5 mil, but I could be wrong). Added with the buyout, you'd expect either a low exchange rage (a B and a C prospect) or Houston to kick in some cash for a better prospect. Given yesterday's Oswalt deal, it doesn't seem like the price in prospects, either way, would be too steep.
All considered, Luke Scott is the better option. He's having a better overall season, is cheaper, and is under team control through the 2012 season. That means his price in prospects will be more expensive, and the Yanks might have to pay a premium on top of that because they'd be dealing within the division. In any case, the point might be moot because Peter Angelos doens't like dealing with the Yankees. Maybe Andy MacPhail could talk some sense into him if the Yanks make a solid offer, but I doubt it would be enough to bowl over the brass in Baltimore.
If the Yanks want to add a solid bat, they won't find many better than Berkman's, especially if he has rounded into form. Given what we saw from the Oswalt deal it doesn't appear he'll be expensive. The Yanks will have to eat some salary, but it looks like they're willing to do that. I can almost guarantee this won't happen, but the idea of Berkman batting sixth or seventh in this lineup is quite a tantalizing one.