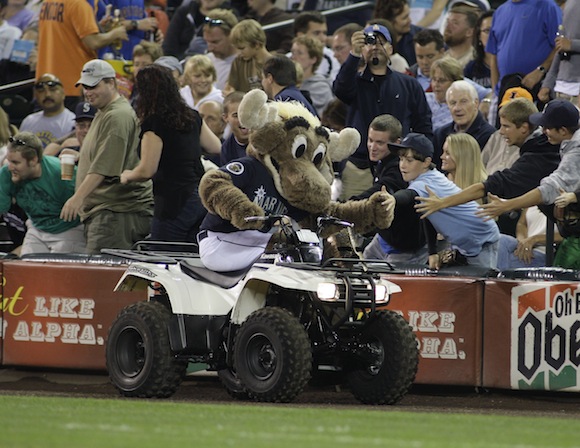 When last the Yankees met the Mariners, it was a different time. The World was more innocent and care-free. We knew nothing of LeBrons and All Star Votes. We had only an inkling of the days and wins to come against Oakland and Toronto. Ah, last week, how I miss you.
Due to the idiosyncrasies of the schedule, the Yankees and Mariners are squaring off for a four-game set this week to rush headlong into the All Star Break. The two teams met each other in a three-game set in the Bronx that wrapped up one week ago today. Unfortunately, Cliff Lee is still a Mariner, and he's set to pitch tomorrow.
Before we get to Lee, though, All Star Andy Pettitte and the Yanks' starting nine have to get through Jason Vargas. On the surface, Vargas has some good numbers. He's 6-4 with a 3.22 ERA, but those mask a low strike out rate and a .263 BABIP that's a good .030 lower than league average. He's found success by limiting the walks (2.3/9 IP) and home runs (0.7 HR/9 IP), and the one-time member of the New York Metropolitans relies on a good change to keep hitters off balance.
The Yankees, off a sweep of the A's, will look to keep their winning streak alive. Number 46 takes the mound, and he's 10-2 with a 2.82 ERA. Lately, Pettitte hasn't limited the long ball, giving up 6 HR over his last 40 innings, but most haven't caused much damage. He'll have the spacious Safeco outfield — and the Yanks' steller outfield defense — behind him.
Derek Jeter SS
Nick Swisher RF
Mark Teixeira 1B
Alex Rodriguez DH
Robinson Cano 2B
Jorge Posada C
Curtis Granderson CF
Brett Gardner LF
Ramiro Pena 3B – His 2-for-4 last night raised the OPS+ all the way to 32.
Andy Pettitte P
First pitch is at 10:10 p.m. ET, and this one's on the YES Network.