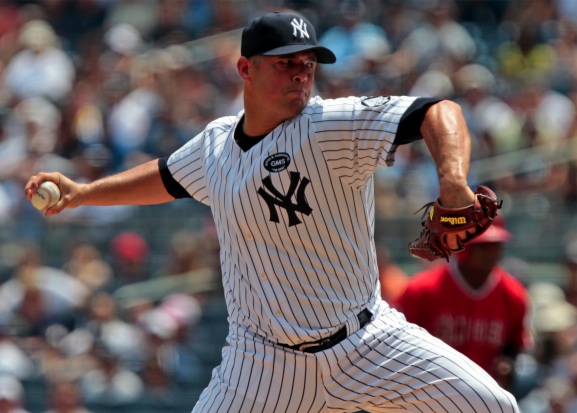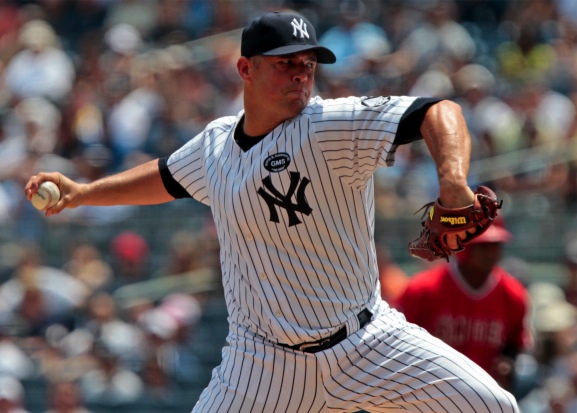 When it comes to Javy Vazquez facing the Red Sox, one memory stands out more vividly than the rest. It's led to the perception that Javy is not a big-game player, especially against the Red Sox. Ozzie Guillen didn't help change that perception when he questioned Vazquez's fortitude. And then Javy didn't help his own case when he opened the season with a series of terrible starts. Plenty has changed since Javy had a start skipped against these very Red Sox — including the fact that they're not at all the same Red Sox that the Yankees faced in May.
Even more, of course, has changed since 2004. That year not only did Javy serve up the effective season-ending pitch, but he also fared horribly against the Red Sox in his four starts. He lasted just 22.2 innings and gave up 16 runs, 14 earned, on the power of eight Red Sox home runs. He struck out 25 and walked just eight, good signs for sure, but those eight homers ruined him. It's understandable, then, why that perception was created that year.
What's not understandable is why it has carried over six years later. The Red Sox used 25 different position players at various points during the 2004 season, and of those only two remain on the team. One of them is not only on the DL and won't play in this series, but also never faced Vazquez in 2004 — and is just 3 for 18 with eight strikeouts in his career against him. The other, of course, is not quite the hitter he once was, producing a .408 wOBA in 2004 and .380 this year.
In other words, Vazquez's historic production against the Red Sox means little, because most of those players are no longer on the team. There need be no worry about Manny and his 8 for 22 with two homers line, because Manny is in LA and injured. Dustin Pedroia's 8 for 15? Non-factor. We only need to worry about the current Red Sox, and even then the results can be a bit misleading. For instance, Mike Lowell might have a career .817 OPS against Vazquez in 49 PA, but since 2006 he's 1 for 10 with a single.
Three current Red Sox have hit Vazquez particularly hard. J.D. Drew is the best of the bunch, going 10 for 28 with two doubles and four homers in 32 career PA. That rests mostly on a 5 for 10, three-homer performance that came all the way back in 2005. In the five PA he's had since he's 1 for 5 — though the one was a homer. Adrian Beltre has destroyed Vazquez, going 15 for 34 with three doubles and two homers — though, surprisingly, that has led to just 5 RBI. They haven't faced since 2008, when Beltre went 2 for 3 with a homer. And then there's Ortiz, the lone holdover from 2004, who is 8 for 25 with two doubles and two homers in the regular season, plus 2 for 3, both singles, in the postseason.
Other than that, Vazquez has either performed well against the current Sox or otherwise has not faced them. Victor Martinez, for example, is 5 for 26. Jacoby Ellsbury, Marco Scutaro, and Jed Lowrie have yet to record a hit. Eric Patterson is just 1 for 5, though the one was a homer. Bill Hall is 1 for 3.
What does that mean for Vazquez facing the Sox tonight? Absolutely nothing. Not only are these all small samples — yes, even the 30-plus PA crew — but they represent a time when Vazquez was a different pitcher. We've seen the changes this year. HIs fastball velocity is down. His slider, the main weapon during his superb 2009 season, has been placed in his back pocket in favor of a two-seamer and, more recently, his changeup. So while some Sox hitters have had success, and some failures, against Vazquez in the past, only one of them, Youkilis, has faced Vazquez this year, and he won't be in the starting lineup for the rest of the season.
Vazquez might get bombed tonight. He might plow through the depleted Sox lineup. But whatever the outcome it won't stem from something that happened six years ago. It won't even stem from something that happened two years ago. It will depend only on how the Sox hitters are seeing the ball, and how well Vazquez is delivering it. The rest is just lore and mythology.