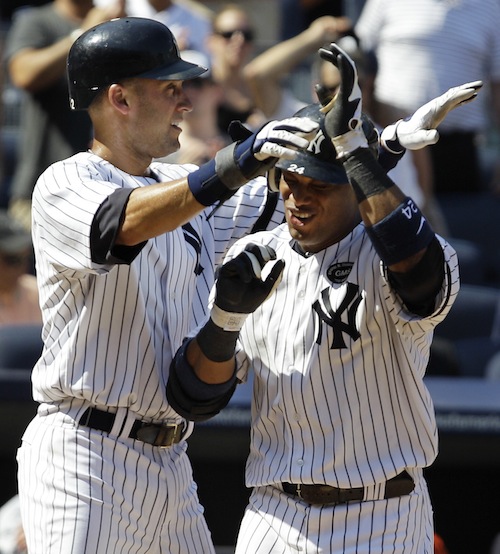 Now, that's more like. Powered by a nine-run sixth innings, the Yankees confidently downed the Tigers this afternoon 11-5 to win their first series since downing Cleveland in late July. At the least, the Bombers will maintain their share of first place and could move into sole possession of the AL East lead if the Rays lose against the A's tonight.
We'll have more on the game later tonight, but for now, let's bask in the glow of an offensive explosion. Before we jump into the fun of the Open Thread, I'd like to take care of a few housekeeping items. First, please note the addition to the commenting guidelines. We are respectfully requesting that game threads and open threads remain somewhat focused on baseball and that political discussion of the kind that inspires rancorous and often bitter debate on the Internet remain in the Off Topic Thread.
Second, we had a busy news day as the Yanks were going about their business this afternoon. Roger Clemens is facing an indictment alleging that he perjured himself when he testified to Congress in 2008 on his use of PEDs. On the field, Alfredo Aceves is almost ready to return to the Bronx.
Finally, allow me to plug our social networking. You can follow River Ave. Blues and its three writers on Twitter at the following accounts: @RiverAveBlues, @bkabak, @joepawl and @mikeaxisa. Find us also on Facebook where we send photos, videos and pithy Yankee-related status messages to your News Feed.
Das it. The Red Sox, 9-0 against Los Angeles this year, play the Angels, and the game should air on MLB Network this evening. The alternate in some areas is the Phillies/Giants NL Wild Card showdown. San Francisco starters haven't won a game in 15 tries. The Patriots and Falcons square off in some pre-season football action at 8 p.m. on FOX; the Rays play the A's tonight at 10:10 p.m.; and of course, Jersey Shore, the pinnacle of American culture, is new this evening as well.
The photo of Derek Jeter awkwardly congratulating Robinson Cano on the latter's two-run home run comes to us via the Kathy Willens of the Associated Press.