During the next two weeks it sounds like the Yankees plan to bring in the cavalry for its pitching staff. First up could be Al Aceves, who faced four batters in Scranton on Tuesday and is scheduled to start for Trenton on Friday. Then, as Josh Norris relays, Andy Pettitte is in line to make a rehab start on Tuesday. That will be a boon to the pitching staff, though for the most part they've pitched pretty well recently. So well, in fact, that I wonder what two pitchers will lose their roster spots when Pettitte and Aceves return.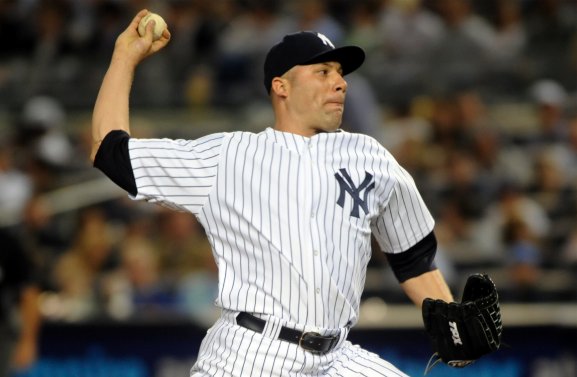 Aceves is a bit tougher to peg, since there's no guarantee he'll actually make a return. He has been out since he hurt his back mid-pitch on May 8. Since then he's been through plenty, getting multiple epidurals and having his rehab shut down twice. This time through has been a bit more smooth in that he's actually pitched in a live game. But when it comes to back injuries there are no guarantees. His return will largely depend, I'm sure, on how he feels following his outing on Friday.
Another rehab appearance might be in the cards, and the Yanks might even want to see if he can pitch on back-to-back days before activating him. Because he pitches in relief I suspect they'll want to see him pitch more frequently than every third day before they let him face major league hitters. That could put his return anywhere from next weekend against Seattle all the way to September. That is, again, if he returns at all.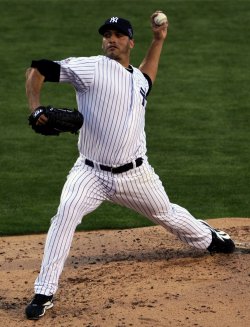 It's unclear how many rehab starts Pettitte will make, though I'd guess he'll make two. That would mean his second one comes on Sunday the 22nd, but with both Scranton and Trenton on the road that day I'm not sure what they'll do. What I am sure of is the roster move that will correspond to Pettitte's return: the designation of Chad Gaudin for assignment. He has served his purpose, but Dustin Moseley has been the superior pitcher. Pettitte's return will move Moseley to the bullpen, where he can play the role of long man. DFAing Gaudin works in two ways, since the Yankees will also need to clear a 40-man roster spot in order to reinstate Aceves from the 60-day DL.
This leaves in question what the Yankees will do when Aceves returns. They have just four pitchers who still have minor league options: Joba Chamberlain, Phil Hughes, David Robertson, and Boone Logan. After Joba's kind-of demotion, Joel Sherman reported that the Yankees would not send him to the minors. They obviously won't send Hughes or Robertson because of the prominent roles they play. Logan has been on the Scranton Express this season, but he doesn't seem like the choice either. Not only has he been much better during his current stint, but Joe Girardi loves having a lefty in the bullpen. I doubt he goes down to Scranton again.
Chances are, then, that we don't see Aceves until September, when rosters expand. That will give him enough time to build up stamina, allowing him to fill his previous role of hybrid long man and setup guy. It will also allow the Yanks to retain their depth, since Sergio Mitre would be the only logical casualty if Aceves returned before rosters expand. The same goes for Damaso Marte. Chances are we'll see him pop up in a couple of rehab appearances towards the end of August, with a return in September.
The Yanks, then, will have a surplus of pitching to get them through the final month. They'll have not only a glut of effective bullpen arms, but they'll have spot start options if, like last year, they want to rest their starters before the playoffs. September could prove interesting, too, because of all the bullpen arms vying for postseason roster spots. It's a good position to hold right now. The more options for the bullpen and the rotation, the better.