Originally, this article was going to be about comparing the projected starters for 2011 to some of our past rotations and general pitching staffs. This involved finding out who started, how many starts they made, and so on. I was then going to take the 2011 season projections for our current group of starters and compare them. Then I'd insert Millwood, Garcia, and Duchscherer to see how it changed. I'd probably slot in Lee and Pettitte just to make myself sad, too. With this in mind, I sat down in front of my computer and, like any baseball nerd, opened my Excel spreadsheets. I plugged in the numbers and took a sort of weird, futuristic glee in having my computer calculate stuff for me.
The more I went into this, the more I also realized that a successful pitching staff is almost stupidly formulaic. For once, it's just like they say: healthy, good starting pitching wins ballgames. Wins championships, even.
In an ideal world, you have five guys who make thirty-something starts a piece, and they all go six to seven innings, and you have a bullpen with just the right combination of righties and lefties, a LOOGY or two, a longman, and a closer. But let's be honest, that's impossible. It's never going to happen. Pitchers are going to get injured. They are going to suck. Sometimes, these things might be related (looking at you, Jeff Niemann!). Sometimes they're not. Sometimes you need to pick up an innings-eater who is, at best, an okay pitcher, and sometimes a midseason trade is going to leave you struggling to figure out what you're going to do with your rotation at all. An anonymous source tells me you can't predict baseball.
The closest the Yankees ever got to this ideal pitching staff in the modern dynasty era was (no surprise here) 1998.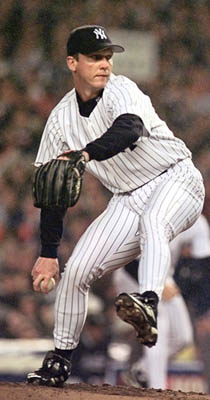 It's beating a dead horse to talk about how amazing the 1998 New York Yankees were, but on just the pitching side of things, they rocked it: the five starters (Pettitte, Wells, Cone, Irabu, and El Duque) started 142 games. 14 of the 20 games they didn't pitch in were thrown Ramiro Mendoza, who had a 3.87 ERA in games he started. Mendoza threw an amazing 130 IP that year, including a complete game; three out of the five starters (Cone, Pettitte, and Wells) threw over 200 IP. Mo picked up 36 saves. The Yanks won 114 games and the World Series. It was a good year to be a Yankees fan.
In more recent history, the 2009 Yankees did pretty good on this formula too. Four starters threw 30+ games for an ERA in the rotation of 4.08. The 32 games that were not thrown by starters were picked up by five other guys – Mitre, Wang, Aceves, Gaudin, and Phil Hughes. They used these opportunities to show us why they weren't starters themselves (or not yet starters, as the case may be), and why we needed healthy starting pitching. Aceves threw one game (4IP, 3ER), and Wang posting an amazingly terrible 11.38 ERA and a 2.176 WHIP in games where he started, giving up 6 homers. The best ERA between those five? Chad Gaudin. Gaudin posted a 4.76 ERA in six starts; Hughes had a 5.45 in seven. Funny that Gaudin spent the next year being thrown into what seemed like every September game to the great distaste of many Yankee fans, and Hughes was an All-Star starter.
That's not to say the Yankees haven't gotten this one wrong, too. The last thing you want is too many pitchers throwing starts. In 2008, 13 different pitchers started games. These were included but not limited to: a 2IP rain-delay started by Brian Bruney (who posted an ERA of 0.00 as a starter that year!), a start by Kei Igawa (3 IP, 6 ER) and 9 starts by Ian Kennedy, who posted an 8.35 ERA in the rotation. Only Pettitte and Mussina made over 25 starts that year; the next person down was Darrell Rasner, who made 20. Three different pitchers made between 10 and 15 starts. How can a team win when there's no real consistency about who's going to take the mound and how well they're going to do? Needless to say, other teams capitalized on the Yanks' disadvantage. Four out of the five 2008 Red Sox Starters made 25 starts or above: only Buchholz missed the cut with 16. Four out of the six 2008 World Series Champion Phillies starters made 25 starts or more, and their rotation started 158 games.
No surprises here: get a lot of production out of your starters and you'll go far. But more than just production, you need the decent numbers, too. The 2010 Yankees, for example, used only 8 starters. Every man in the rotation hit 20 starts, and only Andy's injury kept him from breaking 25 with the rest of them. Seems like after a few years we've finally figured out how to consistently put a guy on the mound in the Bronx: now if only we could find someone better than Sergio Mitre.