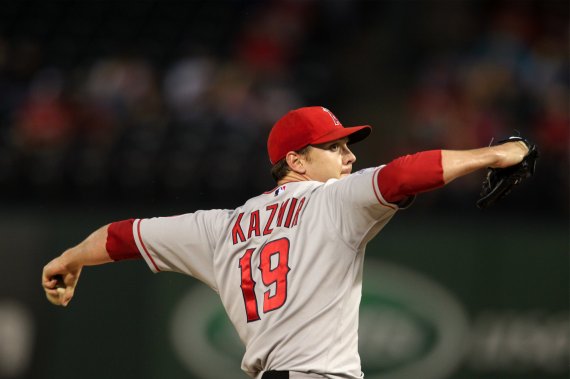 Tucker, Tom, and Kevin write, paraphrased: Is there any chance the Yanks try and acquire Scott Kazmir?
The idea of acquiring Scott Kazmir is nothing new. Mike and I talked about Kazmir at length on the radio show this month. But, since many of you don't listen to the RAB Radio Show (we won't hold it against you), it might be time to present this on the main page. After all, we received these three emails between the times when I went to bed last night and I woke up this morning, so it's a decently hot issue.
The Angels made a splash this weekend when they traded Mike Napoli and Juan Rivera for Vernon Wells and his contract. The Angels will receive just $5 million in salary relief from the Blue Jays, meaning their payroll became bloated pretty quickly. It already stands at almost $130 million, and that's without Jered Weaver's arbitration figure. Might the Angels, then, want to offset some of the salary they took on by trading one of their more outrageous contracts?
Per the extension he signed with the Rays in 2008, Kazmir is slated to earn $12 million this year, with a $13.5 million club option for 2012. Any club would decline that option and pay the $2.5 million buyout, so to trade for Kazmir would be to take on $14.5 million for one season. The Yankees might make a business out of taking on bad contracts, but I don't think even they would pay Kazmir nearly $15 million for one season. If the Angels were to trade him, then, they'd have to pick up a part of the tab.
In some ways, Kazmir has progressed similarly to Johan Santana, though he wasn't nearly as good at his peak, and his been much worse trough his decline. His peak came in 2007, when he struck out 10.41 per nine and had a 3.48 ERA against a 3.45 FIP and 3.79 xFIP. It all lined up. He wasn't a groundball machine, but kept his rate over 40 percent. This helped him limit home runs, which helped him a lot, because he doesn't have a pristine walk rate. But then in 2008 his strikeout rate dipped, his walk and home run rates spiked, and his ground ball rate dropped all the way to 30 percent. His ERA still looked nice, 3.49, but his FIP and xFIP figures both jumped over 4.00. His FIP was the most troubling, at 4.37.
Since then his peripherals have caught up to him. He began the 2009 season in horrific fashion, a 7.69 ERA and just 45.2 IP in nine starts. A thigh strain landed him on the DL. While he was better upon his return, he still wasn't very good: a 4.68 ERA in his next 11 starts, though he pitched nearly six innings per start, nearly an inning more than he had pitched in his first nine starts. The Rays then cut their losses and traded him to the Angels, where he performed quite a bit better in his final six starts. But even then, his strikeout totals were low.
Last year, for the third straight season, Kazmir finished with around 150 IP (he hit it on the head last year). Yet it was even worse than 2009. His strikeout rate dropped to 5.58 per nine, his walk rate jumped to 4.74 per nine, and he allowed 1.5 homers per nine. His ERA, FIP, and xFIP were all closer to 6.00 than 5.00. There wasn't a saving grace period, either, as there was in 2009. Kazmir was terrible or injured wire-to-wire. To the injuries, he hit the DL twice, missing a total of 42 days with shoulder issues. After his return his ERA was a bit better, 4.37, but he struck out just 33 in 57.2 innings while walking 30.
For parts of four seasons Kazmir worked through the AL East with aplomb. He had shiny strikeout rates, low ERAs, and decent innings totals. But by 2008 he was showing signs of decline, and in the past two seasons they've come to pass. He'll always be an attractive name because of his past success, but that recalls a pitcher who, by nearly every indication, no longer exists. Sure, as a flier — a mid-level prospect for Kazmir and salary relief — he might be worth a sniff. But after taking on Vernon Wells's contract, I fail to see why the Angels would pay Kazmir to pitch elsewhere. They're better off keeping him and seeing if he can help them. It's not as though they're going to get anything useful in return.
So far today we've hit on two scrap-heap trade candidates. At 1:30 Mike will wrap it up.