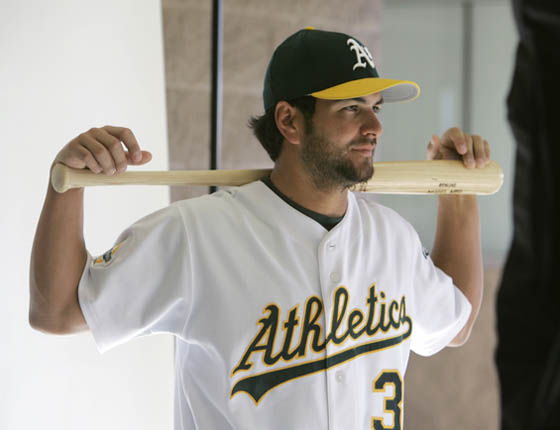 Yesterday, a name popped up in my feed that I hasn't seen in a while: Eric Chavez. Apparently the man is out of rehab for the millionth time, is finally off the A's payroll, and now he's looking for a new team to help pay his medical bills. There were whispers that the Yanks might be interested in the guy, along with White Sox, Mariners and Blue Jays.
Chavez was drafted by the A's in the first round in 1996 and destroyed his way through the minor leagues. He was a September call-up in 1998, and played his first full season only three years after being drafted. He signed away his arbitration years and stuck with the A's longer than anyone not named Ricky Henderson with two different extensions: the first in the 2000 offseason, for four years and $11M, and the second in the 2004 offseason for six years and $66M. There was a seventh year club option, but Oakland declined, leaving him a free agent for this upcoming year.
For the Yankees, this is one big fat pass. No. Carry on. Nothing to see here. It's not that Chavez isn't a decent baseball player: he's got some left-handed power and could be a good choice to hang out on the bench until we needed him. He hit 25 homers or more for five years straight and, at the height of his career, hit nearly 30 while taking a league-leading 95 walks. He also featured on that playoff-contending 2006 Oakland A's team with Zito, Harden, Swisher, and Huston Street. He's capable with the glove and plays third base. He's certainly an upgrade to the Ramiuardo Penunez combination we play sometimes over there, so why not?
The problem is that Eric Chavez is made out of glass. It's not the bulletproof glass they use in prison windows that never breaks, either. It's the delicate, handblown glass that's in those expensive little knick-knacks you put on your mantle and breathing on it wrong could shatter it into a million pieces. In the last three years, Chavez has been on the 60-day DL six times. He's had two surgeries on his back, shoulder surgery, two bulging disks in his neck, and neurological pain in his elbow. The man is, for lack of a better description, a complete and total mess.The last time he showed up in 100 games was 2006. He hasn't even been able to hit the 50 game mark in the past three years.
While it's possible (if unlikely) that Chavez manages to stay healthy for a year, there's absolutely no guarantee that he'd be able to recapture the power that would make him a decent bat off the bench. Even before his injuries, Chavez was losing grip on the power he needed to be effective. His OPS has been trending downward since 2004 even if you cut out the years he was too hurt to make an impact either way.
All in all, it's a bad idea. While Chavez might have the potential to be a decent lefty pinch-hit bat, I don't think he'd manage to stay healthy enough to be effective. Even if he does, it's doubtful he'll be able to wrap his hands around the power that made him good in his better seasons. He's 33 years old right now and he's not getting any younger. Maybe he's someone to look into next season if everything goes right for him in 2011, but quite frankly our DL spot will probably be filled by Mark Prior, after being vacated by Nick Johnson (played in 24 games). The Blue Jays can have him. I hear they have good healthcare in Canada.