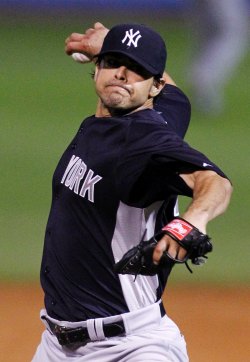 On his blog today, Joel Sherman discusses the pitching battles in camp. While the bulk of the post focuses on Freddy Garcia and Bartolo Colon, there is mention towards the bottom of Sergio Mitre. For the past two years the Yankees have staged a fifth starter battle in camp, and while Mitre has competed in both he seemed more a novelty than a serious candidate. But even though he probably won't pitch out of the rotation, he appears ticketed for the long man role in the bullpen. At least, that's the way it appears from the outside.
Leading off the final section of his post, Sherman writes, "There are scouts saying that they are convinced the Yankees are going to release Sergio Mitre." The evidence: Mitre just happened to suffer a vague injury just before a spotlight start against the Red Sox, and was seeming fine just a day later to the point where he could pitch again on Thursday. I'm not sure what one has to do with the other. Maybe the Yankees really wanted to start Banuelos against the Sox, but I don't see why that says anything about Mitre's status.
While the Yankees lack bona fides for the fourth and fifth rotation spot, they do possess depth. If they break camp with Colon and Garcia in those spots, they have Ivan Nova a phone call away at Scranton. Andrew Brackman could be right behind him. Even though they were sent to minor league camp, Hector Noesi and David Phelps could be options with a little more AAA seasoning. And, as we've heard from numerous scouts and scouting types this winter, the Yankees could, if they were so inclined, call on Manny Banuelos. Even Mitre himself could make starts if the Yankees aren't comfortable with any of their minor leaguers.
Given this rich depth, chances are Mitre won't make it through the entire season on the 25-man roster. The team will pursue starting pitching as the season progresses, and they'll look at relief options from the farm system. It's likely that at some point in the season they're comfortable with 12 pitchers who are better than Mitre. But things rarely work out as planned. Mitre is no one's idea of a mid-rotation starter, or even a viable setup man. His value is that he's a slightly above-replacement pitcher who can fill the long-man spot in the bullpen and make a spot start if necessary. I'm not sure why the Yankees would throw that away.
If the Yankees did take Colon, Garcia, and Nova to the Bronx, they'd be down one arm on the carousel. If Colon then gets bombed, or, more likely, gets hurt, they'd move Nova into the rotation and summon a bullpen arm from AAA. But whom? Wouldn't it be better to have Nova in that spot? Mitre would remain in the bullpen while the Yankees made that quick swap. Then, if Garcia, or even Nova, falters, they could move onto Brackman. But without Mitre they'd have to add a long man and a starter. I don't see how that helps the team.
Maybe the Yankees really do want Nova to start the season in the major league bullpen. The sentiment is certainly understandable. But I don't see the sense if it means releasing a guy who can provide depth. Having Mitre around, especially in a low-level bullpen role, helps the Yankees hedge against injuries or ineffectiveness from Garcia and Colon. To remove him is to bump each pitcher up a rung, which means a quicker path to a, gulp, Sidney Ponson-type retread. That's just not something the Yanks need right now. Depth is the name of their game, and Mitre provides just that for now.