While the Yankees' winning ways have returned a little bit, I can't be the only one who's still worried about their production. Even when the Yankees win, there's places where improvement could be had. A weak outing by a starter, a fat 0-fer in the middle of lineup, a barely-avoided bullpen meltdown – it's these kind of things that the Yankees have to knock out of their system to become the champions we all know they are. A World Series team has no weakness, never loses, and always gets strong production out of the lineup 1-9.
I think it's safe to say that the Yankees have probably pushed as far as can without external help. It's silly to expect recoveries out of Posada and Jeter, and equally ridiculous to believe that Ivan Nova will actually start striking people out on his own. Likewise, it's perfectly reasonable to suspect that Bartolo Colon will keep his ERA nice and reasonable and that Curtis Granderson will hit approximately seven gazillion homers, mostly off lefties. But what they're doing now, even if it stays the same, needs to be helped out. This is where you and I come in, noble fans.
The best way for a fan to help their team of choice is to appease the baseball gods for games to come. I'm not talking about actual god (Mariano Rivera, blessed lord of the cutter, ruler of the bullpen, etc), but rather those magical beings up in the sky who give Cliff Lee doubles and have Jay Bruce fly out with Wilson Valdez pitching in the nineteenth inning. When annoyed that a pitching duel turned out to be anything but – look at Halladay v. Lincecum in the 2010 NLCS after one thew a no-hitter and one whiffed 14 – your wrath should be pointed at the baseball gods. My sources are trying to track down why the baseball gods love Edgar Renteria (2-time WS MVP) so much, but no dice yet.
It's time to sacrifice one of our dear Yankees to the baseball gods above. Trust me, I know it's not easy to bring this topic up, but there's nothing else we can do. The Yankees have reached the limit of improvement that can be gained through normal options such as talking to Kevin Long, taking extra BP, and learning extra pitches. Supernatural options are the only options left. The question becomes – and this is the most important question – who?
When picking your sacrifice to the baseball gods, you need to toe some very careful lines. On one hand, sacrificing your stumbling, scuffling and occasionally-benched DH is like laughing at them, like throwing them your trash. Here, we don't need this! Maybe you can do something with it. The baseball gods are not the waiver wire, and they demand respect. On the other hand, you don't want to be sacrificing your star prospects or monstrously powerful cleanup hitters. After the sacrifice happens, after all, you still need some power in your lineup. A sacrifice will improve the way the baseball gods look at your team, but they're not going to have Eduardo Nunez slug 30 homers. Then, there's the matter of team history: a rule five pick or a half-season rental really has no attachment to the team, whereas a pointlessly long and overpriced contract is a burden on both the team and the gods.After a long and rigorous selection period, I've narrowed down exactly who should be sacrificed:
Pitching
In many ways, this is a totally obvious answer and required very little thought on my part. There is only one pitcher on the Yankees staff that is good (but not too good), could be replaceable (but not easily), and has the mystique and aura of the team all bundled up inside of him:  Joba Chamberlain.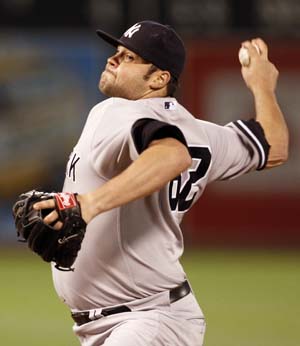 Joba's strong numbers from this year make him a worthy candidate, and his Yankee history makes him as sentimentally valuable as any family heirloom. No one else on the current 25-man has been hailed as both the next Mariano Rivera and the next potential number one starter, all while suffering a role-changing injury. On top of that, Joba's farm heritage and extensive history of being ripped by the New York media about everything to his performance to his weight make him a quintessentially Yankee sacrifice. In basically every way, Joba is the perfect sacrifice to make sure Bartolo Colon's arm doesn't fall off andhave Nova learn a strikeout pitch in a vision. Also, the baseball gods love a good fistpump.
Other alternatives: Phil Hughes (pending injury), Ivan Nova (pending effectiveness)
Hitting
This one was tougher, but I made the decision and decided the best option was Brett Gardner.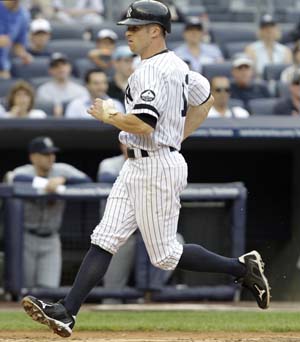 While Gardner may not seem the best option at first, a longer look at his numbers and history prove he's the right choice. He got off to a terrible slump, he's managed to pull himself together over the past couple of weeks and has created a slash line acceptable for a sacrifice (.262/.350/.404). Like Joba, Gardner is a product of the Yankees farm system and was part of the magical 2009 World Series team, despite his less-than-stellar numbers in the postseason. Gardner makes a prime target because he doesn't hit home runs, and sacrificing him is an implicit agreement to forgo smallball and acknowledge that homers are the only way anyone will score this season. Additionally, Gardner wears high socks, and there's nothing the baseball gods love more than a ballplayer in high socks.
Other alternatives: Nick Swisher (pending ability to hit the ball), Mark Teixeira (too many homers)
It's tough when a baseball team has reached this point in its life, but with the obvious solutions looming in front of both the team and the fans, there's nothing any of us can do but follow through. Knowing that both these players will most likely go to baseball heaven is, of course, one of the few positives. In baseball heaven, Joba truly is the number one starter we all know he can be, and Gardner never gets caught stealing.
(note: Emma Span of baseball prospectus helped formulate this idea.)